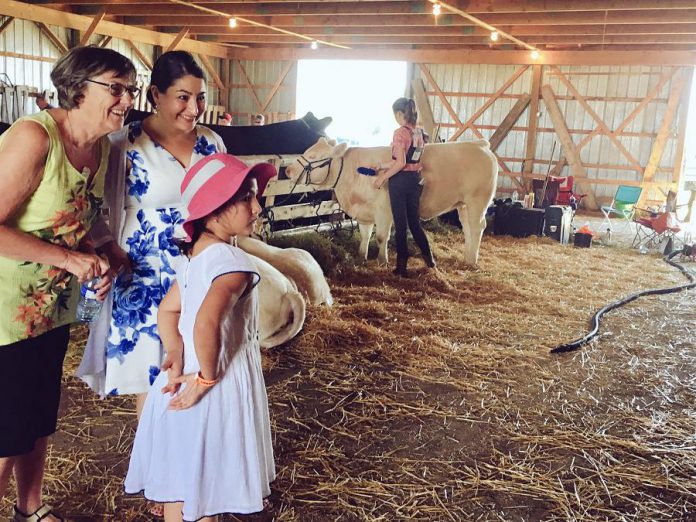 ---
The Chamber is hiring an Engagement Coordinator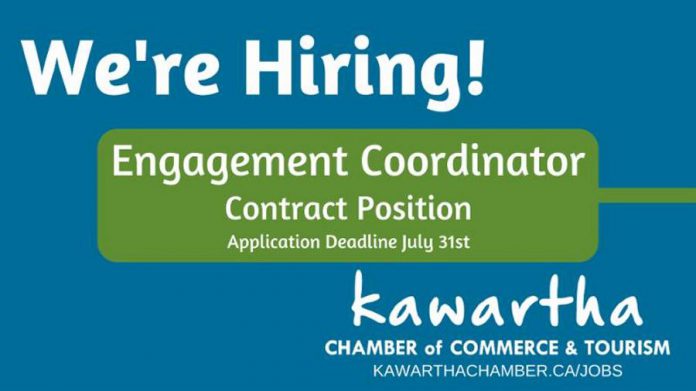 The Chamber's acting Engagement Coordinator, Grant, has confirmed that he will be leaving the Chamber after August 17th. He will be moving with his partner as she has been promoted to a new position in British Columbia. While he is sad to be leaving the position and will miss his great co-workers and the business owners he has met during his time here, he is optimistic in starting a new life chapter.
With that being said, the Chamber is looking to fill the position of Engagement Coordinator for the remainder of the contract, which could run as long as August 2019. The deadline for applications is July 31st at 4:30 p.m.
Visit kawarthachamber.ca/jobs for details.
Kawartha Chamber At The 51st Annual Ennismore Shamrock Festival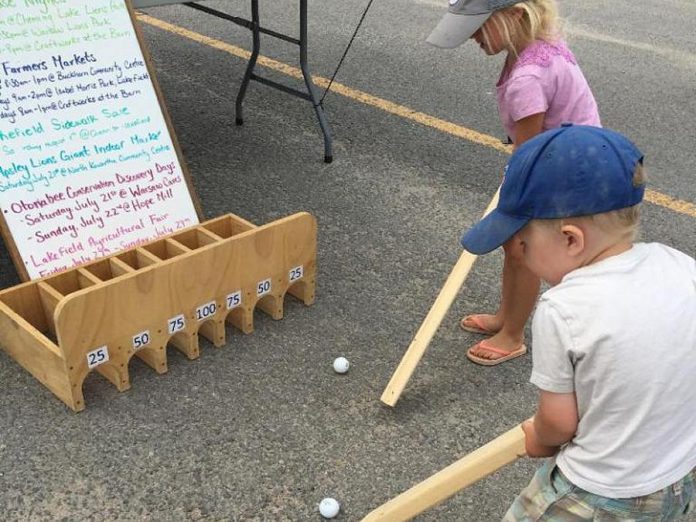 The Kawartha Chamber was at Family Fun Day at the Ennismore Shamrock Festival this past Saturday, July 21st, providing local information and running a golf ball putting challenge.
The day was filled with fun for the whole family with events like ball hockey, soccer and rookie ball tournaments, bouncy castles, books, and bake sale from the Selwyn Public Library and much more.
Sunday, July 22nd saw an indoor craft show at the Ennismore Community Centre as part of the festival as well.
Check out the Chamber's Twitter and Instagram for more pictures of the event. The CHamber will see you next at the Lakefield Sidewalk Sale.
Thank You To The Chamber's Newest Award Sponsor

Herod Financial will be the sponsor for the Chamber's brand new Awards of Excellence category: Service Sector Excellence. This is the 10th category to be included in the Kawartha Chamber's Awards of Excellence.
This award honours a business that excels in the service sector, including but not limited to the trades, health and wellness and professional services. This may be demonstrated by a willingness to go beyond the normal call of duty, maintaining an effective pre and post-service relationship, possessing exemplary environmental practices, providing the client with value for money, expanding market share and exhibiting a high level of expertise.
The Chamber thanks Herod Financial for its generous sponsorship.
Keep an eye out … award nominations open next week.
Did You Know?
The Kawartha Chamber offers numerous networking and professional development opportunities to member businesses.
Such opportunities have included the Chamber's Business Owners Sharing Solutions (BOSS) sessions. The next session this fall will be a networking session, and thelast session was a professional development session on Mental Health in the Workplace.
The Chamber also host Business After Hours (BAH) events, such as the upcoming Bridgenorth Hop in September. These events give members the opportunity to showcase their businesses to other members, and serve as a networking opportunity as well. The previous Woodview Hop was a great experience for all attendees.
For more information on what the Chamber can do for you, visit the About page on the Chamber's website.
Feedback Request: How Has Bill 148 Impacted Your Business?
The Ontario Chamber Network is seeking data on the impact of the Fair Workplaces, Better Jobs Act on local businesses. Bill 148 ammended the Employment Standards Act and the Labour Relations Act.
The Ontario Chamber of Commerce wants to hear how the increase in minimum wage, new scheduling provisions, expanded personal emergency leave, equal pay for equal work, and other changes have impacted your business. The findings will be summarized and shared with the government to advise further changes or repeals to the ESA and LRA.
Lakefield Agricultural Fair This Weekend
The Lakefield Agricultural Fair is coming up this weekend, Friday, July 27th to Sunday, July 29th. The fair gates open Friday at 3 p.m., with opening ceremonies at 4:30 p.m. and the Truck & Tractor Pull starting at 5 p.m.. The fun continues through the weekend with special events scheduled both Saturday and Sunday.
Saturday, July 28th events include:
9 a.m. – 12 p.m. – RE/MAX Hot Air Balloon
9 a.m. – Poultry & Horse Show
10 a.m. – Beef Show
1 p.m. – Kids Games
5 p.m. – Demolition Derby
Sunday, July 29th events include:
9 a.m. – Antique Car Show
9 a.m. – Sheep Show
10 a.m. – Goat Show
1 p.m. – Horse Pulls
2 p.m. – Mud Bog
All weekend long there will be a beer tent and midway, and the homecraft building will be open.
Admission for the fair is $10 for adults, $2 for children (6-12), and kids under 6 are free.
The Chamber has advance sale ride tickets
As a reminder, you can pick up your advance sale ride tickets at theChamber office in Lakefield (12 Queen St. under the town clock). Tickets are $22.50 each and can be exchanged for 20 ride coupons at the fair — that's a savings of $12.50 over purchasing ride coupons the day of.
For more info about the fair and full schedule of events, visit lakefieldfair.com
Community Care Starry Night Dance Fundraiser In Ennismore
Community Care is hosting a Starry Night Dance Saturday, July 28th from 8 p.m. to midnight at the Quarry Golf & Country Club.
Come dance under the stars as 'True Confessions' plays blues and light rock from the '60s to today.
Tickets are $20 in advance, available at Community Care's Chemung and Lakefield offices. Tickets at the door are $25.
Call 705-292-8708 OR 705-652-8655 for more information.
Editor's note: This event has been cancelled. Please call Lorri at 705-652-8655 or Stefanie at 705-292-8708 to refund your ticket.
Community Care Walk-A-Thon August 25th
Community Care also has a Walk-a-thon coming up on August 25th.
Help empower Lakefield & area seniors and adults with physical challenges to live at home by collecting pledges. Enjoy a 5 km walk along the river starting at the Lakefield Legion and ending at Lock 25.
The walk starts at 10:30 a.m., and there will be a BBQ, entertainment, and prizes at the finish line.
To register for the walk, call 705-652-8655 for registration and pledge forms.
The Gallery On The Lake "Lake Life" Exhibit Opens This Weekend

The Gallery on the Lake's "Lake Life" Exhibit opens this weekend on July 28th.
There will be a chance to meet featured artists David Grieve, Peter Rotter, and Joe Sampson from 1 to 4 p.m.
The exhibit will run until August 31st. You can visit The Gallery on the Lake at 65 Gallery on the Lake Road, east of Buckhorn.
Habitat For Humanity Launches Curve Lake Women's Build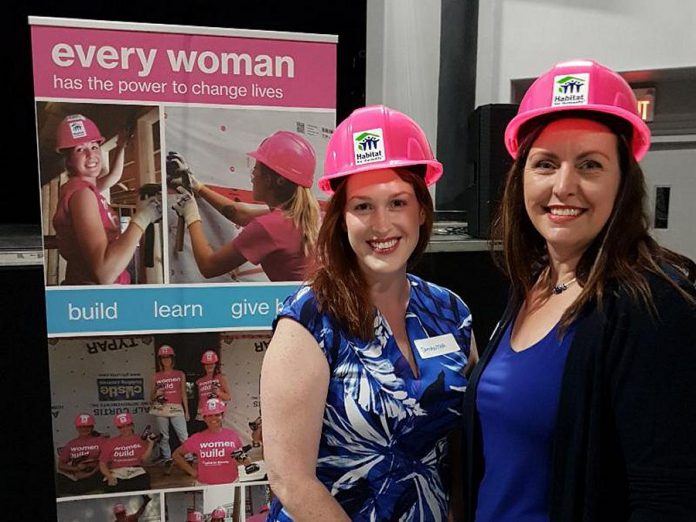 Habitat for Humanity Peterborough and the Kawarthas hosted the launch of their September Women's Build at The Venue in Peterborough on July 24th.
This build will be in Curve Lake First Nation, marking the first Indigenous Housing Partnership for Habitat locally. Female volunteers will work alongside one another, assisting with the physical construction of a home on Quinquish road for future homeowners, the Jacobs family.
Later this summer, construction will begin on a second home in Curve Lake First Nation for the Brooks family.
This year's program challenges teams of women to get involved in both fundraising and build activity. Local women can register as individuals or gather a group of friends, family and colleagues together and register a team to lead their own fundraising initiative for the build, and to schedule days to work on the build together.
Those interested can register online at habitatpeterborough.ca/ or contact Brittany Price, Community Engagement Coordinator, at 705-750-1456.
North Kawartha Public Consultation Open House July 26th
The Township of North Kawartha is holding a Public Consultation Open House on Thursday, July 26th at the North Kawartha Community Centre from 7 to 8:30 p.m..
The Open House is to get feedback on the plan to install sidewalks, a hard curb, and a pedestrian crossover on Burleigh Street in Apsley during the County's rehabilitation of that street this August.
All are welcome to come out and have their voice heard on the matter.
Restrictions At Warsaw Caves & Selwyn Beach Conservation Areas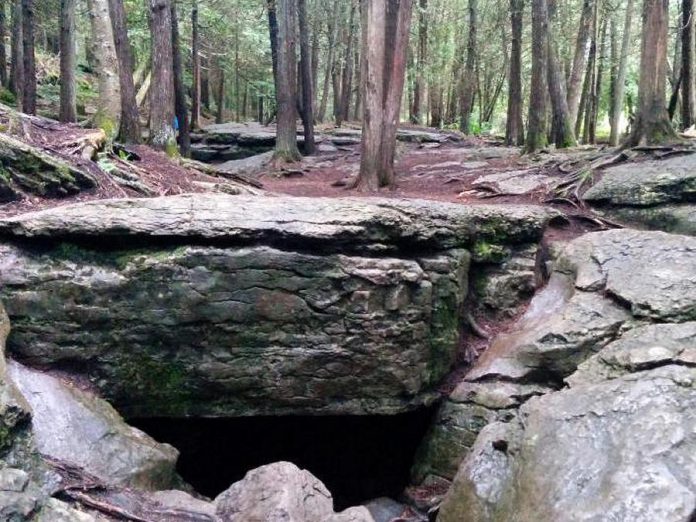 Due to regional burn bans, the Otonabee Region Conservation Authority advises day visitors and campers to Warsaw Caves Conservation Area and Campground and Selwyn Beach Conservation Area that restrictions are in effect for these sites for the duration of the bans.
Day visitors to the park are not permitted to use charcoal or wood-fueled barbecues, and barbecue stands in the park are out of service. Ground fires are not permitted, but campers at the Warsaw Caves campground are allowed to have campfires at their campsite if they adhere to multiple safety conditions.
Further information about the fire bans is available from the municipal offices: Township of Douro-Dummer at 705-652-8392 or the Township of Selwyn at 705-292-7282
New Lakefield Walk-In And Appointment Clinic Opening

A new walk-in and appointment clinic is opening in Lakefield at the Morton Community Health Care Centre.
The clinic, which will be a full-time, year-round operation is tentatively scheduled to open on August 13th.
Stay tuned to the Kawartha Chamber NewsFlash for updates on the clinic's opening.
Chamber Members are Hiring
If your business or organization has a job opportunity you would like to advertise, you can add them to the Chamber's website through your Member Information Centre account (or submit the description to info@kawarthachamber.ca) and the Chamber will share them in its next Newsflash.
Upcoming Events
Church-Key Summer Concert Series: Kenneth Paul Cooper – July 28th
Warsaw Cruise Night – Every Wednesday
Lakefield Farmers' Market – Every Thursday
Cruise Night at Craftworks – Every Thursday
Farmers' Market at Craftworks at the Barn – Every Saturday
Bridgenorth Cruise Night – Every Monday
Buckhorn Farmers' & Craft Market – Every Tuesday
For more information about the businesses and events listed above, please visit the Kawartha Chamber of Commerce & Tourism website at kawarthachamber.ca.
All photos supplied by Kawartha Chamber of Commerce except where noted.