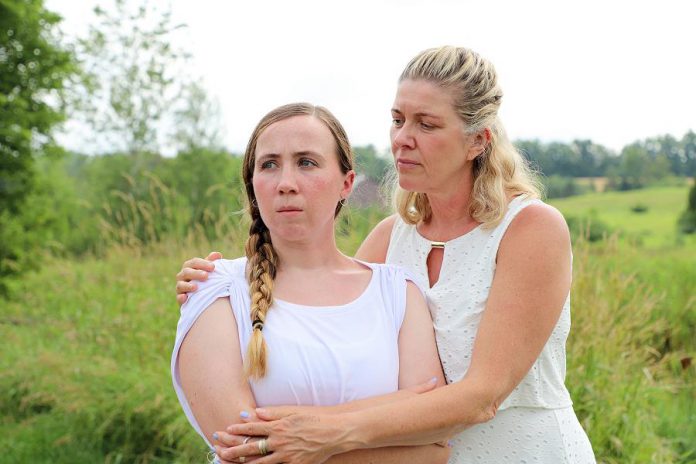 By asking "Who Killed Snow White?", 4th Line Theatre's second production of its 2018 summer playbill creates the impression that a great mystery will be solved before the final line is delivered.
Far for us to argue with multi-awarded playwright Judith Thompson's intent but, as she herself acknowledged during a recent sit-down at 4th Line Theatre's Winslow Farm home, her script more importantly dissects "what" killed Snow White in its quest to answer "who".
Exploring the journey of a family supporting one its own as she battles to stay strong in the face of bullying and harassment, Who Killed Snow White? shines an insightful yet disturbing light on the roots of sexual violence and "the culture of toxic masculinity" that has dominated news headlines with increasing regularity.
According to Thompson, an "urgency to do something" — which she shares with director Kim Blackwell — is rooted in outrage.
"We're not MPs, we can't create policy but we can reach an audience through theatre," says Thompson, who has done just that with critically acclaimed regularity since penning her first play, The Crackwalker, close to 40 years ago.
"It's an honour for me to work on this story, but it's a terrible and disquieting experience to dive deeply into it. Sadly, it is local. I haven't based it on a local story but we know that in every town, in every province, something like this has happened. It's an epidemic."
According to Blackwell, the roots of the play go back a few years to when she and Thompson got together with a group of young people in Peterborough to hear firsthand what issues they face.
"I was really struck by the pain they were in and how prevalent it is," says Blackwell, who has directed 16 4th Line Theatre productions including seven world premieres.
"The young people in the play's chorus, aged nine to sixteen, they're all facing some form of harassment or bullying on social media. I had no idea. As a parent of a 12-year-old daughter, it really struck me.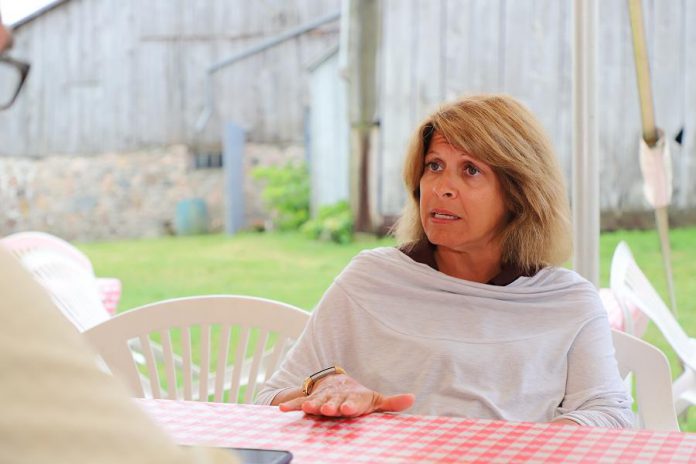 "It's important to explore this issue. We're exploring it in a really entertaining, thoughtful and compelling way. There's nothing shocking or gratuitous in the piece. Judith has made it true for us and for this community. I think there's an opportunity here for families to come together and start having the conversation."
"Our fear of the topic is stopping us from talking to our kids in a thoughtful and honest and open way. There's a lot of hidden stuff on social media. There are sites we don't know about that they (our kids) are on where they're being bullied and harassed. Not Facebook. That's for us old guys. A zillion other sites we're not aware of. It's about talking to our kids about what they're experiencing and not being afraid to do so."
Portraying Serena — the young girl being bullied and harassed — is Toronto-based actress and writer Grace Thompson, the playwright's daughter. Her character, she says, "is different … she starts school being bullied. She doesn't fit in."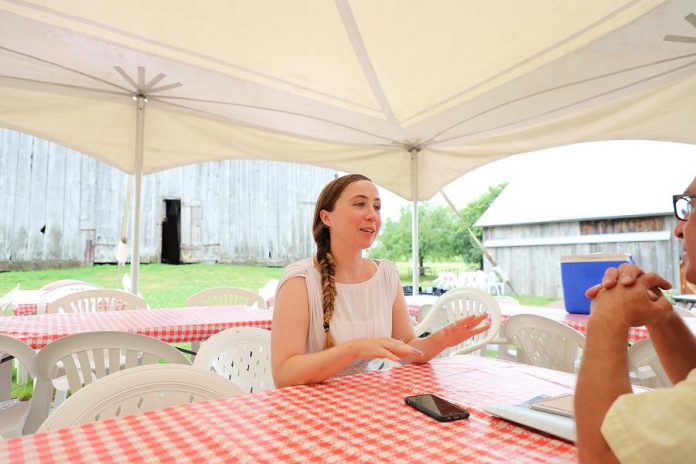 Serena befriends Riley, played by veteran 4th Line actor Tom Keat.
"He's queer and doesn't know if he's going to fit in," Grace explains. "She says 'People don't like me, just so you know. Be aware. You hang out with me you might be lumped in. This isn't going to help your social situation.'
"But with that friendship comes power. Eventually her friend (Fantasia, played by Cassandra Guthrie), who turned against her, is back and they form this trio. They feel unstoppable, like they can take on high school. They get invited to a party and she starts to feel she's climbing the social ladder. Things are getting better, but at this party everything goes downhill. All hope falls apart."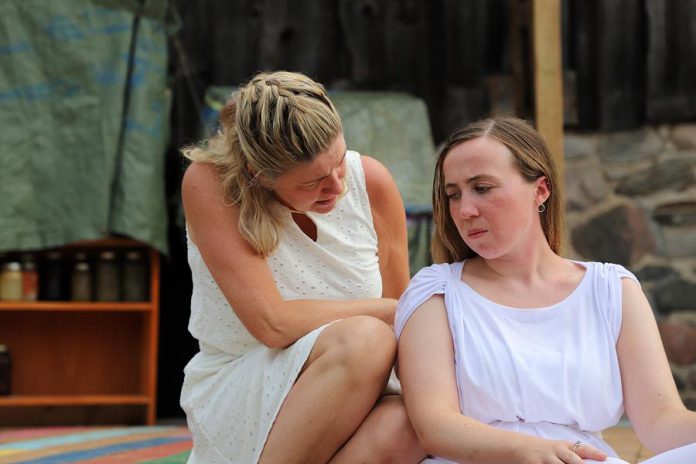 "There are so many Serenas. I knew Serenas. I was a Serena. I think everyone will be able to see themselves in this character. At one point, everyone has felt like an underdog and felt they weren't seen in a proper way. This is happening right now everywhere and it's not talked about enough, and because it's not talked about enough, nothing's been done about it. Art tells the story in a way that we can emotionally connect to it."
Both playwright Judith Thompson and director Kim Blackwell are well aware the play's subject matter may prove difficult for audience members who have been affected by bullying and harassment — either directly or through the trials of a family member or friend.
"We see people triggered in all of our plays," says Blackwell. "We saw it last year with The History of Drinking in Cavan. People were triggered by the themes of alcohol and alcoholism and abuse.
"We expect some triggering, even though we're taking a very gentle hand with the subject matter. We've been working with the Kawartha Sexual Assault Centre and they're going to have workers on site every night. There's a lot of information around resources in the house program."
Thompson adds that while the 4th Line Line audience is typically "very sophisticated", it's not on the same playing field as a Toronto audience in terms of its exposure to strong language and graphic content.
"Because it's such a harsh subject, we need to deliver it gently. But people are going to be reeling, especially if they're triggered in some way."
One thing Thompson is very sure of is the Millbrook venue is the perfect setting for the world premiere of her play.
"It was important to Kim and I that it not be something you would see on Degrassi. Why do we need the theatre for this and why do we need 4th Line Theatre? Because the lead character can ride in on a white horse in her mother's dream. There is a pond that she submerges herself in.
"I have a scene at the beginning where the mother is fantasizing about all the dead young girls and boys who have taken their own lives, rising from the dead. How could I anywhere else have 20 young people rising in the long grass to the incredible music that Justin (Hiscox) creates? How beautiful is that?"
In Thompson, Blackwell says she couldn't have asked for a better collaborator, terming her "incredibly responsive … she knows what she wants and she's very clear about that."
As for the difficult subject matter in Who Killed Snow White?, Blackwell has no reservations whatsoever in presenting it to local audiences.
"I hope the audience would trust us to not steer them wrong," she says. "I know there's concern out there about the play, but we're committed to doing it. We think we also have to develop a new audience here. We want to honour our loyal long-term audience but audiences are aging. It's about finding balance.
"A play like this is about trying something and then evaluating it. We're not changing our mandate. The things on tap for the next three years are much more solidly in line with the historical mandate, but I don't think it hurts every once in awhile to try something like this and explore a topic that is out there everywhere."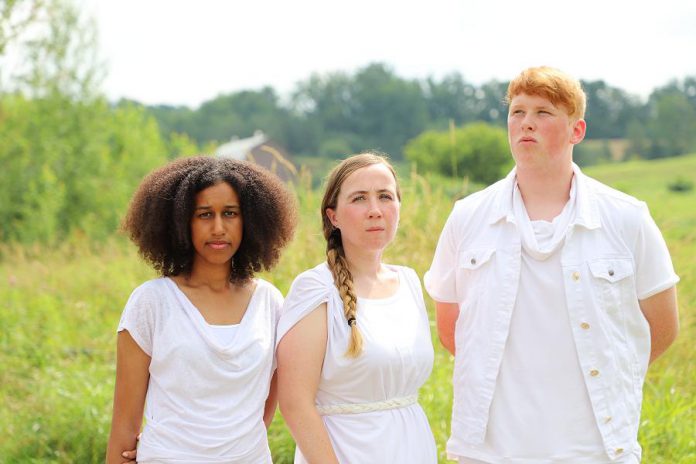 With opening night fast approaching, Thompson displays an excitement that belies her having sat in on the opening of dozens of her plays.
"It never gets old," says the 2005 Order of Canada recipient. "One has reached inside people. That's such an honour. I can die now. I have a legacy."
With musical direction, original music and arrangements by Justin Hiscox, choreography by Monica Dottor, costume design by Meredith Hubbard, set design by James McCoy, sound design by Esther Vincent, and fight direction by Edward Belanger, Who Killed Snow White? runs from August 6th to 25th, Mondays to Saturdays, beginning at 6 p.m.
Also among the cast are Maja Ardal, Cynthia Ashperger, Mark Hiscox, Christian Lloyd, Andrei Preda, Saskia Tomkins, and Steven Vlahos, along with many community volunteer actors.
Who Killed Snow White? is sponsored by Lakefield College School and the MENding Program at the Kawartha Sexual Assault Centre.
Tickets can be purchased by calling 1-800-814-0055 or 705-932-4445, online www.4thlinetheatre.on.ca, emailing boxoffice@4thlinetheatre.on.ca, at in person at 4th Line Theatre's box office (4 Tupper St., Millbrook) or at the Peterborough Museum and Archives (300 Hunter St. E., Peterborough).