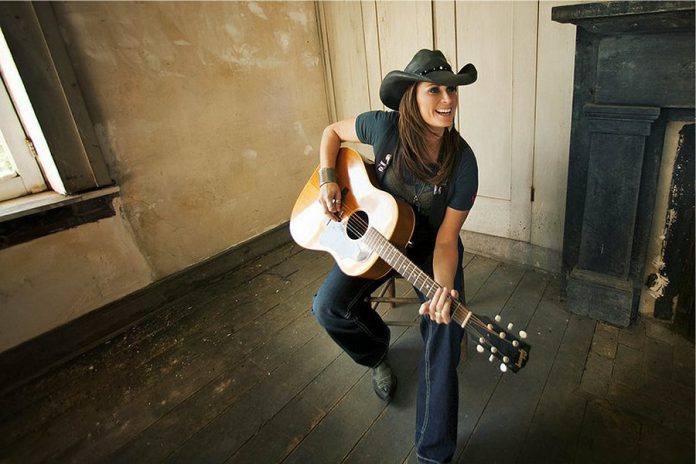 When reflecting on the storied career of Canadian country music juggernaut Terri Clark, you best give Nashville-based singer, songwriter, and record producerr Keith Stegall his due.
In the late 1980s, Stegall urged the Alberta-born Clark — then performing at Tootsie's Orchid Lounge, the iconic honky-tonk in downtown Nashville — to stay the course.
Traditional country wasn't then in big demand by record executives but, assured Stegall, Clark's time would come.
Come 1994, Stegall, an executive with Polygram/Mercury Records, made good on that prediction, signing Clark to a record deal.
Just a year later, Clark's first single "Better Things To D"o peaked at #3 on both the RPM Canada Country Tracks and Billboard's U.S. Top Country Songs listings.
Her subsequent debut self-titled platinum-certified album, with its high charting singles "When Boy Meets Girl", "If I Were You", and "Suddenly Single", made Clark a tour de force on the exploding mid-1990s new country landscape.
Thank you very much, Keith Stegall.
VIDEO: "Better Things To Do" – Terri Clark

On Wednesday, August 15th at Del Crary Park, the pending Canadian Country Music Hall of Fame inductee will headline Peterborough Musicfest. Admission is free to the 8 p.m. show.
"Part of playing live for me is just to say thanks," says Clark in an October 2017 interview with Dillon Collins of The Newfoundland Herald.
"I say at every show that I can't believe I get to still do this and have the privilege to entertain people and see them smile. That's the ultimate thing for me and that's what I was put on this planet to do. I know I found my purpose and I know a lot of people never get to find that."
VIDEO: "When Boy Meets Girl" – Terri Clark

Since her explosive debut, Clark has certainly entertained and then some.
The only Canadian female country artist to be a member of the storied Grand Ole Opry in Nashville, she has recorded 13 top ten singles with total album sales exceeding five million. Subsequent hits such as "Emotional Girl", "Poor Poor Pitiful Me", "Now That I Found You", "You're Easy On The Eyes", "A Little Gasoline", "I Just Wanna Be Mad", "Girls Lie Too", and "Northern Girl" have brought her a hugely loyal, and still growing, fan base.
Still, she continues to create new music.
VIDEO: "Poor, Poor Pitiful Me – Terri Clark

"My focus now is to say what I want to say … I'm not chasing anything anymore," she explains.
"It's just about scratching my creative itch and giving my fan base something new to listen to because they've been so supportive. I know I'm going to be playing Better Things To Do until I'm 80 and that's fine with me, but I also have to create something new almost just for myself. But my show will never be packed full of new material because the audience wants to hear the songs they know."
The recipient of three Juno Awards and the winner of Entertainer of the Year honours from the Canadian Country Music Association an astounding eight times, Clark certainly has nothing to prove to anyone — but she remains relentless in her pursuit of new projects.
VIDEO: "Girls Lie Too – Terri Clark

Last October, she teamed up with fellow country music artists Pam Tillis and Suzy Bogguss for the still ongoing Chicks With Hits Tour. In addition, since April 2016, she has hosted Country Gold, heard on more than 100 radio stations across North America.
"I feel like if you work really, really hard and take advantage of opportunities as they come your way you can't really go wrong," Clark says.
"Having a strong work ethic and not being afraid to put the time in and do something right is also key. I was taught that as a kid — if you're going to do something do it right. I try to go at everything I do one hundred and ten per cent. I've been very lucky in being able to maximize my time and being able to do what I love."
Clearly the work ethic that saw Clark put her nose to the grindstone during those pre-record deal years in Nashville continues to serve her very well. The musical influence of her upbringing in Medicine Hat didn't hurt matters. Her grandparents, Ray and Betty Gauthier, were noted Canadian country music performers while her mom Linda was a folk musician. This apple fell very close to the tree.
VIDEO: "Northern Girl – Terri Clark

"I'm very fortunate," Clark says.
"I think I'm the kind of person who couldn't retire. I love to keep going, I love to have projects, try different things and branch out. I've been afforded a very long run at a great career and it evolved over time. You go from focusing on making hits for radio to now I have a radio show and I'm focusing on 1990s artists and interviewing them and touring and playing all of my songs people are familiar with from over the years.
"It's been busy but in a good way. It keeps me moving forward."
Note: For her Peterborough Musicfest concert, a guitar signed by Clark, generously donated by Long & McQuade in Peterborough, as well as cowboy boots and a hat kindly donated by Nelson Western Boots & Apparel, will be raffled off with all proceeds supporting Peterborough Musicfest programming. Tickets cost $5 each.
Peterborough Musicfest is presenting 18 free-admission concerts featuring a total of 20 acts during its 32nd season — each staged on Wednesday and Saturday nights at Del Crary Park.
Overseen by general manager Tracey Randall and staff, a board of directors, and numerous volunteers, Peterborough Musicfest's stated mission is to "provide diverse, affordable live music to enrich cultural and economic prosperity in our community."
For more information on this concert or the entire 2018 season, visit www.ptbomusicfest.ca or phone the Peterborough Musicfest office at 705-755-1111.