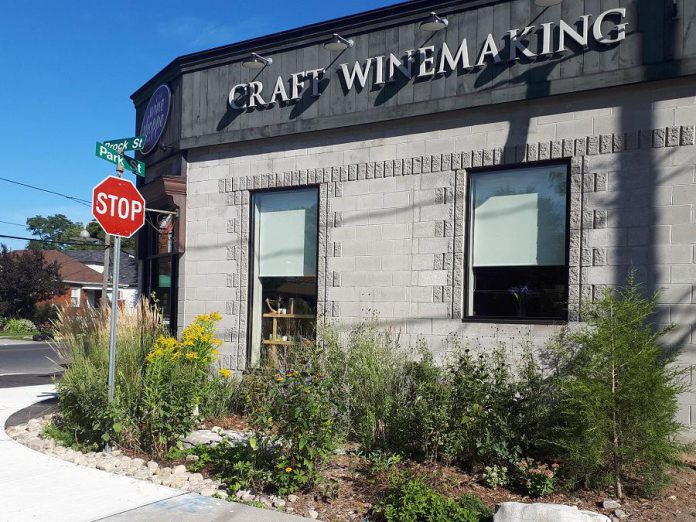 Recently while biking around town, I got a closer look at some of the positive environmental actions that Peterborough businesses are involved in.
I am going to be very honest with you; I usually drive a car. I haven't always driven a car and, in fact, for many years transit and the bicycle were my daily modes of transportation. Then, like many others, after daycare and school drop-off were added to my daily routine, I found myself grabbing the car keys more and more.
For the last few months, my bike has been calling to me, so last week I biked to work, biked around town, biked to the store, and biked home.
In the downtown you can definitely feel the impact of our cycling infrastructure. As our urban design becomes more and more bike-friendly, it's hard not to notice the sudden influx of cyclists out on the streets.
Downtown Peterborough was recently designated by Ontario By Bike as a Bike-Friendly Business Area, making our little eclectic city one of only five such areas in Ontario! Droves of residents and tourists alike are now experiencing downtown from the comfort of their handlebars. Bike lanes make cycling feel safe and accessible, and dare I say fun.
"This new Bike-Friendly Business Area designation presents a wonderful economic opportunity for the downtown," says GreenUP Transportation & Urban Design Project Coordinator Hillary Flood. "The downtown is quickly becoming an attractive destination for cyclists. People are excited to ride through our historic city centre and explore the many shops and restaurants that make our downtown so unique. Small businesses in Peterborough can take full advantage of our designation and join the growing local network of bike-friendly businesses through the Ontario By Bike certification program."
As I biked around town I was feeling confident, calm, and curious about what our community now looks like by bike. As I pedalled along, I passed quite a few new gardens that have been planted in front of local businesses over the last few years.
BE Catering is maintaining a boulevard rain garden that captures rain from the roadway and sidewalk. A rain garden is a specifically designed garden that offers water a temporary place to gather before it is filtered into the ground, helping to protect our neighbourhoods from flooding and improve water quality. As I biked past BE Catering I was able to take a good look at the garden, notice people admiring the green space from the sidewalk, and welcome a few bees and butterfly's flying along with me.
Just up the street at the Wine Shoppe on Park, I passed another gorgeous garden where once there was only asphalt. In 2016 through the GreenUP Depave Paradise program, more than 20 volunteers liberated this soil. While the garden has morphed since its original design, it still offers a wonderful welcome to the business entrance — while also creating profound water and green space benefits to the Park Street corner.
The largest Depave Paradise in Peterborough is located at 1775 Lansdowne St. W. Once the home to Wireless Solutions, the property owner removed a large section of unused asphalt to create a large rain garden (over 250 square metres). In 2015, almost 100 volunteers planted over 700 native species into this garden.
Several local businesses along my route were displaying a water droplet decal on their storefronts. The decal recognizes businesses that have signed up for GreenUP BlueWptbo program. These businesses provide a place for thirsty people, such as you and I, to refill our water bottles with free tap water!
New this year, the GreenUP, along with Peterborough Utilities Group, have partnered to present the Water Wise program is also able to recognize businesses within the City of Peterborough that are taking Water Wise steps to conserve water outside.
Engage Engineering is the first business to be recognized under the Water Wise program. They are maintaining a drought tolerant garden adjacent to Jackson's Creek that will also help improve water quality. You will know you see a recognized Water Wise garden when you see a blue water droplet-shaped lawn sign in a garden. I was able to see many such signs as I biked through neighbourhoods across the city.
Each Wednesday in September, the Water Wise program will be offering engaging online and in-person opportunities to learn more about how you can be Water Wise at home or at work. You can join GreenUP each Wednesday for workshops, water wise tips, virtual garden tours, and more! Check GreenUP's Calendar of Events at greenup.on.ca and follow us on Twitter @ptbogreenup to stay informed.
Find out more about GreenUP's water and bike programming at greenup.on.ca. You can nominate a water wise business at greenup.on.ca/waterwise. Thank you to Green Communities Canada, RBC Blue Water Project, Ontario Trillium Foundation, Peterborough Utilities Group, the City of Peterborough, DBIA, and many others for support toward these programs and initiatives. To find out where you can refill your water bottle, or to register your business, go to bluewptbo.ca.