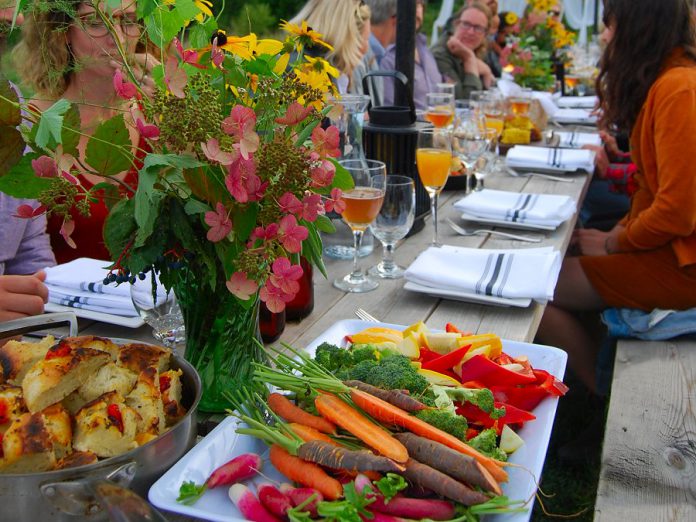 "A family dining experience," coined Cultivate festival organizer Jeffrey Alan Bray while opening the official long table launch dinner for Cultivate 2018.
The unique multi-course outdoor dining event was held last Friday (September 7th) at beautiful Headwaters Community Farm, nestled in the Northumberland Hills.
The annual long-table launch party is an intimate dining experience meant to kick off the festival with a preview of dishes and beverages crafted from the locally sourced ingredients Cultivate is known for.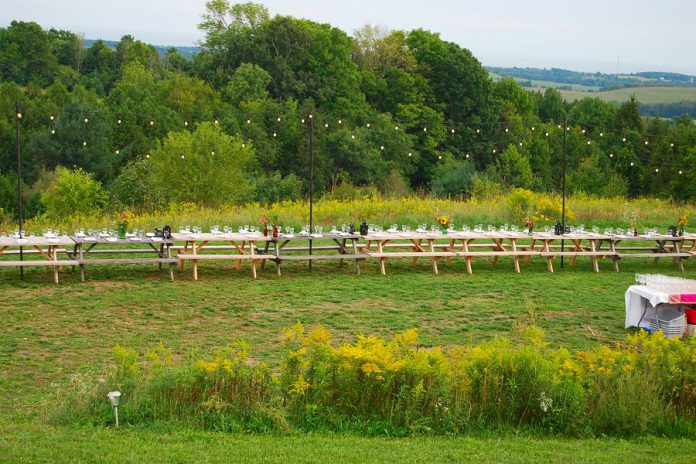 Diners are seated at a long table outdoors, and the experience is not unlike a large family reunion or picnic. Diners are likely to be seated next to (or across from) strangers and are encouraged to pass dishes, converse, share, and enjoy the experience of dining with new people.
Tickets to the opening event are always available in advance. The experience is a great opportunity to learn more about farm-to-table options in Northumberland — while getting a sneak peek at what the festival has to offer.
For the price of a ticket to this limited attendance event, the value of the experience greatly exceeds the cost of $100 per person. If you missed the opportunity to attend, be sure follow Cultivate online and watch for 2019's long table launch party next year.
The Festival Begins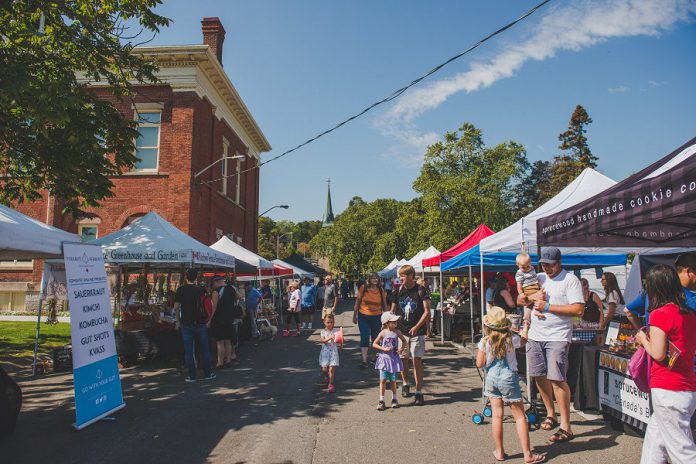 Hailed as a "farm-to-festival celebration", Cultivate celebrates local food, drink, art and culture.
During the festival. you can expect to find a variety of local food producers, chefs and culinary artists, vintners, brew masters, musicians, artists and more. Collaboration between different groups is integral to the festival's success.
"Obviously this takes a lot of work and it doesn't happen without a lot of helping hands," Bray said.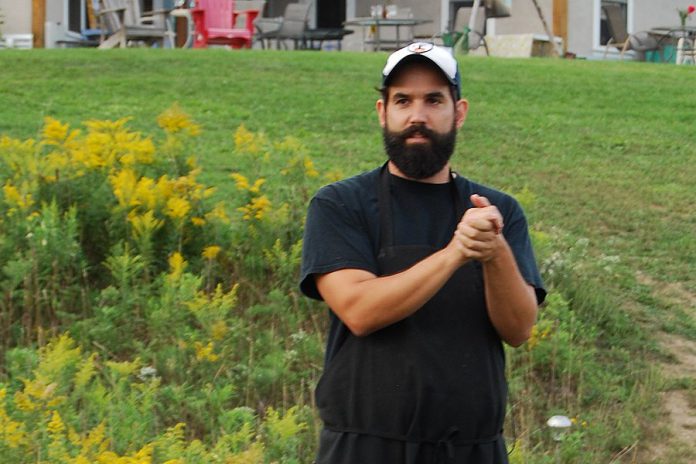 The long table launch marks the beginning of many festival events that happen during the month of September leading up to the "big" weekend (September 21st to 23rd in downtown Port Hope).
The festival is a way to encourage foodies, music enthusiasts, and people of all interests to dine together and discover culinary delights sourced locally in Northumberland.
For this reason, the festival is a cornucopia of sensory delights and the inaugural long table dinner is the earliest opportunity to begin sampling the food, beverages, and music Cultivate is known for.
The Long Table Courses and Chefs
The 2018 kick-off event was hosted by Headwaters Community Farm.
Chef Matthew Ness of Centennial College opened the dinner with a first course of farmstead spreads and breads. The course included cornbread from Stapleton and a Chicken Liver Mousse with ingredients sourced from local chicken farmers.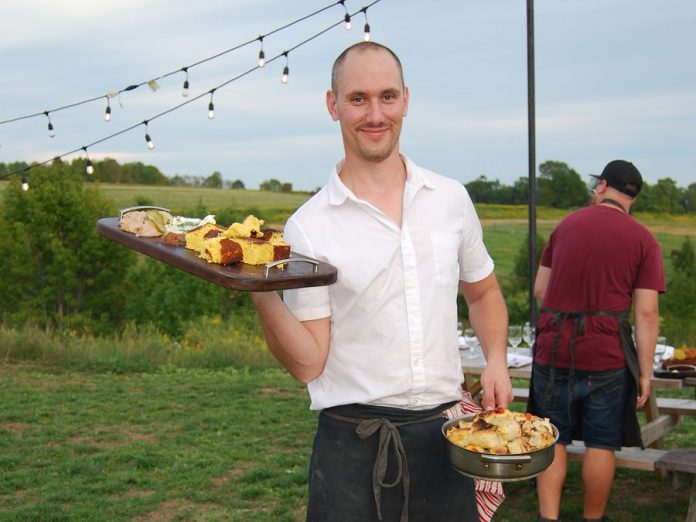 "I just want everybody to pass everything around, to break bread," Chef Ness explained, breaking the ice for diners to begin sharing and conversing during the meal.
Accompanied by a sample of William Street Beer, the second course of dehydrated tomato, kale, and goat cheese stuffed mushrooms included locally foraged ingredients from South Pond Farms and was created by Chef Isaac Meadows of The Mill Restaurant and Pub in Cobourg.
"Foragers Farms provided local kale and dehydrated heirloom tomatoes for the dish and ground cherries were foraged earlier in the day by South Pond Farms," explained Chef Meadows.
The third course included cedar-wrapped, oven-poached Ontario trout compliments of Chef Signe Langford, food editor of Harrowsmith Magazine.
"Farmed, sustainable, clean — eat Ontario fish," Chef Langford said of her phenomenal dish.
The course was accompanied by an apple cider crafted by Empire Cider Co. in Codrington, Ontario.
Following the fish, Team Headwaters and Foragers Farms served a locally sourced salad with ingredients that included Swiss chard, kale, and roasted root vegetables. The salad was dressed with a sumac and honey dressing.
Tony and Linda Armstrong, owners of Headwaters Farm, sourced the ingredients for this course from their own farm.
"It's kind of bigger than salad to us," Bray explains. "We met Tony and Linda and they had an idea for what this farm would become and it's really evolved a lot in three years — but the best part about it is that they want to share this with everybody.
"Headwaters was a big part of the 2017 festival. Part of what's great about the food community we have here is that everyone is in it together and it's nice that people want to share what they have."
The salad was accompanied by a refreshing cold-infused sumac beverage with honey and mint.
"Two of the big flavours we deal with a lot in late summer are sumac and honey," explained Tony Armstrong.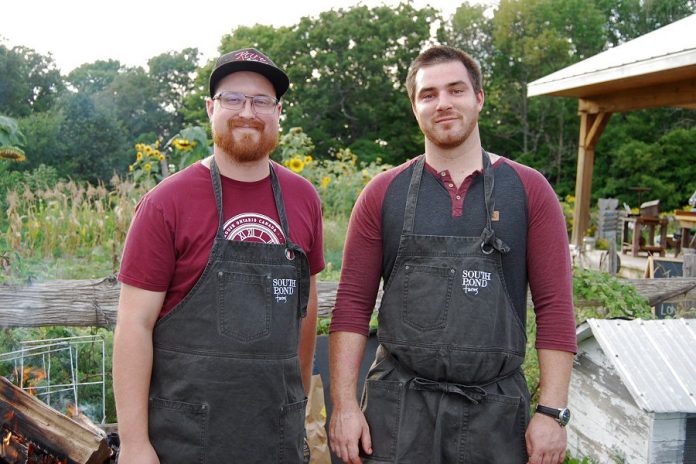 Team Cultivate took the fifth course, serving a delicious mushroom and barley risotto.
New to Cultivate this year, Rolling Grape Vineyard in Bailieboro provided a red marquette to sample. Winemaker Jonathan Drew has been open for three months and the ingredients in his wine are 100 per cent grown in Northumberland.
For the sixth course, Chef Matt DeMille of EAT with Matt DeMille served fire-roasted spring chicken with Piri Piri sauce. Local chicken farmers Kendal Hills Game Farm supplied the meat for this course.
The seventh course was a vegetarian take on an Italian meat dish. Chef Riley Wanke of South Pond Farms, accompanied by Tyler from Rare Grill House in Peterborough, created a unique Squash "Porchetta".
"The squash is from Luna River Farms and the Wild Rice is special because it comes from Curve Lake — you can't get any more local than that," explained Chef Wanke.
The evening wrapped with a dessert course featuring fire-roasted s'mores. Chef Robb Hogg of Nosh and Nourish added a twist to this classic campfire treat with chocolate bark, fruit compote, and maple marshmallows.
The 2018 Festival Music Lineup
Diners were also treated to a live performance from Peterborough's fuzz-folk duo Mayhemingways, who recently released their latest record Skip Land.
Music is an integral part of the festival weekend. Here's an overview of what to expect at this year's festival:
On the first day of the festival (Friday, September 21st), the musical entertainment will include headliner Lindi Ortega, Jade Eagleson, Melissa Payne, and renowned harmonica player Carlos Del Junco and the Blues Mongrels.
On Saturday, September 22nd, the entertainment will include headliner Donovan Woods and the Opposition, Union Duke, Kellylee Evans, Kate Boothman, Cale Crowe, Ganaraska Sheiks, Billard Blossom, Northern Hearts, Pop-Up Choir, Hill and Landing.
Finishing up the weekend, Sunday performances — hosted by children's entertainer Fred Penner — will include headliners The Good Lovelies, Kobo Town, Oh Susanna, and the Hometown Beauts.
Attend the festival for the food and drink, and stay for the entertainment!
Butter Tart Taste-Off
Hosted for the past two years at the Peterborough Farmers' Market, this year the Kawarthas Northumberland "Butter Tart Taste-Off" is taking place at Cultivate on Sunday, September 23rd.
Declared the "sweetest event of the year", the free event takes place outside the festival along the adjacent streets and river banks.
More than 20 world-class butter tart bakers from Kawarthas Northumberland will showcase the butter tarts they're known for.
The taste off includes awards for the best classic butter tart, the best gluten-free tart, the best "100 mile" tart (made with mostly local ingredients), and a fun category "Arts 'n' Tarts" where artistry and creativity are judged.
Cultivate Festival Weekend Extras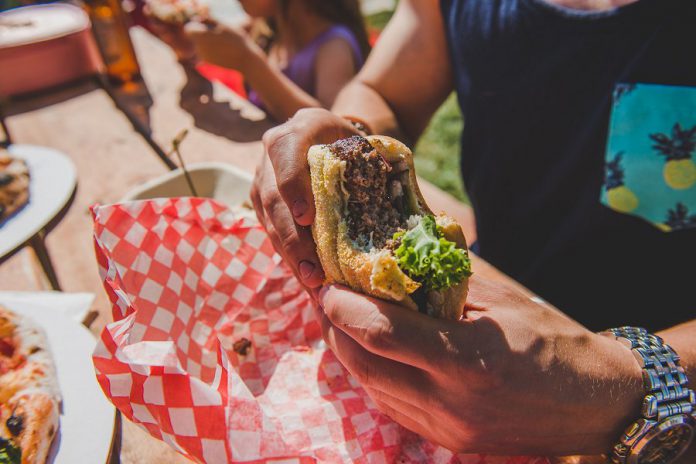 It's important to note that Cultivate is a family-friendly event. One festival perk is that kids aged 12 and under can attend free. So don't be afraid to bring your entire family and enjoy the festival together.
Cultivate also boasts live art installations, culinary workshops, and a 60 vendor marketplace to keep you busy while you're attending the festival.
The 2018 Cultivate Festival will be held in Port Hope's Memorial Park (on Queen St. between Walton and Augusta) from September 21st to 23rd.
A weekend pass is $69, with day passes available on Friday ($29), Saturday ($39), and Sunday ($29). VIP passes are also available, ranging from $99 to $139.
A free "swag bag" is available for weekend pass holders.
For more information about Cultivate — including pre-festival weekend pop-ups — and to purchase tickets for the big weekend, visit the festival website at cultivatefestival.ca.