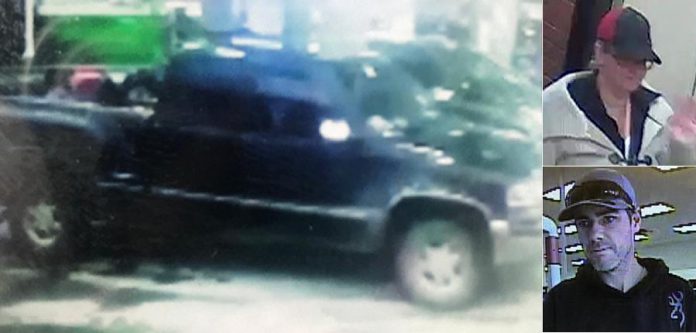 Police are seeking the public's help in identifying two people and a vehicle that eluded police and are suspected to be involved in a series of thefts from Fenelon Falls over the weekend.
On Sunday morning (October 14), officers with the City of Kawartha Lakes Detachment of the Ontario Provincial Police (OPP) were on patrol in the Bobcaygeon observed a pickup truck that matched the description of a vehicle connected to multiple thefts in Fenelon Falls on Saturday.
Officers attempted to stop the truck using standard emergency lights and equipment, but the driver of the truck failed to comply with the roadside stop and instead increased speed and headed north towards the Village of Kinmount.
In a joint effort, OPP officers from the Haliburton Highlands and City of Kawartha Lakes detachments attempted to safely stop the truck to identify the female driver and the male passenger.
An OPP helicopter was also called to assist road officers with tracking the location of the truck. Two OPP vehicles were damaged while trying to stop the fleeing truck. One unit sustained tire damage after it ran over a spike belt and the second was involved in a minor collision with the suspect vehicle.
The suspect vehicle, which eluded police, was last observed north of Fenelon Falls.
Police are seeking a black, mid-2000s GMC Sierra extended cab step side pickup truck, with a blue tarp covering the back portion of the cab. The truck will likely have collision damage to the left rear box panel on the driver's side.
Through further investigation, police have obtained and released photos of the two suspects, the female driver and male passenger.
Anyone having information on this crime is asked to contact the City of Kawartha Lakes OPP at 1-888-310-1122. Information can also be reported anonymously by calling Crime Stoppers at 1-800-222-8477 (TIPS) or by visiting the Kawartha Lakes-Haliburton Crime Stoppers websie at www.khcs.ca and submitting an anonymous tip online.