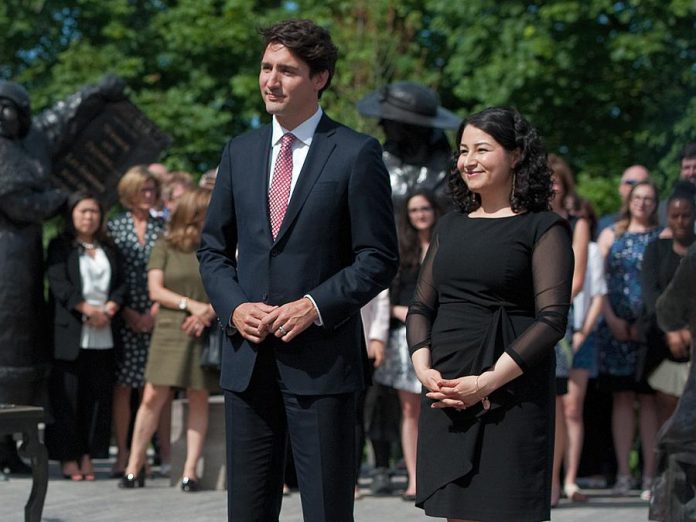 With the third anniversary of her tenure as Peterborough-Kawartha MP fast approaching, Maryam Monsef's excitement for the difference she feels she can make is as clear as the day she was elected.
Speaking over lunch Friday (October 12) at the Speak Easy Café in downtown Peterborough, the 33-year-old Liberal Cabinet member — she was appointed Minister of Status of Women in January 2017 — touched on several topics while making clear her intention to seek re-election next year.
"We've accomplished a lot together but we still have a lot more work to do … I'm up for the task," said Monsef, noting she will allow her name to again stand for nomination as the local federal Liberal candidate.
Not surprisingly, much of Monsef's optimism for what's ahead, and her clear pride in what has transpired, is rooted in the empowerment of women and young girls across the country. To that end, last Thursday (October 11) she was immersed in International Day of the Girl events here in the riding.
First marked in 2012, the United Nations-declared observance supports more opportunity for girls and increases awareness of gender equality on a global scale. Locally, the day saw Monsef attend both Westmount Public School and Thomas A. Stewart Second School for town hall-style assemblies, as well as host a roundtable at her Bethune Street office with a group of girls ranging in age from 6 to 14 years old.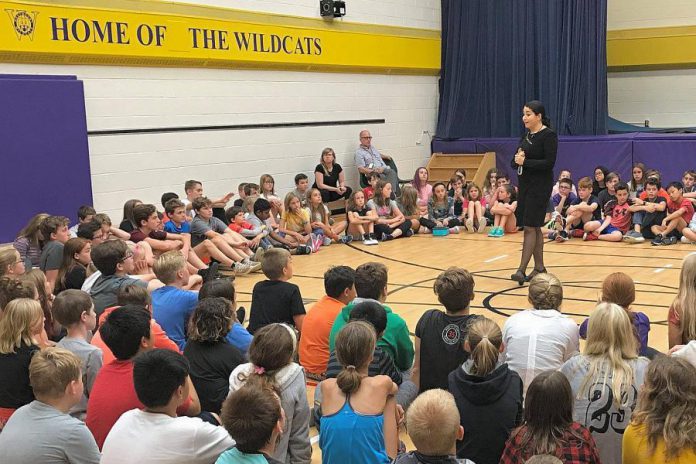 "When we asked them 'What does it mean to be a girl?', a lot of their responses were about how important it is for them to be seen, to be heard, to be recognized, for there to be fairness … that girls can do the things that boys can do," noted Monsef.
"We would do well to listen to girls and include boys in the conversation. Our girls are confident, they're compassionate and they want to get things done. Theirs is the smartest generation to have ever lived; the most powerful generation. I tell them this over and over again.
"They have access to this (points to her cell phone). The world is at their fingertips. They make a world of difference when they're supported. That's inspiring to me. That's hopeful for me. They give me great ideas and they're a reminder of how important it is to work with them."
Noting how important is that young girls have mentors, Monsef is taking action in that regard, organizing and hosting the inaugural Peterborough-Kawartha Women's Leadership Awards on Saturday, October 27th at 7:30 p.m. at Showplace Performance Centre in downtown Peterborough.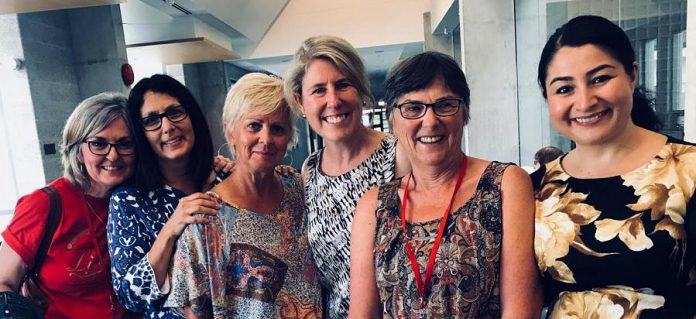 Awards presented will highlight nominees' achievements in such areas as entrepreneurship, environmental stewardship and poverty eradication, with one receiving a Lifetime Achievement Award. While nominees won't be revealed until the event, kawarthaNOW.com founder and publisher Jeannine Taylor is among them. Of particular note, each nominee, as well as audience members, are asked to bring a youth along.
"The purpose of the awards is to recognize and highlight the work of great women in our community so that little girls and little boys hear and see role models to whom they can look up to," said Monsef, adding, "We know one of the best ways to make great leaders is to showcase leaders they can relate to."
Referencing her own experience, Monsef said role models were pivotal in making her aim higher.
"Whatever I've achieved in my life, whatever opportunities and doors opened for me, whatever challenges I've had, they have brought me to this moment in time," she said.
"None of that would have been possible without the support of mentors and champions who genuinely cared about me; who took the time to invest in me and pick me up when I had fallen and encouraged me to pursue big ideas and big dreams and to help me make them happen. I come to this work with an understanding of the responsibility I have to pave the path for others in the same way that it was done for me.
"I also recognize that I'm part of the movement that is much bigger than me. A movement that existed long before I got here and will exist long after I'm gone. The more boys and girls and gender diversity are part of that movement, the more we all try to lead by example, the better our world is. It's a responsibility I do take seriously."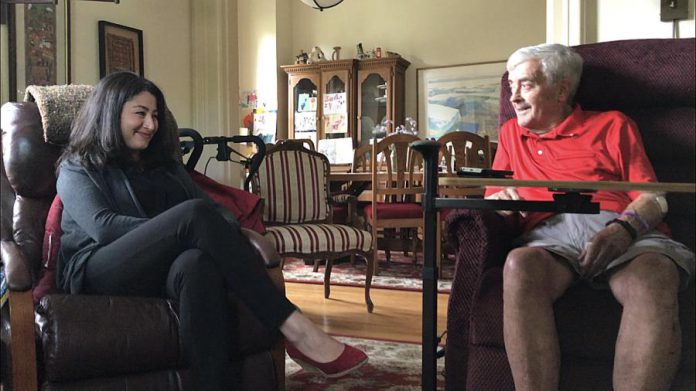 On Saturday (October 13), Monsef was in a packed St. John's Anglican Church, honouring the memory of one of her most influential mentors: former Peterborough MP Peter Adams, who died on September 28th at age 82 following a battle with cancer.
"He was my MP, he was my friend, he was my mentor, and then he was my constituent," she said, no shortage of awe in her voice.
"I first met Peter at Confederation Park. I was in high school at PCVS and was outside with some friends. He was in his hot pink shorts, jogging as so many of us remember him. He stopped and came and talked to us. He took the time to give us young people the time of the day and answer questions.
"When I got elected, we stayed connected. Who wouldn't want that kind of guidance? Who wouldn't want a great mind to help you navigate the learning curve? We have a similar Canadian story. We both came to Peterborough as immigrants, Trent is a part of both our stories, he tried to save PCVS and that fight was a big part of my political journey. We both appreciate and love a community that's given us so much. But he did more than just love it. He served with all his heart. His legacy is profound and we're all better because of him."
In what proved to be a very busy week for Monsef, she dropped by Trent University last Tuesday (October 9) to announce $2.4 million in funding from the Natural Sciences and Engineering Research Council (NSERC) to support research on topics ranging from Alzheimer's resistant memories to the ecological impacts of human landscape use.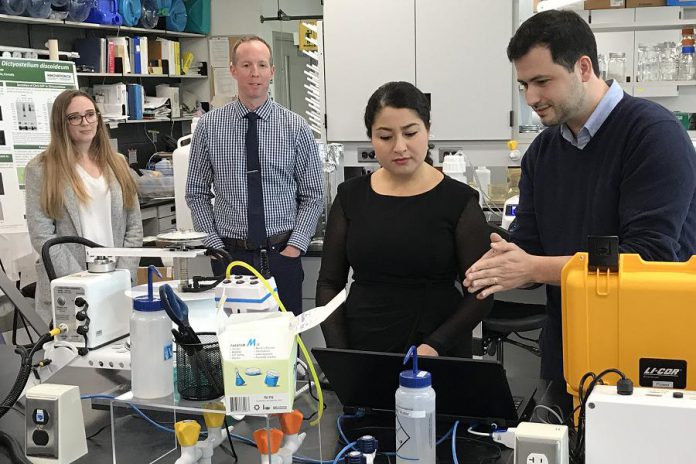 "Great ideas come from small communities," said Monsef. "Any investment in research is good but for a community like ours that depends on Trent doing well, it's good for our economy. It's part of the $120 million worth of investments that I've been proud to see come to our community since I got elected."
"These dollars don't just show up on their own. There is a lot of competition for them. It takes smart collaborations between myself and my team and, most important, the effort and persistence of the people putting the applications (for funding) together."
Looking ahead, two developments coming to fruition on the near horizon — the legalization of recreational marijuana this Wednesday (October 17) and the election of a new Peterborough city council on Monday, October 22nd — are catching Monsef's attention.
"This (marijuana legalization) is important for our communities because our kids will be safer, and our communities will be safer, because the money will no longer go to fund organized crime," said Monsef.
"The evidence is overwhelmingly clear. The current approach on prohibition is not working. Canada's kids have access and use marijuana more than most developed countries. Our kids are already getting this stuff unfortunately. Not only that but the stuff they're buying from criminal organizations is untested. We don't know the safety of the stuff they're buying."
"With regulation and legalization comes strict rules. It's actually going to be harder for kids to buy this stuff. It's actually going to be a much greater penalty for selling to young people or selling it around areas where young people congregate. I know no one in our community wants our kids to pay criminals for a substance that no one can trust."
As for the municipal election, Monsef is particularly pleased that a number of women are seeking election, including mayoral candidate Dianne Therrien. It was just four years ago that Monsef — a political neophyte — made her own bid for the mayor's chair, losing by just 1,331 votes to incumbent Daryl Bennett.
If Monsef has a preference for who will lead the City of Peterborough politically over the next four years, she isn't saying but the inference is clear.
"Just 18 per cent of mayors in Canada are women," she pointed out.
"I'm absolutely following it (the election). Whoever gets elected will have a seat around that table and have a voice that will determine the future of the city. It will also determine the way we work together to achieve desired outcomes for everyone."