The 15th annual Peterborough Business Excellence Awards were handed out last night (October 17) at Showplace Performance Centre in downtown Peterborough.
The Greater Peterborough Chamber of Commerce awards publicly recognize and honour local businesses that have demonstrated a passion for excellence.
Hosted by Megan Murphy, the event included awards for local businesses in 17 different categories, along with 4-Under-40 Profiles, two Business Student Leadership Prizes, and Business Citizen of the Year. More than 50 businesses and people were honoured.
The prestigious Business Citizen of the Year was awarded to Morris Cox, founder of family-owned office supply company Brant Basics.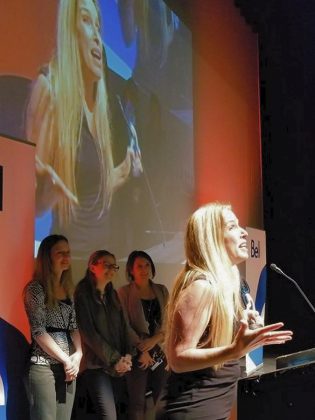 Cox founded the company in 1964, selling typewriters and related items from the basement of the family home. Following two storefronts on Charlotte Street, Brant moved to its 25,000-square-foot permanent home and head office at 296 George Street. The business is currently owned by Cox's sons Jeff and David and his daughter Susan Sharp.
Other recipients included engineering company Cambium (Employer of The Year), insect-as-food producer Entomo Farms (two awards, once for Innovation/Research & Development and one for Environmental Practices), Tiny Greens Plant Cafe (Local Focus), Lang Pioneer Village Museum (Customer First), and Martin Carbajal, La Mesita Restaurante (Immigrant Entrepreneur Of The Year).
The full list of awards finalists and recipients is provided below.
---
2018 Business Excellence Awards Finalists and Recipients
Entrepreneurial Spirit (sponsored by Gauvreau & Associates Chartered Professional Accountants)
Salti Yoga
Tiny Greens Plant Cafe
We-Fix-U Physiotherapy and Foot Health Centres – Recipient
Skilled Trades (sponsored by Business Development Bank of Canada)
Bruce Maly Plumbing & Drain Services Inc.
Kawartha Lakes Construction – Recipient
The Endeavour Centre
Tourism (sponsored by BMO Financial Group)
Cavan Art Gallery & Academy
Harley Farms
Kawartha Craft Beer Festival (Publican House Brewery and Smithavens Brewing Company) – Recipient
Hospitality (sponsored by Kawartha Credit Union)
Personal Touch Catering & Events
The Imperial Tandoor – Recipient
The Venue
Micro Business – Fewer than 5 employees (sponsored by Darling Insurance & Realty Ltd.)
Birchview Design
Pure Essence Spa
Sullivan Law Ptbo – Recipient
Retail (sponsored by RBC Royal Bank)
Lakefield Foodland
Leon's Furniture – Recipient
The Original Flame
Professional Services (sponsored by The Peterborough Examiner)
Cody & James CPAs Professional Corporation
Gauvreau & Associates Chartered Professional Accountants – Recipient
Kawartha Credit Union
Immigrant Entrepreneur Of The Year (sponsored by Fleming College)
Martin Carbajal, La Mesita Restaurante – Recipient
Mohammad Alftih, (OMG) Oasis Mediterranean Grill
Andressa Lacerda, Noblegen Inc.
Customer First (sponsored by TD Bank Group)
Driving Miss Daisy
Home Suite Home Transitions
Lang Pioneer Village Museum – Recipient
Local Focus (sponsored by Trent University)
4th Line Theatre
Locavorest
Tiny Greens Plant Cafe – Recipient
Innovation/Research & Development (sponsored by Innovation Cluster)
Entomo Farms – Recipient
Noblegen Inc.
Selwyn Garlic Farms
Commercial Development Or Renovation (sponsored by City of Peterborough)
Publican House Brewery – Recipient
The Venture North Building
Marketing & Promotion (sponsored by BDO Canada LLP)
Corus Peterborough
inspirtainment inc. – Recipient
Mega Experience
Environmental Practices (sponsored by County of Peterborough)
Camp Kawartha
Entomo Farms – Recipient
The Endeavour Centre
Health & Wellness (sponsored by Peterborough Regional Health Centre)
Jo Anne's Place
Kawartha Heights Retirement Living
Salti Yoga – Recipient
Not-For-Profit (sponsored by Community Foundation of Greater Peterborough)
Hospice Peterborough – Recipient
The Canadian Canoe Museum
YWCA Peterborough Haliburton
Employer Of The Year (sponsored by LLF Lawyers LLP)
Cambium – Recipient
Pinchin Ltd.
Trent Valley Honda
4-Under-40 Profiles (sponsored by Community Futures Peterborough)
Reem Ali – Recipient
Mike D'Alessandro – Recipient
Nicole Gagliardi – Recipient
Andressa Lacerda – Recipient
Business Student Leadership Prizes (sponsored by Peterborough & the Kawarthas Economic Development)
Naman Bhardwaj, Trent University – Recipient
Emily Scott, Fleming College – Recipient
Business Citizen Of The Year (sponsored by Nexicom) – Recipient