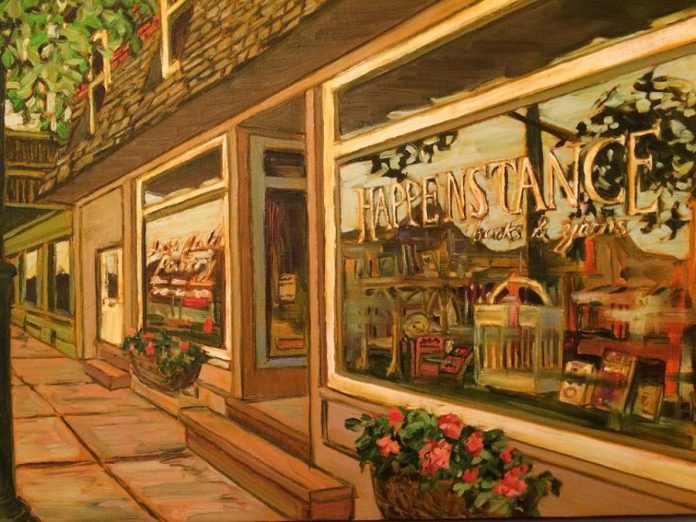 ---
Awards Of Excellence Finalists Announced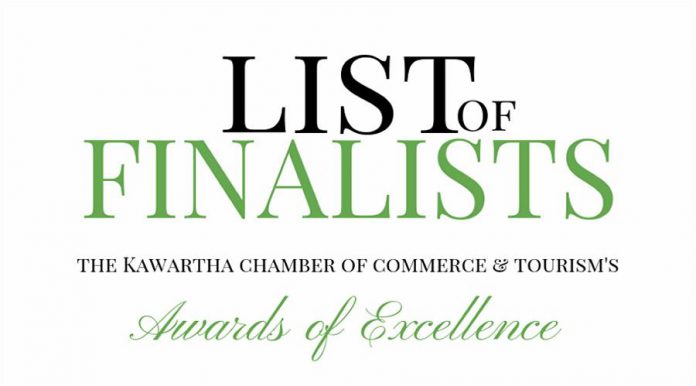 The Chamber received over 80 nominations for its 19th Annual Awards of Excellence this year!
The judging panel had to make some difficult decisions, and scores were extremely close at times.
Given the high volume of nominations that the Chamber received and challenging decisions that the judges were faced with, some of the awards categories have more than three finalists.
Congratulations to all the finalists!
Commercial Development or Renovation (sponsored by BALL Real Estate Inc., Brokerage)
Jack's Lake Lodge
Lock Stop Cafe
The Cozy Home
The Regency of Lakefield
Customer Service Excellence (sponsored by CIBC)
Happenstance Books & Yarns
Logan Tree Experts
The Regency of Lakefield
Village Pet Food & Supply
Entrepreneur Innovation (sponsored by Gastle Registered Patent Agents)
kawarthaNOW
Molly's Acres
Thirteen Moons Wellness
Vetterview
Not-for-Profit Excellence (sponsored by Darling Insurance)
Community Care
Cuddles for Cancer
Peterborough Humane Society
Retailer of the Year (sponsored by Nexicom)
Happenstance Books & Yarns
Style Boutique
Trinkets & Treasures
Service Sector Excellence (sponsored by Herod Financial Services)
Kawartha Lakes Construction
Lakefield Herald
The Regency of Lakefield
Tourism/Hospitality Excellence (sponsored by Peterborough & the Kawarthas Economic Development)
Greenbridge Celtic Folk Festival
Indian River Reptile Zoo
Lang Pioneer Village Museum
Outstanding Business Achievement (sponsored by County of Peterborough)
Lakefield Foodland
Nightingale
Salon Sorella & Day Spa
Special Recognition (sponsored by ISL Insurance Brokers)
Citizen of the Year (sponsored by RBC)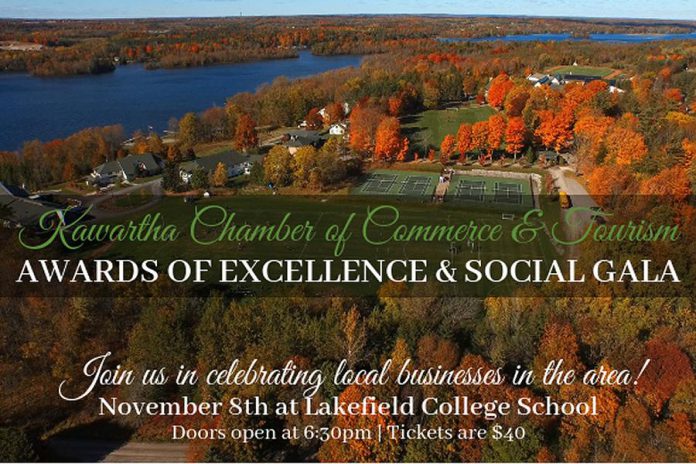 Award recipients will be announced at the 19th Annual Awards of Excellence and Social Gala on Thursday, November 8th at Lakefield College School.
Tickets are only $40 this year, so bring along your staff to celebrate local businesses with the Chamber! Your ticket includes 1 complimentary beverage and light hors d'oeuvres.
There will be silent and live auctions, a cash bar and music from Rhythm & Grace. Please note: if you plan to purchase additional drinks from the cash bar, there is not an ATM on site. Auction items can be purchased with a credit card.
This highly anticipated event is always a favourite, so those hoping to attend should act quickly! There is only a limited number of tickets available. Tickets can be purchased online or by calling 705-652-6963. Buy your tickets now.
Bringing staff along is a great way to say thank you for their contribution to the team.
The Chamber thanks its Social Gala Sponsor, Shorelines Casino Peterborough.
Sneak Peek At Live Auction Items For Chamber Awards Of Excellence & Social Gala

For the next few weeks leading up to the Awards of Excellence and Social Gala, the Chamber is going to feature a sneak peek at the live auction items. There are six amazing packages up for grabs!
If you would like to contribute an item to the auction, please email events@kawarthachamber.ca.
If you are unable to attend the Gala, but would like to submit a bid for one of these packages, please email generalmanager@kawarthachamber.ca with your maximum bid, and include "Auction Bid" in the subject line. Please include a name and phone number. A proxy bidder will be assigned to bid on your behalf in increments no higher than your maximum bid.
Pamper Package For Four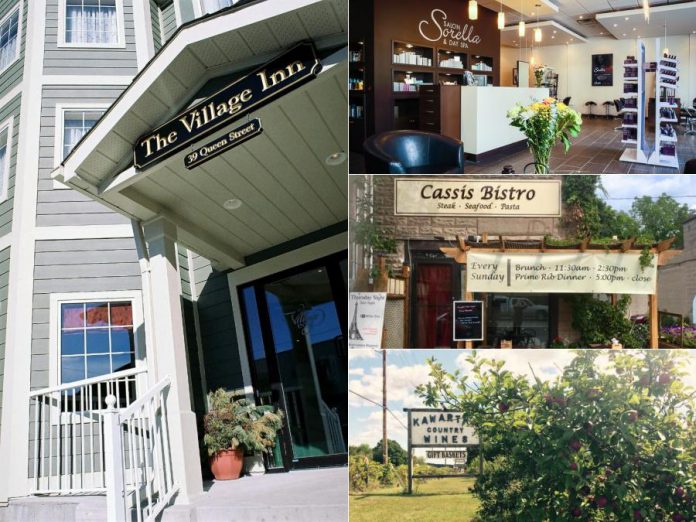 Relax, unwind and enjoy time with friends with the Pamper Package.
The package includes:
Manicures & Pedicures for four at Salon Sorella & Day Spa;
Dinner for four at Cassis Bistro;
One night stay at the Village Inn;
Kawartha Winery Tour & Tasting at Kawartha Country Wines; and,
Limo transportation provided by Salon Sorella & Day Spa.
The Chamber thanks donors Salon Sorella, Kawartha Country Wines, the Village Inn and Cassis Bistro.
Chocolate Lovers Package For Two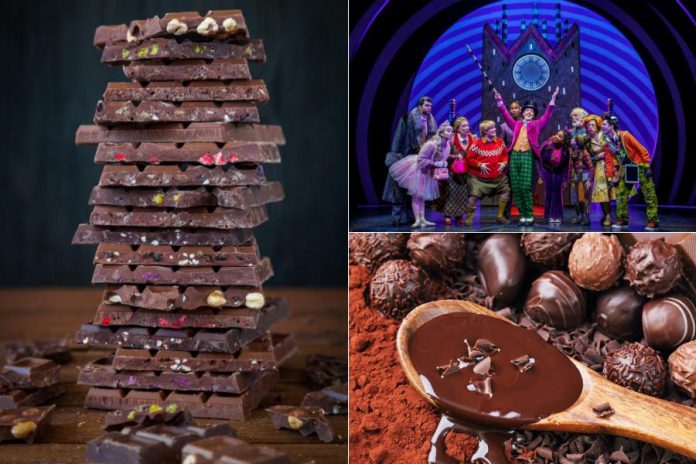 If you love all things chocolate, you won't want to miss out on this package. It's perfect for all of the chocolate lovers out there.
The package includes:
Two tickets to Charlie & the Chocolate Factory at Princess of Wales Theatre in Toronto on Saturday, Jan 5th at 1:30pm donated by Windover Plumbing Inc; and,
Chocolate making for two at The Chocolate Rabbit as well as a chocolate Mad Hatter Top Hat donated by The Chocolate Rabbit;
The Chamber thanks donors Windover Plumbing and The Chocolate Rabbit.
All-Candidates Meetings: Selwyn & Douro-Dummer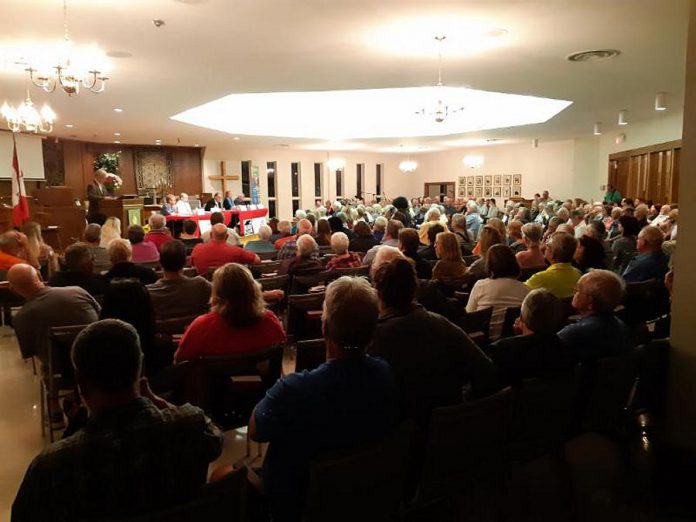 Last week, the Chamber hosted the final two All-Candidates Meetings in its three-part series for the 2018 Municipal Elections.
Both meetings had great turnouts: over 200 people attended the Selwyn meeting and over 100 people attended the Douro-Dummer meeting. The Chamber thanks everyone who attended!
Did you know that voting is open for the Township of Douro-Dummer, Township of Selwyn, Municipality of Trent Lakes and Township of North Kawartha? If you have not voted yet, read the Chamber's most recent blog post on how to vote in the 2018 Municipal Elections.
Voting closes on Monday, October 22nd at 8 p.m.
Support The Chamber's Women's Build Team For The Habitat Curve Lake Build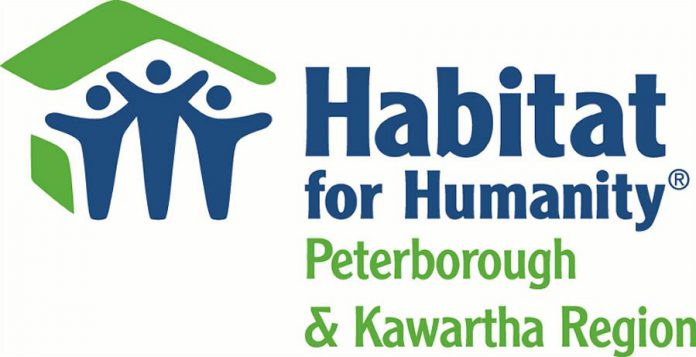 The Chamber's Women's Build Team's build day for the Habitat for Humanity build in Curve Lake First Nation is coming up next week on Monday, October 22nd.
The Chamber is currently fundraising to help raise money for the build. If you would like to make a donation online, please visit the Chamber's fundraising page or stop by the Chamber's office at 12 Queen Street in Lakefield.
If you would like to join the Chamber's Women's Build team, reach out to Stacey at membership@kawarthachamber.ca.
5 Minutes For Business: Good Social Media Is Good Business

Small businesses in Canada face many challenges on their path to growth and even more so in becoming globally competitive enterprises.
We have heard the statistics before: SMEs account for 99.7% of Canada's businesses, but they contribute only 25% of our goods and services exports and less than a third of our GDP. How does that stack up against our G7 peers? In those countries, SMEs account for 50% of GDP and 56% of employment. Canada's record in scaling up small businesses into larger, globally competitive enterprises has to improve.
Recent research highlights the potential for Canadian SMEs to become much more competitive in the scaling process. One of the tools that helps Canadian companies grow globally is social media. It is easy to use, inexpensive and provides access to new customers in a variety of ways. Mobile connections are only accelerating that access because we can now purchase from anywhere at any time.
A whopping 70% of small Canadian companies use some form of social media and most use several.
10 Ways To Build A Canada That Wins: 2019 Election Edition Survey
A strong and prosperous Canada depends on business growth.
For the past seven years, the Canadian Chamber of Commerce has published its 10 Ways to Build a Canada that Wins, which articulates a series of clear priorities and objectives that, if addressed, will give Canada a competitive edge, improve productivity and grow the economy.
It is key that the report reflects the views of businesses big and small throughout Canada, especially in an election year. Participate in a 5-to-10-minute confidential feedback survey.
By providing your input, you will be shaping the Canadian Chamber of Commerce's 2018 message to the federal government and other stakeholders, and telling chambers of commerce at the national, provincial, territorial and local levels about the priorities that are important to you, both as a Canadian and a business person.
Deadline to complete the survey is November 13th.
Shorelines Casino Peterborough Is Now Open
Shorelines Casino Peterborough has officially opened on Crawford Drive. The new 50,000-square-foot casino opened its doors to the public Monday night (October 15) at 5 p.m..
The casino features slot machines, live dealer table games (blackjack, roulette and baccarat) a Racebook, live entertainment area, and a restaurant and lounge.
Salon Sorella & Day Spa Is Celebrating 10 Years In Business – October 20th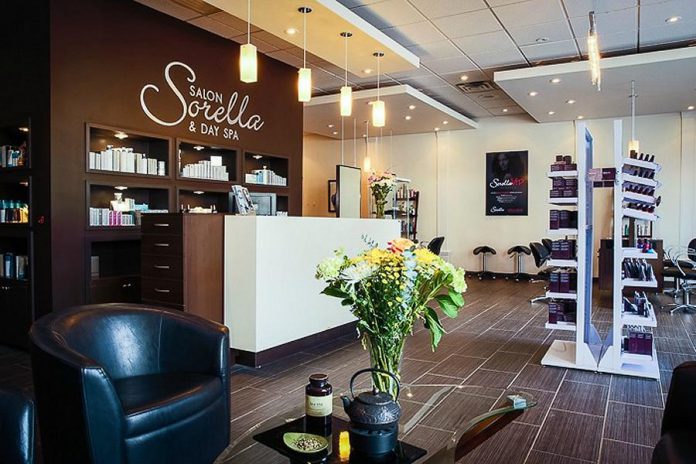 Salon Sorella and Day Spa is celebrating 10 years in business this Saturday, October 20th from 4 to 8 p.m. at their storefront at 42 Queen Street in Lakefield.
Join them for a great night of celebration, laughter, live demos, gift draws, and swag as they celebrate 10 years in business with all of their guests, friends and family!
Appetizers and refreshments will be provided. There will also be a Toonie bar by Swanky Events.
2018 TD Economic Outlook Luncheon – October 30th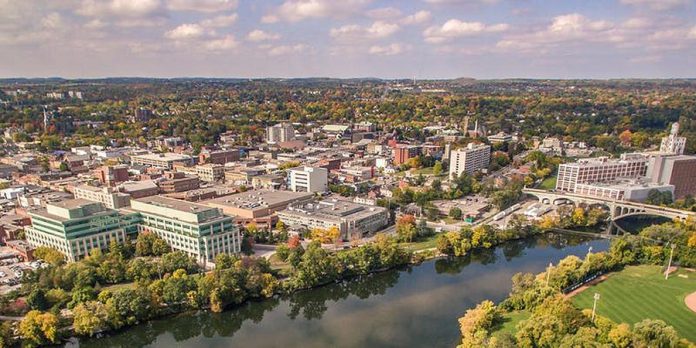 Peterborough & the Kawarthas Economic Development is hosting the TD Economic Outlook Luncheon on Tuesday, October 30th from 11 a.m. to 1:30 p.m., and will explore the trends, opportunities, and challenges both within Peterborough & the Kawarthas and throughout the globe.
Join TD Bank Group Vice-President and Deputy Chief Economist, Derek Burleton for a discussion of what will shape our economic landscape as we plan for the year ahead.
The event will also include an update from Peterborough & the Kawarthas Economic Development President & CEO, Rhonda Keenan on newly-developed strategies for creating bridges to regional prosperity.
Tickets are $35 (plus HST) and include lunch. Register by next Tuesday, October 23rd.
Crawford Building Consultants Celebrating 30 Years In Business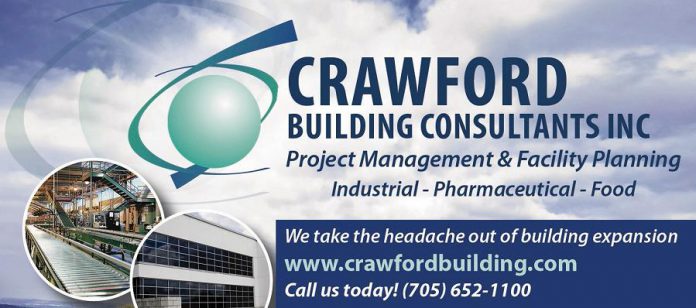 Crawford Building Consultants is celebrating 30 years of business this month!
Celebrate with them next week on Tuesday, October 23rd from 5 to 7 p.m. at 36 Concession Street in Lakefield. There will be fellow business people and invited dignitaries of Lakefield, Peterborough and the province in attendance.
Hors d'oeuvres and light refreshments will be provided.
If you have any questions, you can reach Sarina at sarina@crawfordbuilding.com or 705-652-1100.
Chamber Members Are Hiring
Tim Hortons Lakefield – Shift Supervisor
Tim Hortons in Lakefield is looking to hire a shift supervisor.
Contact Catherine at 705-652-9991 or email robertahubble@bellnet.ca.
Buckhorn Community Centre – Art Festival Director
The BCC is looking for a director to lead and implement changes to the festival to increase attendance and sales, as well as strengthen the community engagement.
Part-time, year-round position.
Email resume with cover letter to buckhorncc40@gmail.com by October 19th.
Township of Selwyn – Financial Services Assistant
The Township is seeking a Financial Services Assistant to perform accounting duties as well as provide administrative support for the Finance Department.
Send your resume and cover letter to Kim Berry, HR Coordinator, at kberry@nexicom.net by 12 p.m. on Monday, October 22nd.
If your business or organization has a job opportunity you would like to advertise, you can add it to the Chamber's website through your Member Information Centre account (or submit the description to info@kawarthachamber.ca) and the Chamber will share it in its next Newsflash.
Indigenous Conference: Walking Together – October 19th & 20th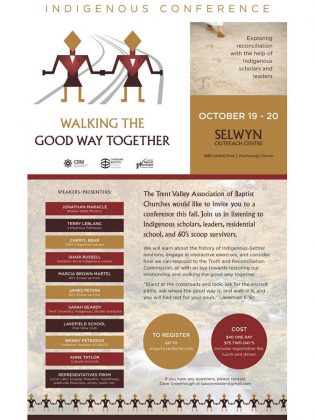 This Friday & Saturday, October 19th and 20th, the Trent Valley Association of Baptist Churches is hosting their Indigenous Conference: Walking Together at Selwyn Outreach Church.
Listen to Indigenous scholars, leaders, residential school and Sixties Scoop survivors, learn about the history of Indigenous-Settler relations, take part in interactive exercises, and consider how to respond to the Truth and Reconciliation Commission.
The cost to attend the conference is $75 for two days (includes 2 lunches and 2 dinners) or $40 for one day (includes 1 lunch and 1 dinner). Register at eventbrite.com.
Summit On Aging: Dementia Dialogues – October 25th
The Summit on Aging: Dementia Dialogues is taking place next Thursday, October 25th at Trent University from 8 a.m. to 4:30 p.m.
Panelists include:
Dr. Peter Lin (keynote speaker) – Director of Primary Care Initiatives at the Canadian Heart Research Centre and health columnist for CBC Radio.
Karin Wells (special guest) – CBC Radio documentary maker.
If you would like to attend this event but are providing care for a person with dementia, there will be a free VON Adult Day Program on-site. Call 705-745-9155 (ext 6423) to pre-register.
Tickets are $20 for seniors and students and $50 for adults. Register at eventbrite.ca.
Upcoming Events
McLean's Buckhorn Pumpkin Fest – Every Saturday & Sunday until October 28th
Community Care Flu Shot Clinic – October 24th
WBN October Spotlight on Style Boutique – October 24th
New Venture Session – October 25th
Historic All Hallows Eve – October 26th
Try Curling at Ennismore Curling Club – October 27th
Dance Away MS – October 27th
Tek Savvy Seniors – October 31st
For more information about the businesses and events listed above, please visit the Kawartha Chamber of Commerce & Tourism website at kawarthachamber.ca.
All photos supplied by Kawartha Chamber of Commerce except where noted.