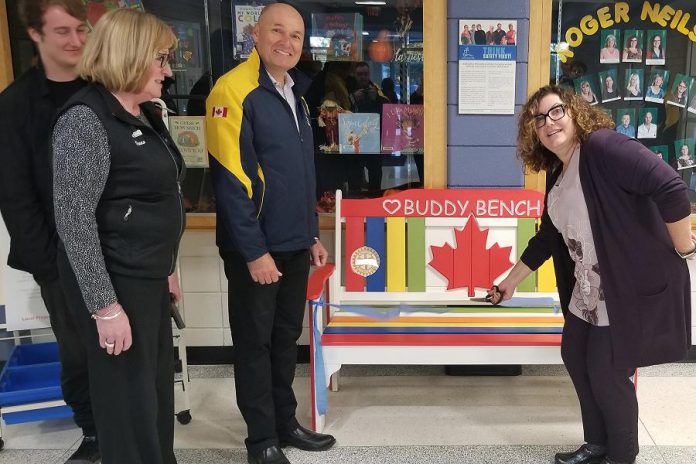 For the second year in a row, the Rotary Club of Peterborough Kawartha has presented a Peterborough elementary school with a "buddy bench."
Rotarians presented the Rotary Buddy Bench earlier today (October 18) to principal Denise Humphries and the staff and students at Roger Neilson Public School on Erskine Avenue in Peterborough.
"Thank you to the Rotary Club of Peterborough Kawartha for honouring Roger Neilson Public School and for the generous donation of our new Buddy Bench," said Humphries. "We hope that the Buddy Bench provides an opportunity for students to foster new friendships, build empathy and reinforce inclusiveness."
Last year, the Rotary Club of Peterborough Kawartha donated the first Rotary Buddy Bench to St. Catherine's Catholic Elementary School in Peterborough.
A buddy bench, also known as a friendship bench, is designed to reduce loneliness and foster friendships on the playground. The popularity of the benches has grown across Canada, as well as the United States and Europe.
Kawartha Rotarian Donna Geary and her son Nate Loch initiated the Rotary Buddy Bench program in Peterborough last year.
During today's presentation, Nate shared his past experiences of both inclusiveness and exclusiveness in both elementary and high school — of being both the victim and the perpetrator of bullying.
"The Buddy Bench is something that I really wish I had growing up," Nate said. "It's a good social tool for the kids of Roger Neilson to combat the problem of bullying. By understanding one another, we find similarities we might not have found, and unlikely friendships can form from even the smallest of encounters.
"I hope that the Buddy Bench helps create some of these unlikely friendships and helps keep as a reminder that we all could be on that bench at one point in our lives. Looking for a friend, looking for someone to listen, to simply just be a presence even for a moment."