Of all the messages shared Thursday morning (October 18) in the lobby of VentureNorth in downtown Peterborough, one came much through louder than the rest: keeping local business success stories a secret is a practice whose time has well passed.
To that end, Junior Achievement – Peterborough, Lakefield, Muskoka (JA-PLM) is again on the hunt for nominees for induction into its Business Hall of Fame.
On May 23, 2019 at The Venue, the fourth induction ceremony will celebrate the success and contributions of local entrepreneurs while holding them up as inspiring role models for young people looking to one day make their own mark in business.
With nominations due by 3 p.m. Friday, November 30, nominators are asked to find the required form online on the JA-PLM website at www.jacanada.org/event/2019-peterborough-business-hall-fame. The list of 2019 inductees will be revealed Wednesday, January 9.
"The big thing for me is it (the induction ceremony) really tells our story," said Michael Skinner, president and CEO of the Peterborough Innovation Cluster and 2017 Business Hall of Fame inductee, who will chair the selection committee — comprised of business people and some past inductees — in his newly assigned role as Chancellor.
"We've had a lot amazing people come through this area and build some amazing things but they're very quiet," Skinner said.
"We've got a lot of entrepreneurs who have created lot of jobs and made a tremendous amount of money and given back to the community but you see them at the local grocery store picking up Corn Flakes.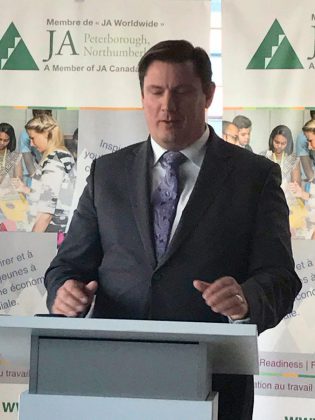 "This community has always been very quiet about what our accomplishments are. Because we haven't highlighted all of those, it's sometimes harder for the next generation to realize how powerful this community really is.
"By putting this together, it really sends the message to young people thinking about being entrepreneurs that you can be a successful businessperson in this community."
Earlier, Skinner explained the search is on not only for those who have owned and grown a local business that has been successful but also "have given back to the community and built their business in an ethical way," adding "It's all about telling our story as a community. A lot of very important people in our community don't make a big deal about their success. The disadvantage of that is the message doesn't always get to the younger generation. This is a way to highlight greatness."
JA-PLM president and CEO John McNutt echoed that view, saying "There are still tons of great stories to be told," noting the induction ceremony does just that while presenting its inductees as role models for young people with entrepreneurial aspirations and goals.
"I often say to young people 'You don't have to be the brightest person in the room, you just have to have an idea,'" McNutt said.
"Take a look around our community and see what isn't here and figure out if could you create a market here. The other thing is if you use something that frustrates you all the time, fix it.
"Last year at our induction ceremony, we had a young lady who was the chief financial officer for the company program we ran at (Thomas A. Stewart Secondary School). To see this 16 year old get up on stage was something. (JA-PLM board chair) Paul Ayotte and I were with her in Toronto the week before at a National Innovation Day event. Just watching somebody of that age having her a-ha moment, you know you've inspired someone to go the next level. You don't get that opportunity every day."
Skinner also heralded the mentorship benefit of the induction ceremony.
"A lot of times when you're young and trying to decide if you want to stay in Peterborough or leave, the obvious factors play into it, whether or not there's a job here, whether you're going to find passion in the community or not," he said. "To look to others and see what they've done is very helpful. There's a saying 'If you can't see it, you can't be it.' I think that matters very much here.
"We have three different classes that come into the Innovation Cluster, all in their last year at Fleming College… about 50 to 60 students per semester. About 70 per cent of them are not from this community. Every one of those students is going to walk by the Hall of Fame plaques (in the VentureNorth building). I'm hoping they're going to look at them and go 'Wow, I didn't realize that person is from here.'"
McNutt notes the plan is to soon install a 55-inch television screen at VentureNorth that will highlight the stories of each Business Hall of Fame inductee. Visitors can scroll through them by activating the touch screen.

Also speaking at the nomination announcement event were Scott Mancini of RBC and Kristen Larocque, project and marketing officer with the Workplace Development Board.
Mancini re-affirmed RBC's financial support of JA-PLM programs while Larocque announced a partnership with JA-PLM that will see it fund a portion of a new program called 'Dollars With Sense and Economics For Success'. That program, which combines two existing JA-PLM programs into one, focuses on improving financial literacy by providing workable tools and skills.
Of note, Junior Achievement is marking its 100th anniversary delivering hands-on, experiential learning in financial literacy, work readiness, and entrepreneurship.
Founded in 1919 by Horace A. Moses, chairman of Strathmore Paper in Springfield, Massachusetts, JA was brought to Canada in 1955 by Ralph Baker, the former president of the Standard Oil Company. JA Canada was formally established in 1967.
For more information on JA-PLM programs and events, visit www.jacanada.org/plm.