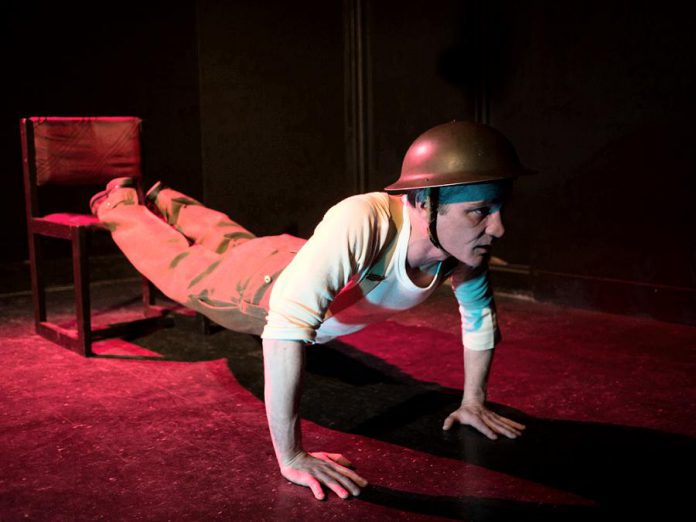 From Thursday, November 8th to Sunday, November 11th, performance company Fleshy Thud (supported by Public Energy) observes the 100th anniversary of the end of World War I with Ryan Kerr's newest production Unexploded Ordnance at The Theatre On King (TTOK) in downtown Peterborough.
Directed by Kate Story and featuring accompaniment by musicians Matt Greco and Curtis Driedger and on-stage tech by Eryn Lidster, Unexploded Ordnance is a powerful and personal exploration of Ryan's personal connection with World War I and the Dadaist art movement that emerged from it.
"Am I looking at the war as a historian or as an artist?" Ryan asks early in the show.
This becomes the question upon which much of the show hinges as Ryan merges history and storytelling in a captivating hour-long performance.
In Unexploded Ordnance, his third play about World War I, Ryan takes audiences from Sarajevo in 1914 to the battle arena of Ypres to the Cabaret Voltaire in Zurich to the streets of Scarborough in 1986, creating an emotionally charged tapestry of stories and history revealing more about himself than the TTOK audience has ever seen before.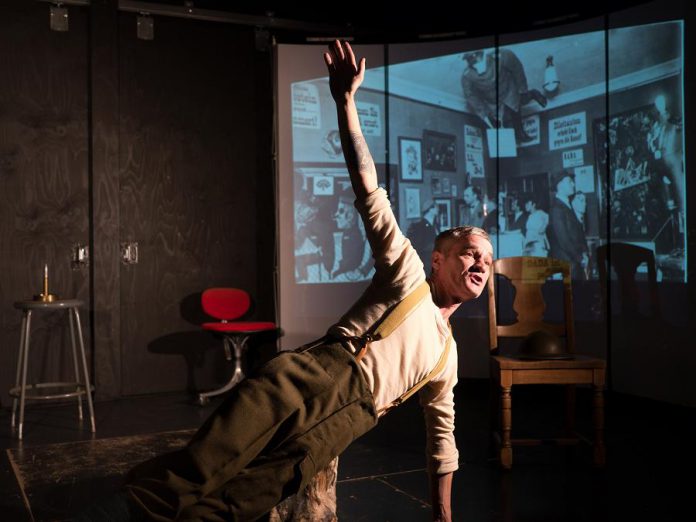 The framework of Unexploded Ordinance is indeed a series of history lessons, but told through multiple artistic platforms including movement, music, projection, soundscapes, and Ryan's unique way of making history come to life through interesting factoids and expert storytelling.
Ryan is able to take facts and figures that may be abstract to people who have never experienced a world at war, and relay them in a way that helps us understand the magnitude of what it meant to society.
For instance, early in the show Ryan points out that 17 million people were killed as a result of the war. It is difficult to understand what the number 17 million actually looks like, but Ryan breaks it down using visual metaphors that are both relatable and disturbing.
From the origins of the war to the reality of the trenches, Ryan has a unique ability to bring a sense of understanding to the audience about just a small iota of the horror of war. In this way, he brings history to life.
Unexploded Ordnance also celebrates Dadaism, the avant-garde art movement that emerged out of Switzerland as a reaction to the war. He tells about the Cabaret Voltaire, as well as Hugo Ball and Emmy Hemmings and the other displaced refugee artists who came together in Zurich.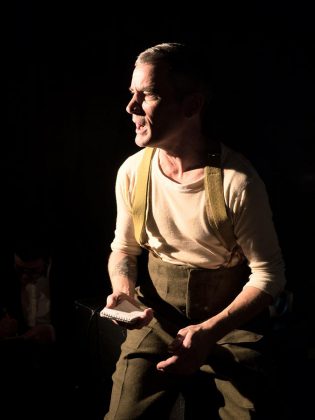 The linear connection between the Dadaists and the work that Ryan has become noted for in the local theatre community become quite obvious, and the performance includes a partial recreation of sound poet Hugo Ball's haunting final public performance.
But while history creates the framework for Unexploded Ordinance, it's the personal stories that become the heart of the show. Ryan reveals memories from his childhood and youth, some light and others painful, ranging from the ages of four to 17.
It hadn't occurred to me until discussing this show with Ryan that, while I've covered his work for five years and have had numerous conversations and interviews with him, he remains somewhat of an enigma. Visitors to TTOK all know Ryan through his personal introductions to each performance, his role as a cultural leader within our community, and his willingness to take risks when creating art.
But in Unexploded Ordnance Ryan finally gets personal, by pulling back the curtains of his past and explaining the through lines of how his experiences as a teenager drew him to Dadaism and World War I — which in turn influenced the artistic odyssey that helped inspire his work at TTOK and his important artistic contribution to our community's cultural landscape.
Within his exploration of his relationship with art and history, Ryan talks about his immersion in the Scarborough punk subculture in the late 1980s, how a bleak moment in his past changed his life, and how his sense of alienation and anger towards the absurdity of authority strengthened his relationship with art and World War I.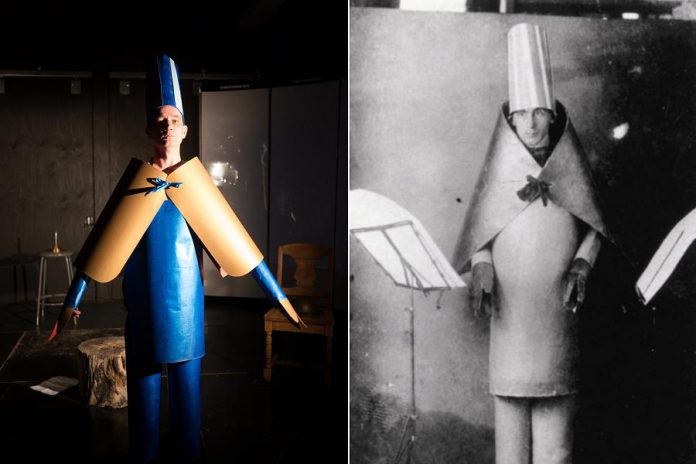 It's the emotional payoff of the piece, with Ryan baring his true emotions in a story that is powerful and straightforward and told without ego or agenda. It's unusual to see Ryan so vulnerable and affected, but it is an emotional moment that audiences will not forget. It's powerful and brave storytelling.
Ryan adds another personal plot point into Unexploded Ordinance by outlining his research on his great-grandfather Charles Ashbee, who was a medic in The Great War. Charles' stories were lost in time because his family's reaction was that "Grandpa's stories are too depressing."
Ryan reveals how, while exploring the battlefields of Europe, a fluke incident started him down the path of rediscovering his great-grandfather's history, transforming Charles Ashbee from a faint memory to a living person again. Again, this plot thread is both fascinating and emotional and makes history become tangible to the audience.
Unexploded Ordinance is a highly personal exploration of history, art, and one man's connection with the past. Ryan draws a coherent line from events that occurred a hundred years ago to his life today. It is an engaging, emotional, and powerful production that truly brings history to life. But most of all, it's just good theatre.
A perfect way to observe the importance of this year's centennial of the armistice that ended World War I, Unexploded Ordinance is one of the finest shows I have seen at TTOK in 2018. I was captivated and moved by this incredible production. Everyone involved in the creation of this work has something to be truly proud of. With four public performances leading up to Remembrance Day, Unexploded Ordinance should be on your list of things to do this weekend.
Unexploded Ordinance will be performed at The Theatre on King (171 King St., Peterborough) from Thursday, November 8th to Saturday, November 10th with shows starting at 8 p.m., and on Sunday, November 11th at 2 pm. Tickets are $15 or pay what you can. Seating is limited, so reserve your tickets in advance by emailing contact@ttok.ca or by text/phone at 705-930-6194.