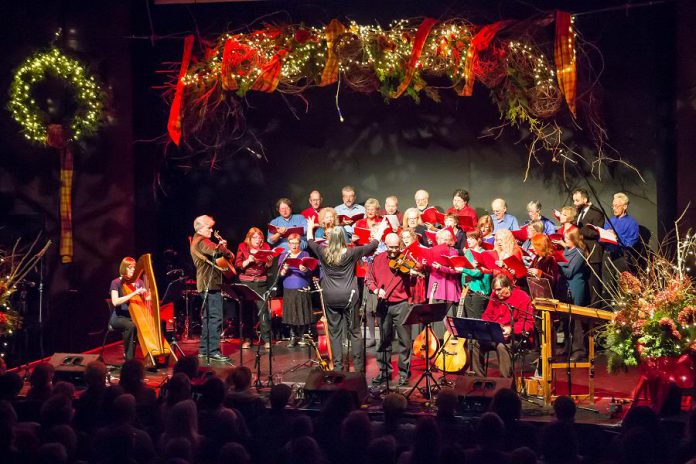 "In From the Cold", Peterborough's coolest Christmas concert, returns for its 19th year on Friday, December 7th and Saturday, December 8th at 8 p.m. at Market Hall Performing Arts Centre (140 Charlotte St., Peterborough).
Tickets for the concert, which raises funds Peterborough's YES Shelter for Youth and Families, are $20 for adults and $15 for students and children (the ticket price includes all surcharges and taxes) and are available in person at the Market Hall box office, by phone at 705-749-1146, or online at markethall.org.
In From The Cold was launched in 2000 by John Hoffman, Susan Newman, Rob Fortin, and Curtis Driedger, a group of accomplished Peterborough roots musicians who came together to establish an annual Christmas concert that would be unlike any other.
Since then, In From the Cold's unique take on Christmas music has made the concert a hot ticket of the Peterborough Christmas season, selling out the Market Hall for two nights each year — and in the process raising more than $110,000 for YES Shelter for Youth and Families.
This year's concert will again be anchored by the acts responsible for In From the Cold's unique sound: folk/vocal group Carried Away, Enrique "Roy" Claveer (aka Curtis Driedger), The Convivio Chorus, fingerstyle guitarist Michael Ketemer, and Celtic harpist Tanah Haney.
Here are some of the highlights of what you will see and hear at this year's concert:
Christmas carols and seasonal folk songs from Sweden, Scotland, England, and the Appalachians, presented in In From the Cold's signature Celtic style.
The lush harmonies of Carried Away and the Convivio Chorus, featuring original choral arrangements by Susan Newman and John Hoffman.
Sweet sounds of instruments rarely heard at Christmas concerts, including the Celtic harp, hammered dulcimer, mandolin, concertina, tin whistle, fiddle, and bouzouki.
Beautiful original songs by Peterborough's Joe Fortin, Curtis Driedger, and Susan Newman.
A special performance of the poignant song "Christmas in the Trenches" to commemorate the 100th anniversary of the end of World War I.
Enrique "Roy" Claveer and his ever-growing band of Claveer "cousins" presenting "Anne From the Cold".
Dayle Finlay's gorgeous stage design and decoration, which sets a great atmosphere for the evening.
Concert Sponsors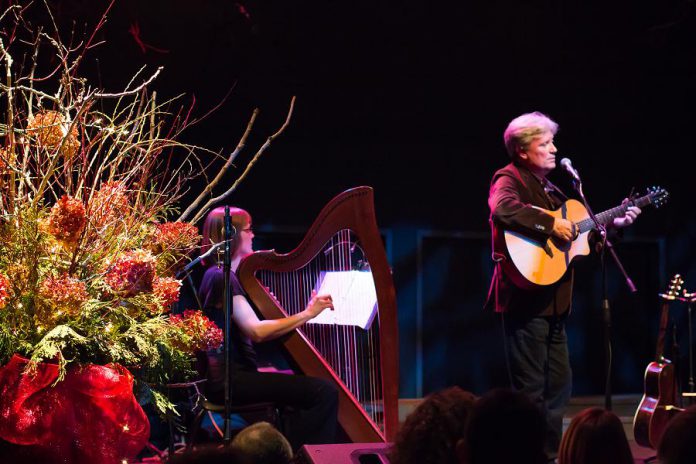 As always, In From the Cold and the YES Shelter for Youth and Families are grateful for the generous support or businesses and organizations from the Peterborough community. The sponsors for this year's concert are:
Gold Sponsors
Red Sponsors
Pressland Print and Graphics
Green Sponsors
Past comments about In From The Cold
"In From the Cold is the start of the real Christmas season." – Concert patron
"The Yuletide cheer was enhanced by a cadre of talented Peterborough musicians presenting a charming and laudable program for the capacity house … A great cause, a great crowd and another outstanding night for Peterborough, the Youth Emergency Shelter and our plentiful local talent." – Jonothan Fiddler, Peterborough Examiner