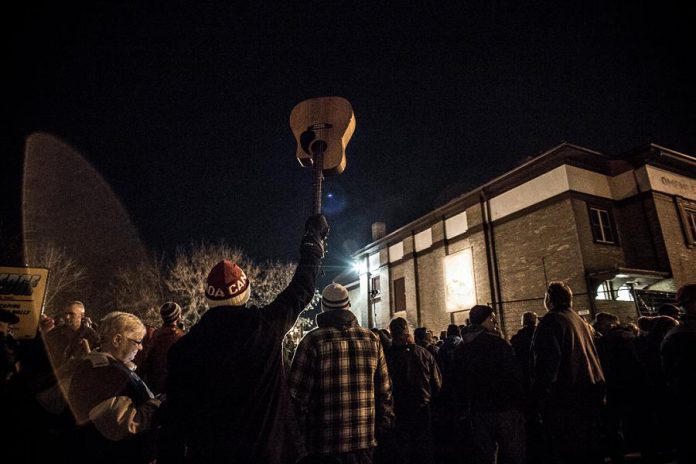 A year ago today (November 27), kawarthaNOW broke the news that musical icon Neil Young would in fact be performing a concert in his childhood home of Omemee on December 1, 2017.
Our story, which confirmed the rumours swirling around last November that Omemee might be the location, was shared over 11,000 times and quoted in national media including The Toronto Star.
On the night of the concert, photographer Wayne Eardley headed to Omemee to capture this once-in-a-lifetime event.
To mark the one-year anniversary of the concert, Wayne has shared with us selected photos along with his observations from that night. You can see more photos in Wayne's original photo essay at www.wayneeardley.com/tonights-the-night.
When I heard Neil was really going to play Coronation Hall in his hometown I planned to spend the evening. I brought my bike just in case the road was blocked. I packed some leftover pizza, and a headlamp for the ride home.
Arriving late in the afternoon I walked a few of the backstreets — all seemed black and white and quiet.
As I neared the main street, the buzz of something really huge gave me whiplash. Staging trucks from Chicago, lighting trucks from Toronto, television trucks from … I'm not sure where.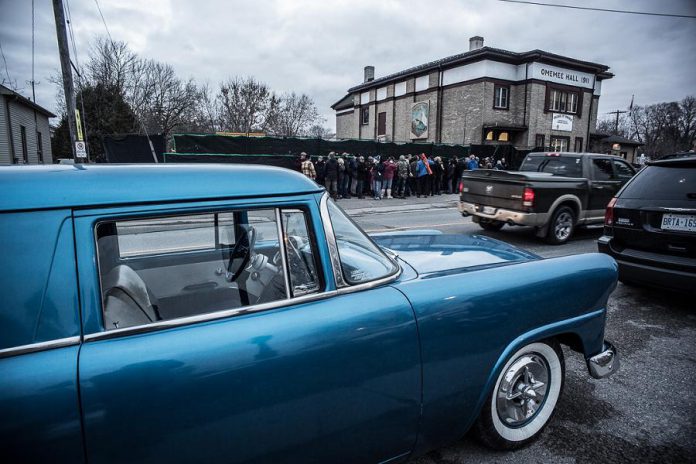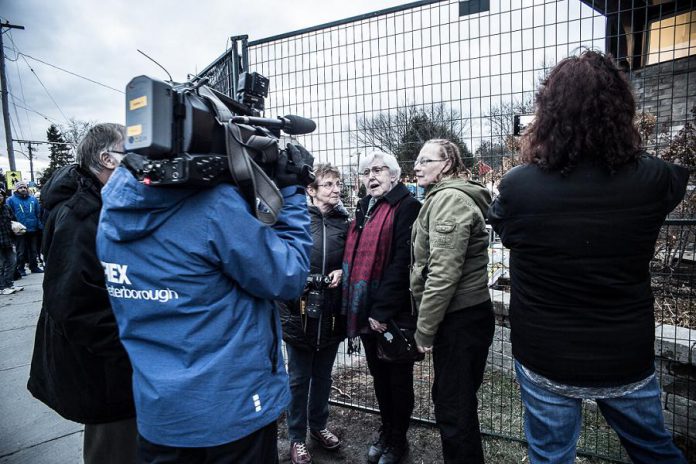 People were gathering, lining up, singing songs, drumming and sharing their stories of the legend and his music. Someone's uncle who went to school with Neil was telling stories about childhood days. Locals, teachers, and others who seemed from far and away had gathered on the main street with coffee mugs and hand-rolled cigarettes.
How amazing this was for the town, the country, Neil's global fanbase, and the music department at Scott Young Elementary school. I envied my two friends who had tickets.
Security and police were everywhere; paramedics were giving oxygen to an older man who seemed overcome. Santa was getting ready to light the tree, Daryl Hannah was directing the cameraman, Randy Bachman was roaming around, and locals were drinking those mystery drinks out of thermoses.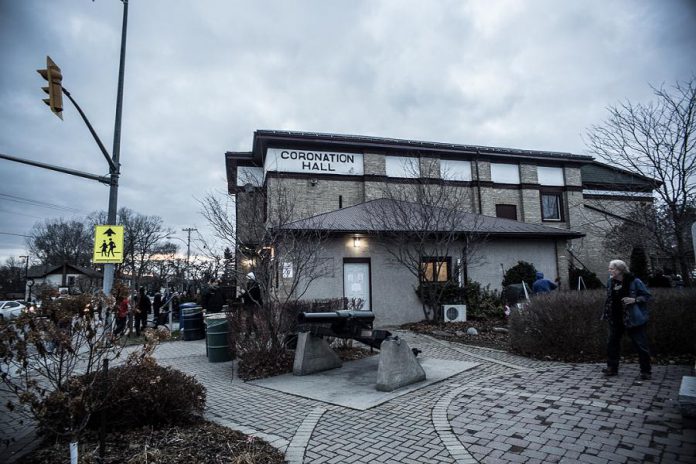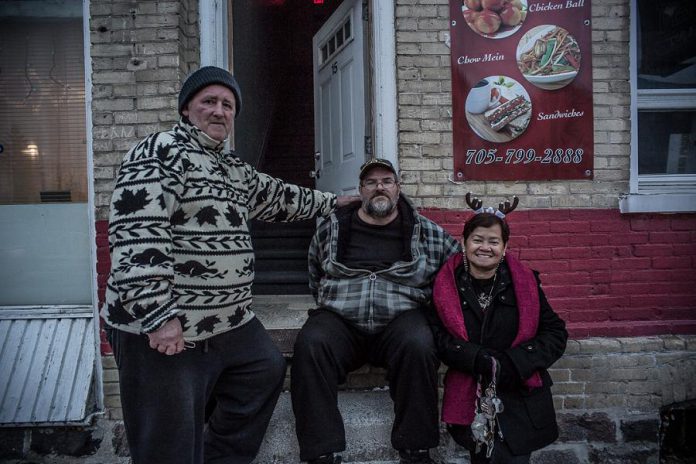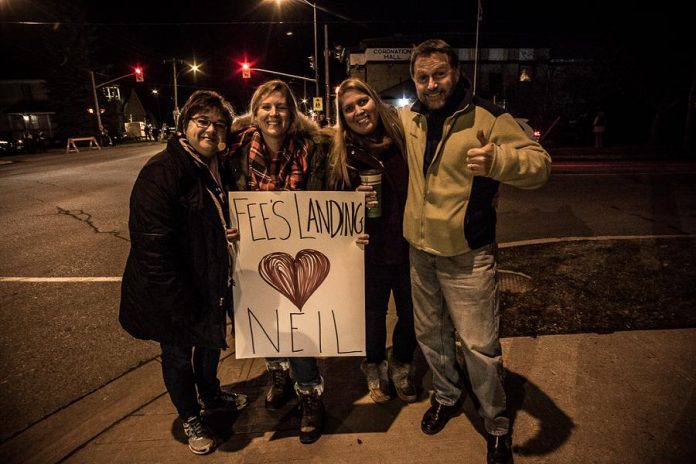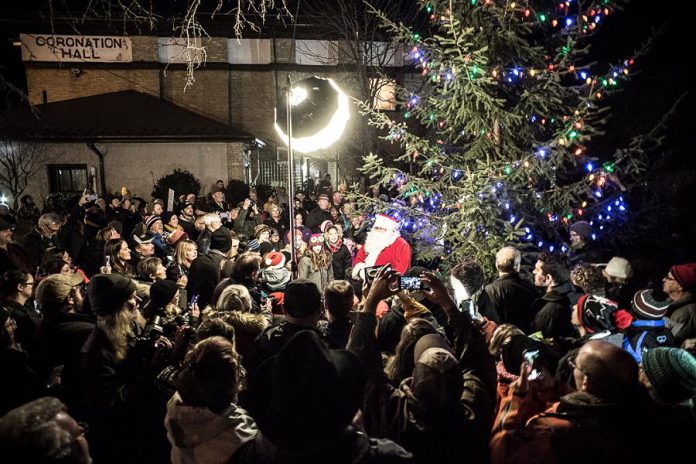 I went into the convenience store and asked the young Korean family if they were Neil Young fans. The young father replied, "Oh yes, today, now we are Neil Young fans". They were all smiles and I took their portrait.
There were finely dressed uber chics from the downtown of some city wearing leather pants and puffy jackets, standing next to locals with Canada toques and homemade signs.
There were kids and adults drumming on the skin-covered canoe. Old hippies arrived with fringed jackets and wrinkled smiles.
It was a sepia-toned circus.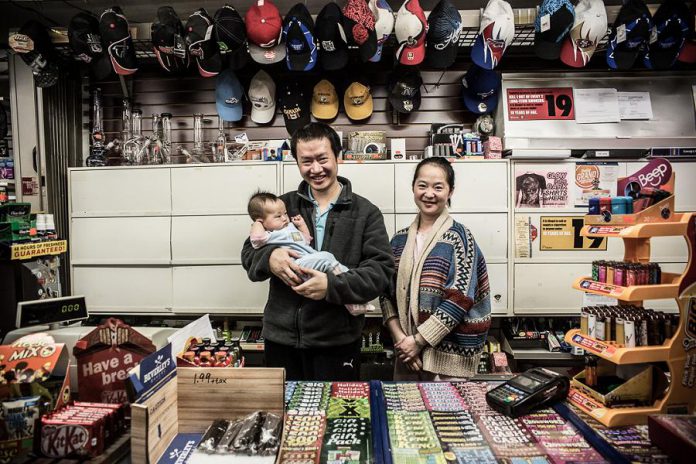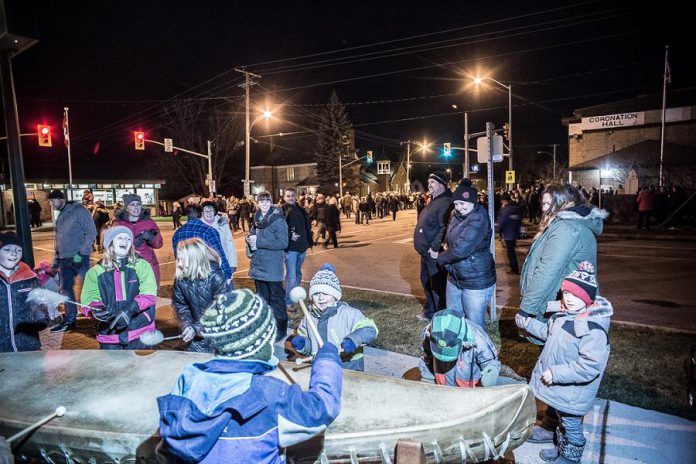 There were two young guys up to no good being yelled at by a neighbour for trying to hop the fence into the blocked-off back lot area. They seemed on a mischievous mission.
It was appropriate that the moon was spectacular — it was Neil after all.
Around 7 p.m. the crowds came in, Omemee swelled, and the smell of soon-to-be-legal weed started to make its way all along the main street. The cops watched from the sidelines and left us all alone.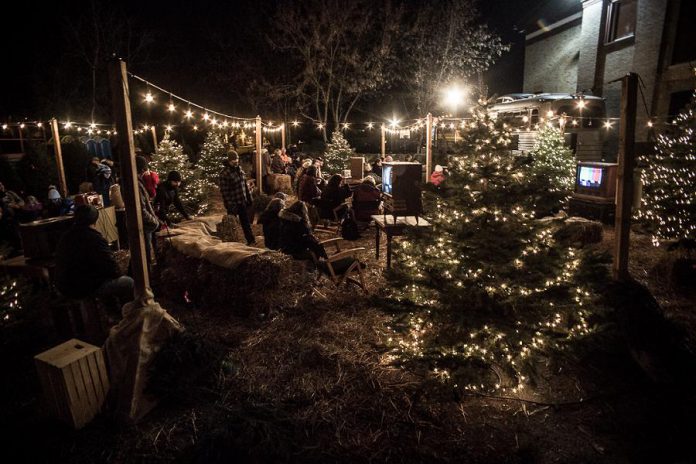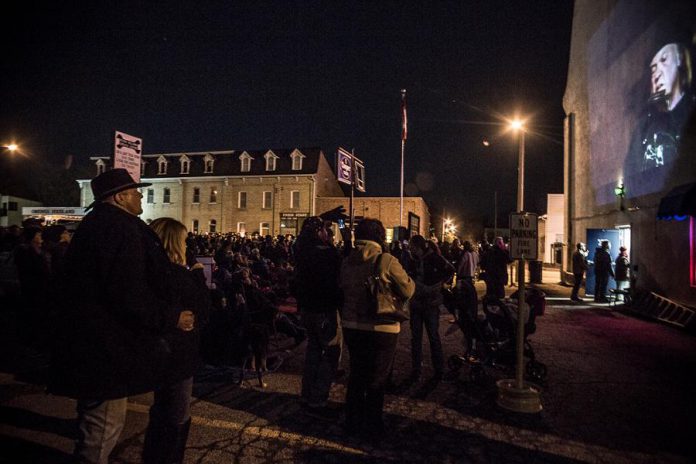 At the 8 p.m. hour the sound of Neil's guitar was heard. It was fantastic how he completely silenced and focused the crowd. It wasn't blaring outside; it sounded sweet and dreamy. Everyone listened.
A friend called and asked if I by chance I was in Omemee. Of course I was and, although he imagined it cold, I told him how I'd never felt warmer … or more Canadian.
This was the real deal, standing in the parking lot of a gas station watching Neil Young projected on the side of the Legion Hall!
About Wayne Eardley
Wayne Eardley is a Montreal-born award-winning professional photographer and filmmaker living in Peterborough.
As well as his commercial work, Wayne is well known for The Relative Project (featuring his portraits of people from around the world) as well as his photos of performances at 4th Line Theatre in Millbrook.
Visit Wayne's website at www.wayneeardley.com and follow him on Instagram @eardleypics.
Text and photos reprinted with the permission of Wayne Eardley.