On Saturday, December 1st, New Stages Theatre Company brings together performers from across Ontario's biggest theatrical stages to present a concert version of William Fenn's A New Brain at Market Hall Performing Arts Centre.
A potent and uplifting musical about cancer and mortality, A New Brain – In Concert is produced by New Stages' Randy Read and features a spectacular cast of performers from the stages of Stratford, Shaw, and Toronto, joined by some Peterborough favourites.
First produced Off-Broadway in 1998, A New Brain is the most personal project for American composer and lyricist William Fenn, who has had Broadway success with the Tony award-winning Falsettos and The 25th Annual Putman County Spelling Bee.
"This play is very personal and autobiographical," Randy says. "William Finn was diagnosed by what they thought was an inoperable brain tumour and, upon being rushed to the hospital, his agent said 'You should keep notes and write about this.' His response was 'What's the point? They told me I won't survive this.'
"Anyway, he kept notes. They got into his brain and found that it didn't end up being a brain tumour after all. They were able to completely correct him and now he's fine. But he came out and wrote a musical about this experience."
A New Brain tells the story of composer Gordon Schwinn who has been reduced to writing songs for a kids' show about a singing frog named Mr. Bungee.
When meeting his agent Rhoda for lunch, Gordon has a brain seizure and is rushed to the hospital where he discovers that he needs to have an MRI. The musical centres on Gordon's journey through his illness as he faces various medical staff, family members, procedures, and his own mortality, as he realizes his biggest fear is dying before composing his greatest work.
For the Peterborough concert version, Randy is reuniting Steven Gallagher and Juan Chioran who played the roles of Gordon and Mr. Bungee in Toronto's Musical Stage Company's 2009 production of A New Brain, which was nominated for three Dora Awards.
"In the beginning of the show, Gordon's trying to write songs for a kids' show but Mr. Bungee is a despotic mean guy," Randy says. "Gordon tries to be intelligent with the lyrics for the show, but the kids' show host hates everything he writes. So he's very unhappy working on the show."
While the topics of brain cancer and facing death may seem like a depressing subject for a show, Randy explains that A New Brain is actually an uplifting show about hope and second chances.
"Through the course of the play, the piece becomes a show about getting a second chance," Randy says. "Gordon comes through and has a renewed sense of the meaning of life. He starts off as a cynical guy, but ends hopeful. I never thought about it before, but we are doing it on December 1st and the show does have some Christmas carol overtones to it."
Making up the rest of the players in A New Brain is a fantastic cast put together from Randy's connections across Ontario's theatre community.
Charlotte Moore (Lisa), Shawn Wright (Roger), and Gabrielle Jones (Mimi) have all been featured performers on the Stratford and Shaw Festival stages. Kristi Frank (Rhoda) played Sally Smith in Shaw Festival's recent production of Me and My Gal, and Soulpepper Theater regular Troy Adams (Richard) returns to the Market Hall where he played Balize in last year's New Stages' production of Angels in America.
The cast will be rounded out by local favourites Dianne Latchford in the role of the Doctor, Kate Suhr in the role of Nurse Nancy, and Carl Johann Christenson in the role of the Minister.
Listening to some of the music from the show, I took note that the musical arrangements ranged from blues and '50s-inspired doo-wop to the traditional musical theatre ballads.
"The music is so clever," Randy comments. "Some of it is very beautiful, and some of it is so funny. It has many different kind of styles and genres in it. I love the score because it's so eclectic. There is a beautiful song at the end where he's supposed to write the kids' song for the frog to sing, 'There is so Much Spring Within Me,' but he turns it around to reflect his own rebirth."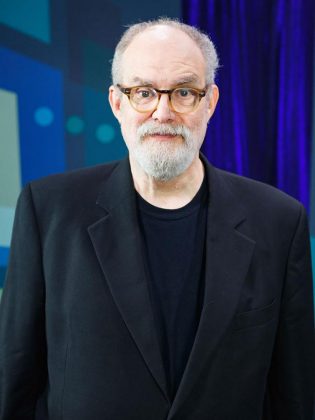 Similar to the staged readings for New Stages Page on Stage series, A New Brain will be presented in a concert format, with the performers singing and acting songs instead of presenting the show as a full musical.
However, as those who have attended the New Stages readings know, this format is not only highly entertaining but often the words of the pieces become more of the stars than the performers themselves.
It's a format that allows the audience to focus more on the writing of the piece, and is a different way to experience incredible performers tackling often provocative pieces.
"I'm excited about this performance," Randy says. "We tend to do pieces that not everybody is familiar with, and I tend to like musicals that have some guts to them — something that has a good storyline and tends to have something to say."
Peterborough audiences love their musical theatre, and A New Brain – In Concert is an exciting chance to see something very different and very potent, performed by some of the best musical performers in Canadian theatre. It's an event you shouldn't miss.
A New Brain: In Concert will be performed at 7:30 p.m. on Saturday, December 1st at the Market Hall Performing Arts Centre in downtown Peterborough. General admission tickets are $30 ($15 for students, art workers, and the under waged) and are available in person at the Market Hall Box Office or by phone at 705-749-1146 (12 p.m. to 5 p.m. Monday to Friday) or online anytime at markethall.org.