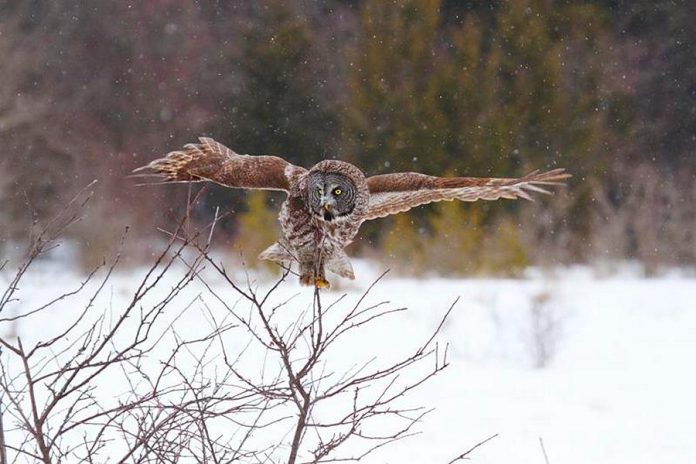 You can celebrate the holiday season this year in the great outdoors when Kawartha Conservation presents the first-ever "Christmas at Ken Reid", a free family event from 10 a.m. to 4:30 p.m. on Saturday, December 8th at the Ken Reid Conservation Area north of Lindsay.
The day features a variety of activities, including interactive Indigenous storytelling and drumming (with Jake Charles of the Chippewas of Georgina Island and owner of First Nations Cultural Tours), a guided interpretive family hike through the Cedar Forest, live music from a number of local performers (including Mary Kate Edwards and Emily Erhart), an interactive wildlife show (featuring skunk, fox, opossum, ground hog, and bobcat), indoor and outdoor crafts for kids, horse-drawn wagon rides, and more.
Visitors can also sing carols by a campfire, participate in a scavenger hunt along the Escarpment Loop, take selfies throughout Ken Reid Conservation Area, enjoy free coffee and hot chocolate, and take photos with Santa (who is expected to arrive in the afternoon).
"We have a day filled with wonderful events and activities inspired to create lasting memories," says Kristie Virgoe, Director of Stewardship and Conservation Lands at Kawartha Conservation.
"Throughout the day Lola's Great Canadian Food Truck will be on site for those who would like to purchase food, as well as the Lindsay Optimist Club who will have Christmas trees available for purchase."
Balsam fir trees will be available for $50 and spruce trees for $40, with all proceeds funding community-based youth projects.
"Christmas at Ken Reid" was made possible by a $10,000 grant from the Aviva Community Fund, with additional support provided by local community organizations and businesses.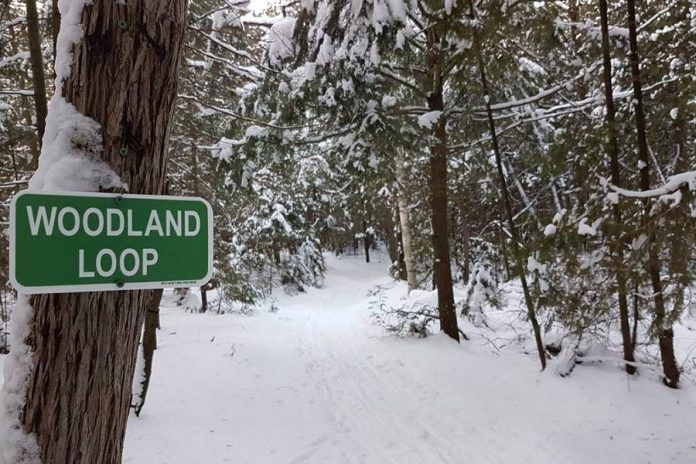 "We really wanted to create an event that offered something for everyone," Virgeo says. "We are excited to be able to partner with so many people and businesses within the community to put on what we think will be a magical and memorable day."
Local businesses and organizations supporting the event include Van Halteren Music Centre, Boiling Over Coffee Vault, Fenelon Falls Tim Hortons, For The Birds Seed Company, the Lindsay Optimist Club, Pie Eyed Monk, and the Days Inn and Suites Lindsay.
There is no charge for either the event or for parking, but visitors are asked to bring a non-perishable food item to help support the Kawartha Lakes Food Source.
Ken Reid Conservation Area is located at 277 Kenrei Road in the City of Kaawartha Lakes. From Highway 35, turn east onto Kenrei Park Road for 2.7 kilometres; the conservation area will be on the left.
Schedule of Events
10:15 a.m. – 11:00 a.m. — Indigenous Story Telling and Drumming – Camp Fire Adjacent to Dog Park Pavilion
10:30 a.m. – 11:30 a.m. — Guided Family Hike – Cedar Forest
11:00 a.m. – 12:00 p.m. — Live Music – Camp Fire Adjacent to Dog Park Pavilion
11:30 a.m. – 12:00 p.m. — Interactive Wildlife show – Beach Area
12:00 p.m. – 1:30 p.m. — Indigenous Story Telling and Drumming – Camp Fire Adjacent to Dog Park Pavilion
1:00 p.m. – 1:30 p.m. — Family Hike – Cedar Forest
1:30 p.m. – 2:00 p.m. — Live Music – Camp Fire Adjacent to Dog Park Pavilion
1:30 p.m. – 2:00 p.m. — Interactive Wildlife show – Beach area
2:00 p.m. – 2:45 p.m. — Family Hike – Jingle Bell Walk Boardwalk Trail
2:00 p.m. – 4:00 p.m. — Santa's Workshop
3:00 p.m. – 3:30 p.m. — Interactive Wildlife Show Beach Area
3:30 p.m. – 4:30 p.m. — Live Music – Camp Fire Adjacent to Dog Park Pavilion
All Day Events
10:00 a.m. – 4:30 p.m. — Scavenger Hunt Escarpment Trail
10:00 a.m. – 4:30 p.m. — Kids Craft – Outdoor Classroom
10:00 a.m. – 4:30 p.m. — Kids Craft – Santa's Workshop
10:00 a.m. – 4:30 p.m. — Coffee / Hot Chocolate
10:30 a.m. – 4:30 p.m. — Horse and Wagon Rides
10:30 a.m. – 4:30 p.m. — Tree Sales – Optimist Club
10:30 a.m. – 4:30 p.m. — Food Truck