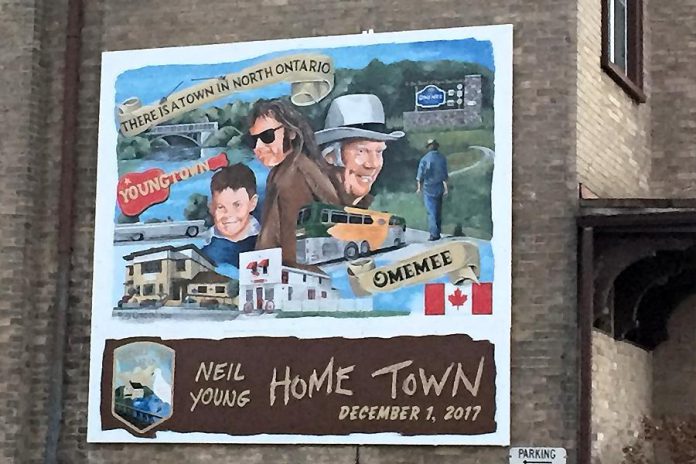 There is a town in north Ontario
With dream comfort memory to spare
And in my mind
I still need a place to go
All my changes were there.
– "Helpless" by Neil Young
A new public art mural in Omemee pays homage to the village's most famous former inhabitant, the iconic singer-songwriter Neil Young.
The mural, designed and painted by artist Russ Gordon, was installed earlier this month on the west-facing wall of Coronation Hall at 1 King Street West, where Young performed his "Home Town" concert on December 1, 2017.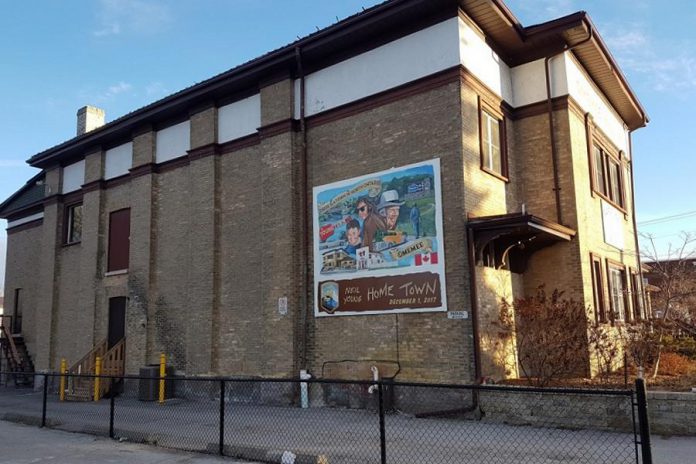 Located 128 kilometres northeast of Toronto, Omemee is the "town in north Ontario" in Young's 1967 song "Helpless" and it's where he spent the formative years of his childhood.
The Young family moved to Omemee at the end of August 1949, when Neil was almost four years old. He lived in Omemee for four years (it was where he contracted polio, during the 1951 epidemic) until 1953, when his family moved to Winnipeg.
Many years later, his father — journalist and author Scott Young — returned to live in the area until he died in 2005 (a public school in Omemee is named in Scott Young's honour).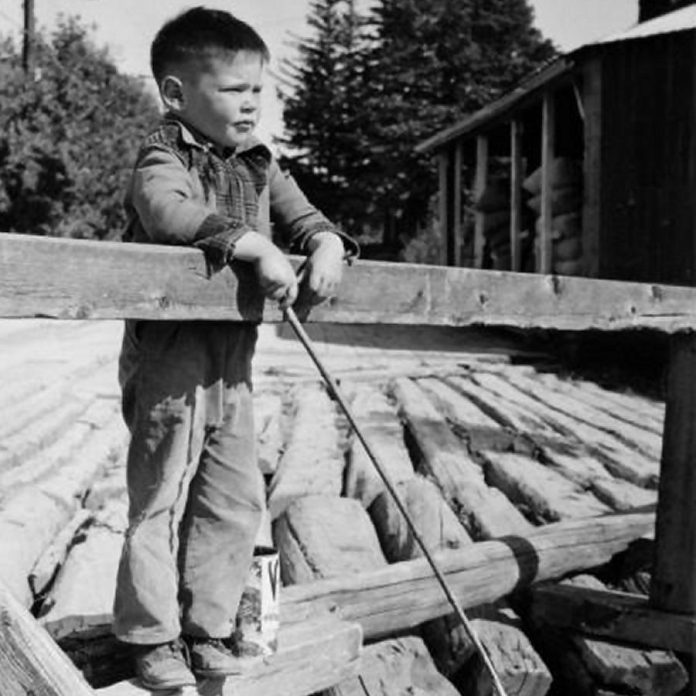 The Neil Young mural is based on a painting that Gordon turned into a print and donated through a fundraiser to the former Youngtown Museum in Omemee.
"Being a big Neil Young fan and a supporter of Canadian music, when I first heard about the Youngtown museum in Omemee, I knew that I had to visit it," Gordon says.
"I wanted to contribute to what I thought was a great venue and a well presented tribute to Neil and our Canadian music history. The print that I painted was to honour Neil Young and the small town roots that he grew up in."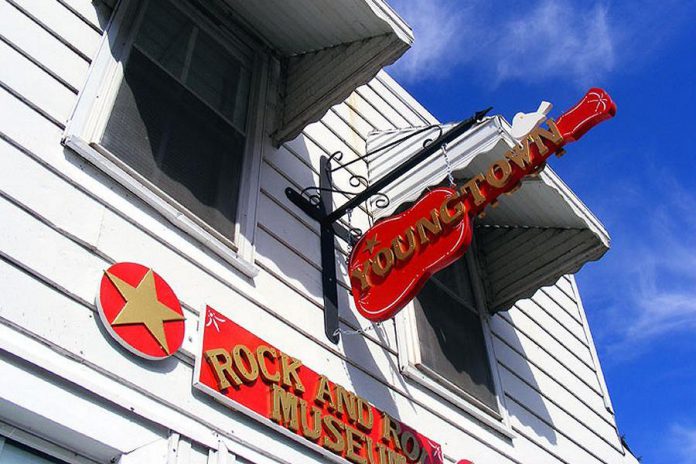 The Youngtown Rock 'n' Roll Museum was founded in 2006 by collector Trevor "T.R." Hosier and was located at 45 King Street East in Omemee, only six buildings away from Young's childhood home.
Hosier closed the private, volunteer-run museum in 2014 and put the building up for sale because of the time and cost required for its upkeep.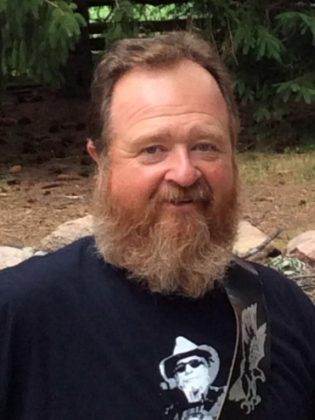 In 2015, the Olde Gaol Museum in Lindsay agreed to host a much smaller version of the exhibit, which subsequently closed for good in September 2017.
Gordon donated the rights to re-create the image as a mural, and the City of Kawartha Lakes paid the cost of producing and installing the 12-by-eight-foot mural.
"I was very humbled when I was asked to reproduce my original painting as a mural for the outside of Coronation Hall, the very place that Mister Young held his Hometown concert," Gordon says.
"Thank you Omemee and the City of Kawartha Lakes. It is a definite highlight in my career for me to be able to honour this Canadian music legend."
The mural is the first public art project created under the municipality's new Public Art Policy, but it's not the first mural in Omemee.
In May 2018, Mount Forest artist Cliff Smith painted a 24-by-16-foot mural, celebrating the culture and heritage of Omemee and acknowledging the service of veterans, on the west side of the Omemee Legion building at 46 King Street East.