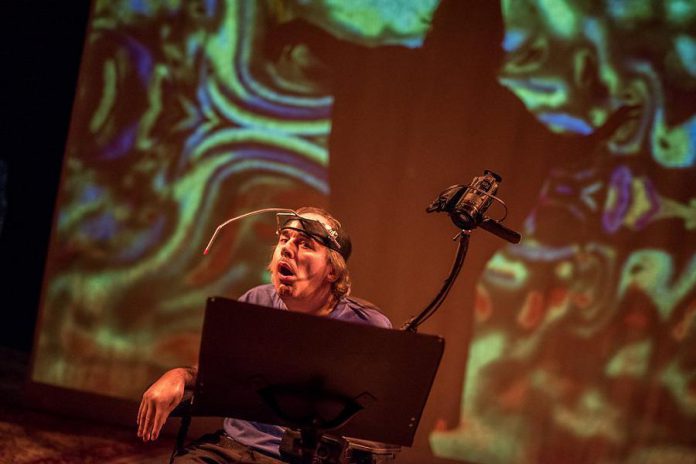 In a world where the man who is now President of the United States once publicly mocked a reporter with a physical disability, and where disgraced comedian Louis C.K. recently joked about using the word "retarded", people living with disabilities continue to be confronted with appalling prejudice and a lack of understanding and empathy.
Tackling the misconception of living with a disability is just one of the goals of the award-winning play This Is The Point — subtitled "A Play About Love, Sex and Disability" — coming to the Market Hall for a one-night-only performance on Friday, January 11th.
Created by Toronto-based Ahuri Theatre and presented in partnership with Public Energy, This Is The Point was written and is performed by two real-life couples whose lives are affected by cerebral palsy — a neurological disorder appearing in early childhood that affects movement, motor skills, and muscle tone.
One couple is husband-and-wife Dan Watson and Christina Serra, artistic producers of Ahuri Theatre. Sierra, who grew up in Peterborough and attended St. Peter Catholic Secondary School, has created a string of acclaimed plays with Watson, including Ralph+Lina, which tells the true story of Serra's grandparents, two Italian lovers who immigrated to Peterborough following World War II.
Watson and Serra have a nine-year-old son named Bruno who lives with cerebral palsy, and are searching for the best way to ensure their non-verbal son can share his voice.
The other couple is craft services worker Liz MacDougall and writer and playwright Tony Diamanti, both of whom live with cerebral palsy. MacDougall can move and speak with little impairment, while her romantic partner Diamanti uses a motorized wheelchair to move around the stage and primarily communicates by spelling out words on a letter board using a pointer attached to a headband.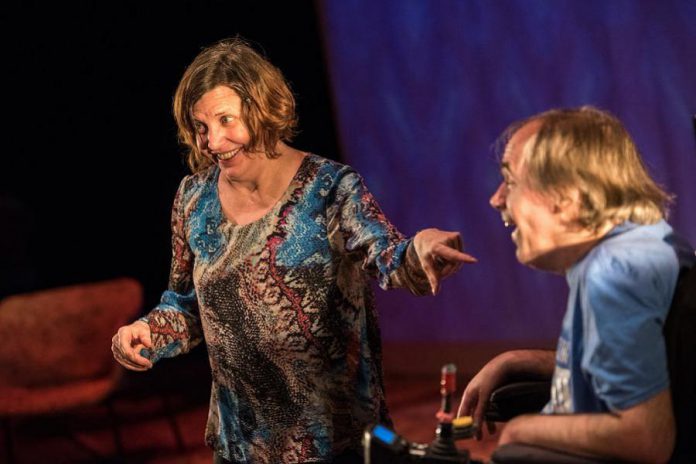 Diamanti is adept at using augmented communication aids to share his voice (he "won't shut up" according to the play's description), while MacDougall grapples with the judgments that society makes about their love and sexuality.
Together, the two couples draw from their personal lives and experiences — from Watson and Serra getting Bruno ready for school in the morning to Diamant "breaking up" with his computer because he doesn't like the simulated voice it provides for him — to address misconceptions related to disability.
The play also explores and debates questions of representation, the nature of companionship, and whether people of different abilities can ever connect with each other on equal terms.
VIDEO: This is the Point on Tour in 2019

Following the play's premiere in 2016, the four writers and performers (along with director Karin Randoja) won two Dora awards, for Outstanding Ensemble and for Production.
The Globe and Mail called it "tough and courageous … There's plenty of pleasure to be derived from the mix of scenes, monologues, clips from home movies and live interactions — and simply watching bodies not regularly seen on a stage perform."
The National Post proclaimed that it "changes the way we see people with disabilities — especially when it comes to love and sex." and Jess Gillis of Mooney on Theatre said the play "made me cry, made me think, and mostly made me laugh."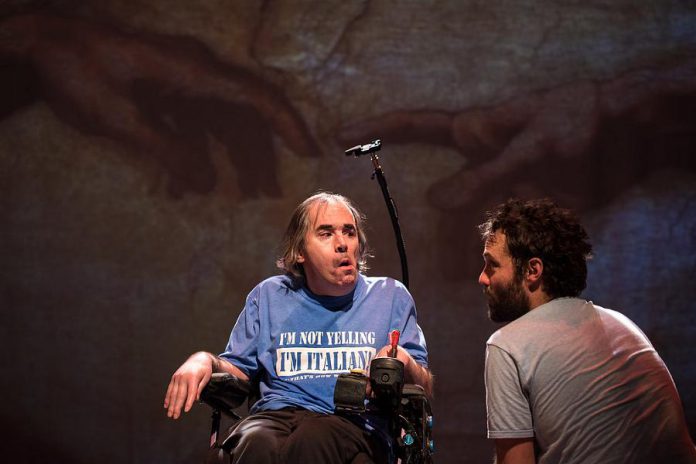 While the 75-minute play features plenty of physical comedy and humour, it also includes frank discussions of sexuality as well as raw examples of the darker side of living with a disability, prompting a mature content advisory.
Tickets are $25 ($15 for students and the underwaged or $10 for high school students) and are available at the Market Hall Box Office (140 Charlotte St., Peterborough, 705-749-1146) online at markethall.org.
The January 11th performance will be followed by a question-and-answer session with the artists on stage. The artists of Ahuri Theatre will also be giving a free public talk about disability and sexuality at 7 p.m. on Wednesday, January 9th at Traill College's Bagnani Hall (310 London St., Peterborough).