The Peterborough Petes have announced the details of the 10th anniversary of Pink In The Rink game on Saturday, February 2nd when the Petes face off against the Oshawa Generals.
Again this year, a special Pink In The Rink jersey has been designed to honour those affected by cancer. For a donation of $20 to the Canadian Cancer Society, fans were able to add the name of someone with cancer to be printed on the jerseys.
During a live auction after the February 2nd game, fans will have the opportunity to bid on and purchase commemorative jerseys worn by players during the game.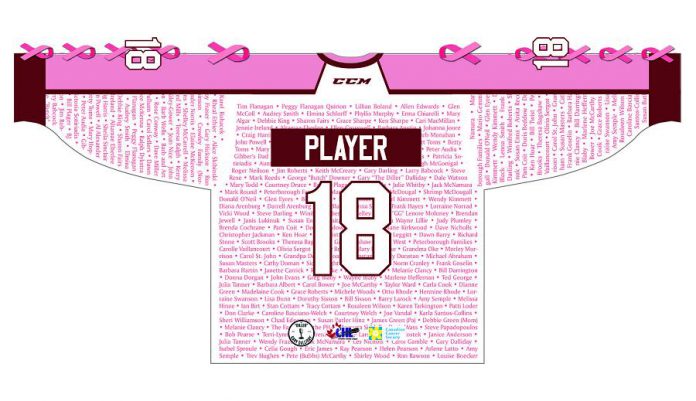 Other game night fundraising activities will include a silent auction, a chuck-a-ball contest, and t-shirt sales.
This year's campaign, which culminates with the February 2nd game, has a fundraising goal of $65,000.
In October, former Peterborough Petes and NHLers Steve Larmer and Cameron Mann were named as this year's honourary campaign chairs. Each is seeking to raise $2,500 as part of the campaign (to donate, you can visit the Canadian Cancer Society's fundraising pages for both Larmer and Mann).
As part of the campaign, Petes players will participate in two upcoming celebrity server nights on Wednesday, January 9th from 5 to 8 p.m. at Kelsey's (1209 Lansdowne St. W., Peterborough) restaurant and on Friday, January 11th from 5 to 8 p.m. at Montana's (870 The Parkway, Peterborough).
Cameron Supryka (#3), Shawn Spearing (#7), Erik ?ermák (#10), Chris Paquette (#12), Nick Robertson (#16), Declan Chisholm (#20), Ryan Merkley (#25), Brady Hinz (#27), Max Grondin (#28), and Hunter Jones (#29) will be at Kelsey's, and Cole Fraser (#2), Austin Osmanski (#6), Matt McNamara (#8), Zach Gallant (#11), Nick Isaacson (#15), Adam Timleck (#18), Semyon Der-Arguchintsev (#19), Cameron Butler (#21), Chad Denault (#22), John Parker-Jones (#26), and Tye Austin (#30) will be at Montana's (subject to change).
The players will be signing autographs, acting as celebrity servers, and selling 2019 Pink in the Rink t-shirts for $10.
Since 2010, Pink In The Rink has raised more than $617,000 for women's cancer research through the Canadian Cancer Society Peterborough & District — making it the top fundraising event in the Ontario Hockey League.