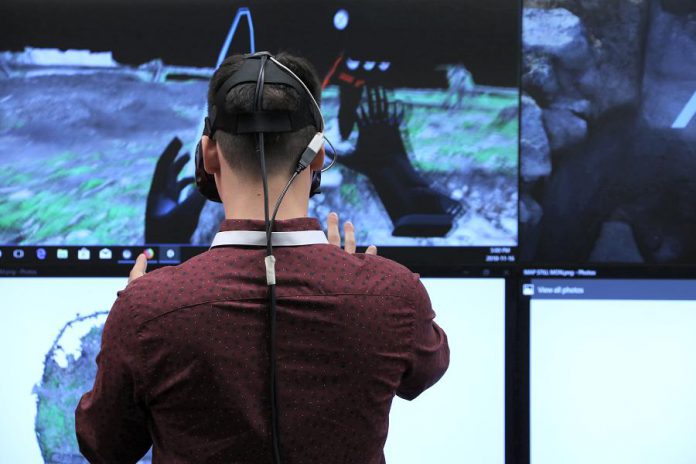 At the Innovation Cluster's 2018 annual general meeting in May of last year, Innovation Cluster Board Chair John Desbien announced to the crowd that the organization had exceeded its goals of job creation, companies formed, and financial impact by more than tenfold.
By the end of 2018, that number had reached $15 million, or 15 times the set goal.
"Our funders set our targets in 2013 to have a regional economic impact of one million dollars, so we far exceeded that in 2018," says Michael Skinner, CEO of the Innovation Cluster, a not-for-profit organization that supports entrepreneurs in the formation and growth of their technology-driven companies.
VIDEO: Are you ready to shape the future? – Innovation Clsuter
Exceeding their goal by 15 times over is not the only impressive accomplishment of the Innovation Cluster in 2018.
At the beginning of the year, the Innovation Cluster had a target to support five startups and create 10 jobs. As 2018 came to a close, the organization supported a total of 86 startups — 46 of which were youth startups (ages 18-29) — and helped to create 171 jobs for the local economy.
"We've helped our clients with sales, equity investments, loans, and grants," Skinner says. "This economic impact motivates the staff and me to continue with the work we do in the community."
Despite the tremendous success in 2018, the Innovation Cluster is not content to rest on its laurels.
"In 2019, we're looking to expand our health care technology sector to address accessibility and aging," says Skinner, noting Peterborough's high percentage of retirees.
"We also want students to know that Peterborough is a great place to do business. We have the resources to support young entrepreneurs with their startup goals, specifically in the digital technology sector."
The Innovation Cluster focuses on four key sectors: digital technology, clean technology, agriculture technology, and health care technology. Over 50 per cent of the organization's clients are in the digital sector, which includes mobile apps, virtual reality, augmented reality, and game development.
Clean technology clients are also on the rise at the Innovation Cluster. Launching a clean tech makerspace at Trent University in 2017 has allowed Peterborough startups to rapidly grow through easy-access to lab space, R&D, product testing and more. With this rise, the Innovation Cluster added a Clean Tech Specialist to its team in 2017 for specialized support to these clients.
A major reason for the success of the Innovation Cluster is its focus on community partnerships.
Since its founding, the Innovation Cluster has established over 30 innovation partnerships. These partnerships have allowed the organization to offer entrepreneurs a more complete package of support and services.
The only full-service innovation and technology incubator in Peterborough and the Kawarthas, the Innovation Cluster works closely with Trent University and Fleming College, which both provide funding and resources.
Skinner says "the relationship with Fleming College and Trent University has been invaluable in connecting with young entrepreneurs, enticing them to stay in our region and to contribute by building new and innovative companies."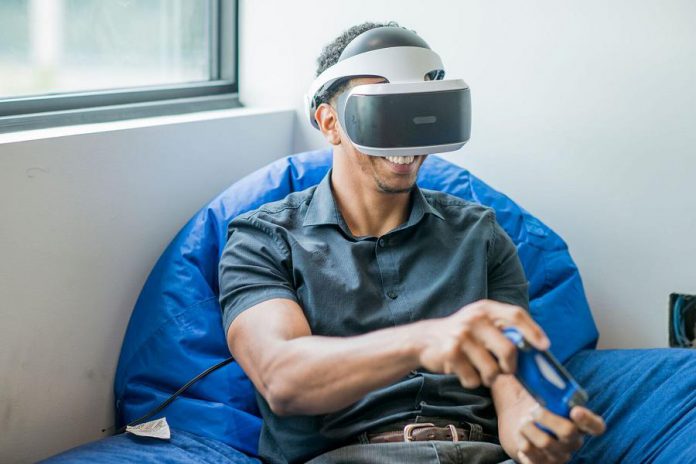 Startups working with the Innovation Cluster also have access to the Virtual & Augmented Reality Zone, sponsored by RBC, and the Konrad Group — a full service digital agency — provides exclusive services to the Cluster's digital clients, including scholarships for digital skills workshops.
Peterborough might not be the first place you think of to launch a digital startup, but think again: the Innovation Cluster's clients have grown their businesses locally and have experienced success on a global scale.
In addition, Peterborough offers a relatively low cost of living, a great lifestyle, and an established startup community. Its close proximity to larger cities allows startups to access these markets, but without the competition. The Innovation Cluster attempts to focus on the unique needs of each startup so that no one is lost in the crowd.
This couldn't be truer for Kavtek, a company that has developed an augmented reality home remodelling app that allows users to digitally design a space by adding content on top of real images.
Kavtek co-founder Sanu Somaweera says that joining the Innovation Cluster in downtown Peterborough has been critical to the development and success of Kavtek's product.
"Anyone can have an idea," explains Somaweera, "but if you really want to take the idea to the next level and build a company, you need money, partners, a great product, and many other things."
Kavtek's start-up costs were minimal because the Innovation Cluster provided them with an office space, and introduced them to lawyers, accountants, and trademark specialists — all the people that budding entrepreneurs need but usually don't have access to.
The result? Kavtek is now competing with the "big tech players" coming out of Silicon Valley.
"If you look at Silicon Valley, the companies there are part of big incubators that catapult them into the marketplace," says Somaweera. "To have an incubation space is crucial when trying to get your startup going. An incubation space reduces the rate of failure."
He's right about that: 80 per cent of startups normally fail within the first two years, but that number is reduced to less than 30 per cent if the startup belongs to an incubation program.
For Kavtek, 2018 was a year of developing strategic partnerships and testing out their product. In 2019, Kavtek is planning on going national and expanding into the US.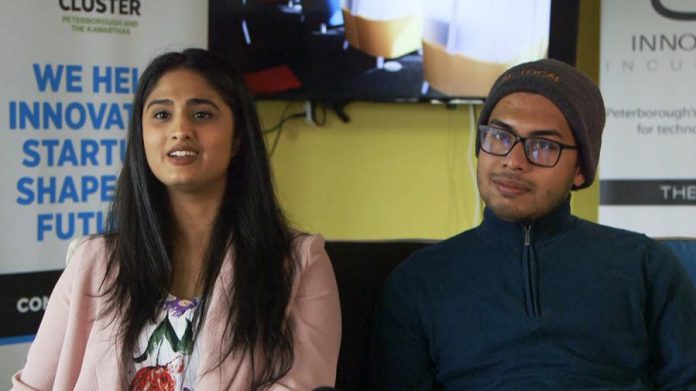 Another digital startup that works from the Innovation Cluster, Ribitt, is planning on rolling out their company in stages across Ontario in 2019. Ribitt is currently operating in Peterborough and in two Toronto neighbourhoods: Roncesvalles and The Junction.
Ribitt is a free app that allows users to earn points while they shop at local establishments. The app functions like Air Miles, where users earn points with each purchase, which can then be used to buy products from any of the participating stores.
Ribat Chowdhury, Co-founder of Ribitt, says participating merchants have seen an increase in spending from existing customers, as well as an increase in new customers visiting their store, which was his initial hope when developing the app.
"We wanted to make a product that encouraged consumers to shop locally, and we wanted it to be low risk for the merchants," explains Chowdhury. "Now, we have over 2,000 active users."
Once again, another digital startup is proving that you don't need to be in Silicon Valley or Toronto to launch a digital startup: Ribitt's whole team works from the Innovation Cluster's incubator, also known as The Cube, in downtown Peterborough.
"The Cube is a collaborative, supportive space," says Chowdhury. "It inspires you to share and learn. Even if other entrepreneurs are in a different sector, they still experience a lot of the same challenges, so we can learn from each other."
Chowdhury says the community spirit at The Cube also fuels healthy competition.
"When you see other companies raising money, for example, you get ideas for your own business, and it inspires you to do better," says Chowdhury.
While the Innovation Cluster and its clients are quick to emphasize the benefits of the physical space and the city of Peterborough, the Cluster is also able to provide remote support to entrepreneurs.
For example, Miriam Verburg, Executive Producer of Bloom Digital, a digital game company based in Toronto and Peterborough, is a remote client of the Innovation Cluster. Her company creates narrative-driven digital games featuring characters dealing with pivotal, life-changing moments.
Bloom Digital's first release, LongStory, is an award-winning dating sim/role-playing game focused on helping players build healthy relationships.
As a remote client, Verburg stresses that being involved with the organization is a great opportunity to meet people and to become integrated into Peterborough's business community.
"It's a great place to talk to others who have been through the entrepreneurial process," says Verburg. "It's important to test your ideas as often as you can with as many people as you can."
If 2018 is any indication of what's to come, it's safe to say there's no limit to what the Innovation Cluster can do for startups in Peterborough and the Kawarthas.
If you're a startup looking to grow your business in 2019, the Innovation Cluster wants to hear from you. Whether you're in the initial stages of development, or require resources to grow your current startup, the various programs and partnerships offered by the Innovation Cluster can help you take your idea or business plan to the next level.
The main offices of the Innovation Cluster are located on the third floor of the VentureNorth building at 270 George Street North in downtown Peterborough. For more information, visit innovationcluster.ca. You can also follow them on Twitter, Facebook, and Instagram.
This story was created in partnership with the Innovation Cluster Peterborough and The Kawarthas.