On Thursday, January 31st, Trent University's student-run the Anne Shirley Theatre Company (ASTC) makes their long overdue return to The Theatre on King (TTOK) stage with their production of Don Zolidis' The Brothers Grimm Spectaculathon.
Directed by first-time director Kate Mills, the show features elements from all 209 of Jacob and Wilhelm Grimm's legendary 19th-century fairy tales, with all of their whimsy and horror, in a fast-paced comedy full of fresh new performers and a truckload of zeal.
There is little production history available online on The Brothers Grimm Spectaculathon, other than that it was written by American playwright Don Zolidis, a former middle and high school teacher who has published almost 100 plays produced more than 10,000 times in 61 countries.
However, I want to just say how pleasantly surprised I was to watch this very clever and laugh-out-loud show produced by a very talented and vibrant cast of young performers who, for the most part, I have never seen on stage before.
Simply put, The Grimm Brothers Spectaculathon is the best show I've seen done by the ASTC in a number of years now, and one of the most enjoyable shows I've ever seen to come out of Trent University.
In The Brother Grimm Spectaculathon, two narrators (Mary Grace Murphy and Jordan Shabsove) take the audience through all 209 stories collected by the Brothers Grimm in one show. Furthermore, the pair does so in trying to prove that all the stories are interconnected in one common continuity.
Sure, they take a few liberties here and there, and touch only briefly on some of the more obscure stories, but all your favourite characters are here: Hansel and Gretel, The Frog Prince, Rumpelstiltskin, Rapunzel, Snow White (or is it Sleeping Beauty … and does it matter?), Cinderella, and Lean Lisa. What? You've never heard of Lean Lisa? Oh, you soon will.
As a collective, eight performers (including the above mentioned narrators along with Shae-Lynn Reesor, Victoria Arbour, Warren Moore, Emma Lee, Jesse Jamieson and Hannah Lash) brilliantly bring more than 50 unique characters to life. There is a lot going on in this show, and it'd be impossible to give you a play-by-play of everything you are going to see (and honestly, you don't want me to give away the surprises), but just some of the highlights you can expect include deals with the devil, a satanic road trip, crab people, a woman fighting a dwarf, cannibalism, awkward dating practices, and a series of bad parenting decisions.
The show takes the stories that you grew up with, strips away the sugar-flavoured Disney versions you remember, and turns them on their head with some modern real-life sensibility and occasional moments of social commentary. It's a lot to take in, but that just means non-stop fun from beginning to end.
I cannot contain my enthusiasm for this wonderful ensemble cast of primarily newcomers to the Peterborough theatrical community. I always love seeing faces I don't recognize take centre stage, and this show contains a feast of fresh performances. By playing a multitude of different characters, the performers show a great amount of versatility and every one of them get a chance to shine with their own place in the spotlight throughout the show, making every player a star during their own moment.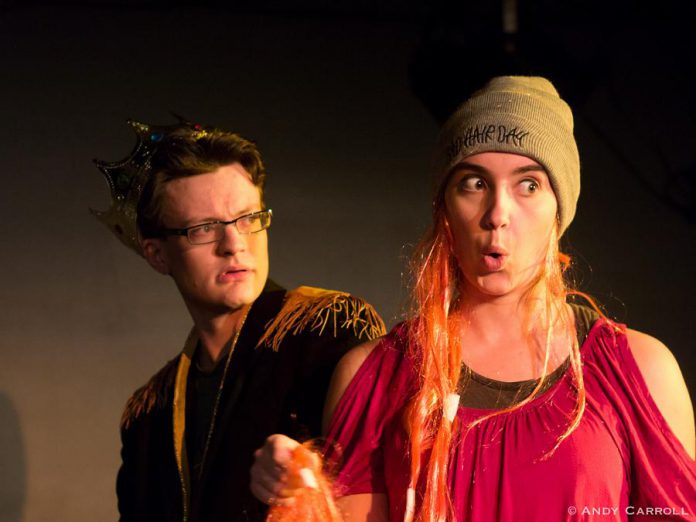 At the head of the show are narrators Mary Grace Murphy and Jordan Shabsove, who guide the audience through the zany madcap world of the Brothers Grimm. Jordan is wacky and enthusiastic, while Mary Grace maintains a certain amount of grace and poise. However, the pair is allowed to change characters, with Jordan playing the Big Bad Wolf, and Mary Grace portraying a vain and ditzy sorceress.
Other outstanding performances include Victoria Arbour as Rapunzel's bad-decision-making mother, Warren Moore as the Frog Prince, Emma Lee as an incel king, Shae-Lynn Reesor as Little Red Riding Hood's profanity-spewing grandmother, and Jesse Jamieson in a series of charming performances including the magic fish, Satan's grandmother, and Little Red Riding Hood.
But possibly the performance of the night goes to Hannah Lash, who not only plays an angry cannibal dwarf and a cynical teenage Rapunzel but also performs the entire cast of Cinderella (including the animals) in one madcap solo performance.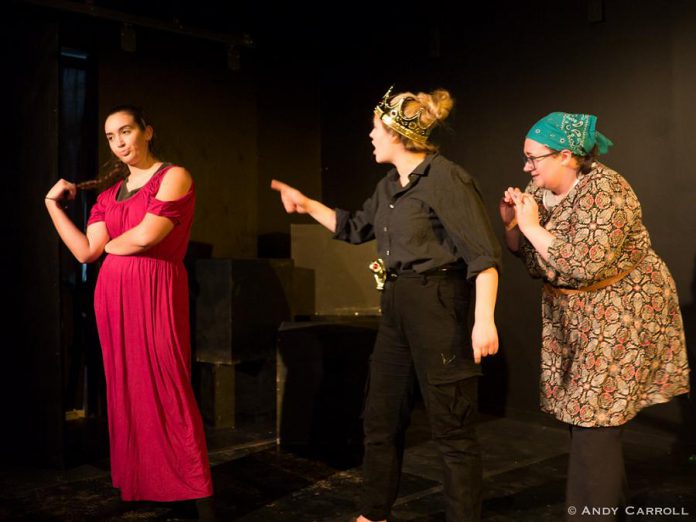 Together this fantastic cast is completely irresistible. I'd think that one of them gave my favourite performance of the show, only until the next performer took their moment in the spotlight.
Again, there is a lot going on in this very fast-paced show, so it is impossible to give out a shout-out for every performance, except to say that you will be delighted by what you see this vibrant cast can do. Whoever cast these performers together did an amazing job.
I also can't express how truly funny this show is. The acting is deliciously over the top, but it works for this type of play. The jokes are both obvious and subtle, and the comedic timing by the cast hits each target. Honestly, anybody can read a funny line, but it takes skill and timing to have that line make an impact, and the performers in this show hit the mark again and again and again.
Part of the success of The Brothers Grimm Spectaculathon is due to its whimsical sense of charm and fun. In the cold bleak months of winter, sometimes it's just good to watch something that can be silly yet smart at the same time. Not every show needs to be filled with metaphysical monologues or joyless and pretentious melodrama. Sometimes the best show you can bring to the stage is something that'll make the audience laugh.
The Brothers Grimm Spectaculathon is a bright turning point for the ASTC. I'd like to thank the people who had a part in selecting this show for the 2018-2019 lineup.
It's been a long while since ASTC has been at TTOK, but their return is truly a triumph. It's going to be a cold few days in Peterborough this weekend, and nobody wants to be outside. Instead, head to TTOK and warm up your soul with this wonderful show. You will be disappointed if you miss it. It won't be the cold that will make your face hurt — it'll be from all the laughing you're going to do.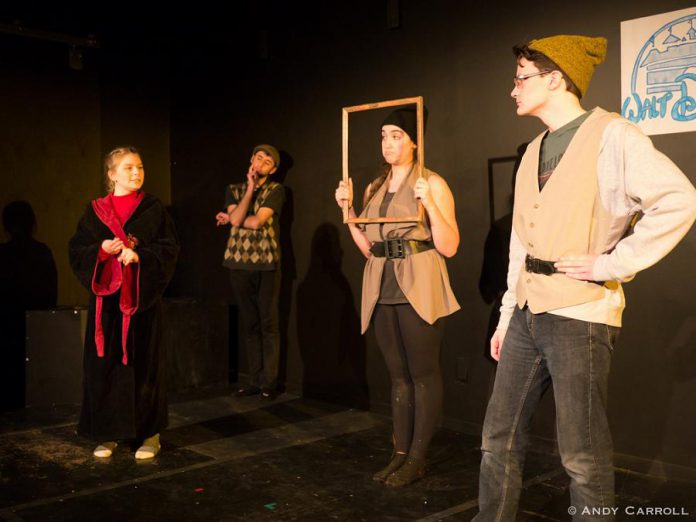 Congratulations to Kate Mills and her fantastic company. They have something to be very proud of with The Brothers Grimm Spectaculathon. I can't wait to see what they put on next.
The Brothers Grimm Spectaculathon runs from Thursday, January 31st to Saturday, February 2nd at TTOK, with performances beginning at 7 p.m. The show continues for three additional performances the following weekend on the Peterborough Theatre Guild stage.
Tickets are $15 at the door, and will also be sold in advance during business hours outside of Wenjack Theatre and in the TCSA Office at Trent University until February 8th.