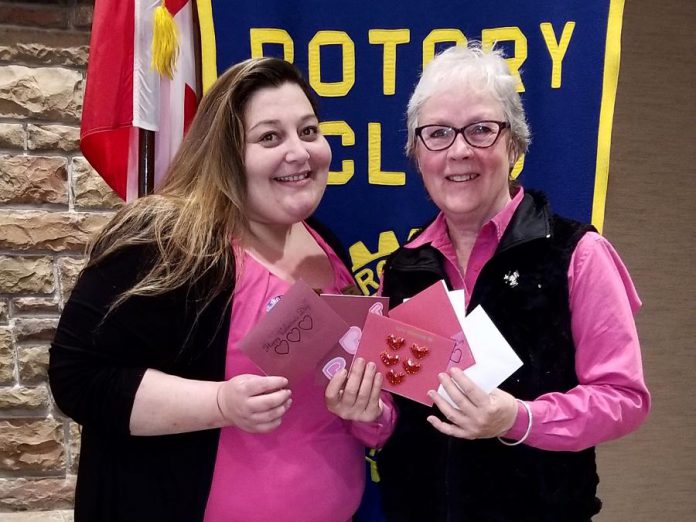 Members of Rotary Club of Peterborough Kawartha are sending the residents of Rubidge Retirement Residence some love this Valentine's Day.
Most people are familiar with the larger causes Kawartha Rotary takes on, including the Rotary Splash Pad at Nicholls Oval, the outdoor gym in Beavermead Park, and fundraising for the acquisition and subsequent training of police dog Isaac.
But Rotary members also regularly take on smaller projects that the club refers to as (no surprise) "small projects".
Rotary member Janet McLeod (owner of East City Flower Shop in Peterborough) took the lead on one such project at Kawartha Rotary's January 24th meeting.
She introduced Barb Overwijk from Rubidge Retirement Residence, an assisted living retirement residence in Peterborough for seniors, and Rotary members proceeded to make 80 unique Valentine's Day cards for Rubidge residents.
Members customized each card using stickers, craft paper, ribbon, stamps, and craft tools. McLeod then stamped each card with the message "Hand-made with Love!" and placed them in envelopes to be distributed to residents at Rubidge Retirement Residence on Valentine's Day.
It may be a "small project", but it's sure to have a big impact on the residents, reminding them they are loved.