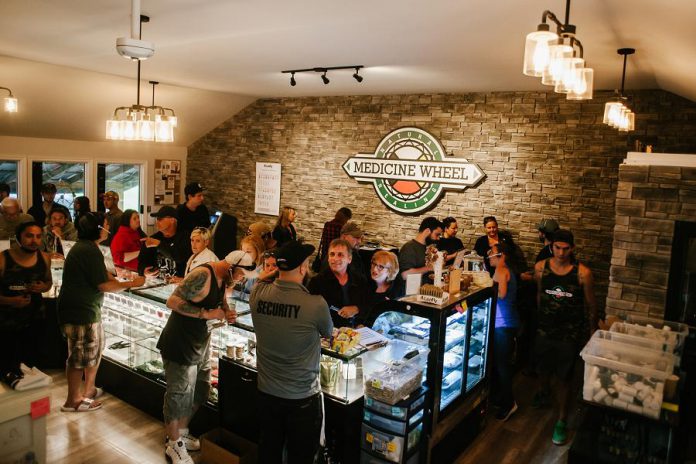 The recent news that there won't be a cannabis store in either Peterborough or Lindsay — at least not in the initial round of retail stores opening by April 2019 — has disappointed some residents of the Kawarthas.
It means the only option for locals who wish to purchase legal cannabis will be to order online through the Ontario Cannabis Store or to drive to Oshawa, where a cannabis store named "Fabulous Leaf" is proposed for the busy plaza at 575 Laval Drive near the Stevenson Road exit on Highway 401.
However, if you're willing to skirt the edges of legality (or not, depending on who you talk to), there's another option: take a trip to the popular "Green Mile" in Alderville First Nation beside Rice Lake in Northumberland County.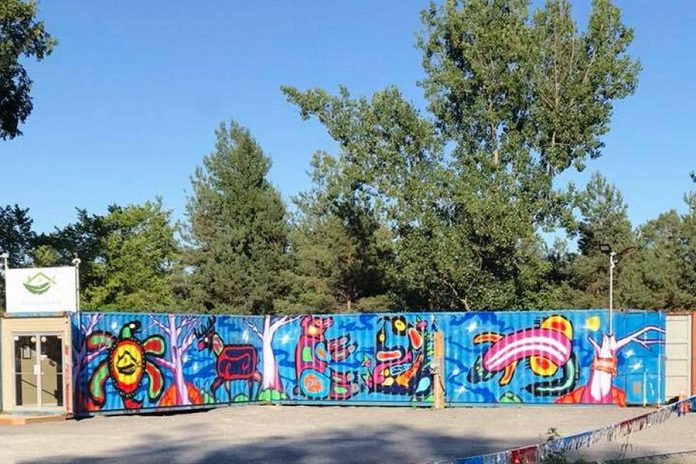 So named because of the dozen or so cannabis dispensaries that line a short stretch of Highway 45 just south of Roseneath, the Green Mile represents a thriving indigenous cannabis industry. It's no secret to the many thousands of people who already visit the dispensaries, the most well-known being Medicine Wheel Natural Healing and Healing House Medicinals, but word is spreading quickly to the broader population.
In fact, Alderville First Nation has already become the cannabis tourism destination in the Kawarthas for locals and visitors alike, especially following the legalization of cannabis in Canada last October and the void left by both federal and provincial legislation.
For example, edibles are still illegal under federal legislation (the federal government expects to deal with them by October 2019). And the Ontario government's restriction on the number of legal retail stores (only 25 in 2019 with, as noted, no retail stores in the Kawarthas) means many people will have to drive some distance if they want to speak with an actual person about their cannabis needs. There's also an ongoing concern about potential shortages of product (and the limited variety) available from the Ontario Cannabis Store.
VIDEO: Welcome to Medicine Wheel Natural Healing

In Alderville First Nation, you can purchase edibles. You can speak to helpful and knowledgeable "budtenders" who will recommend the best product for your needs. It's a 45-minute scenic drive from Peterborough, the largest population centre in the Kawarthas. And there's a lot of variety of product, including flower options, concentrates, edibles, and more.
Rob Stevenson, owner of Medicine Wheel Natural Healing, is at the centre of Alderville First Nation's pot industry. He first opened his store as a medical cannabis dispensary more than a year before weed was legalized, and since then has seen his business boom. In October 2018, he already had 15,000 registered clients and was employing 30 full-time employees, 20 of whom are indigenous.
Stevenson, an Anishinaabe man of the Bear Clan and a member of Alderville First Nation, says he has as many as 250 new clients every day.
The claim is not far-fetched. kawarthaNOW visited Medicine Wheel on the Saturday of the Family Day Weekend. The parking lot was full, with cars pulling in and out every few minutes. The store was crowded with adults of all ages as long lines of people waited to withdraw cash from the two ATMs inside the store (the Medicine Wheel only accepts cash).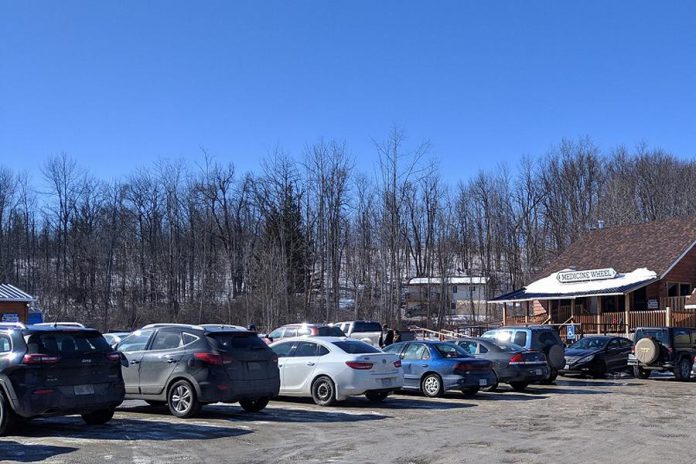 A little less crowded but still busy was the smaller Healing House Medicinals, located right across the highway from Medicine Wheel. It's the most distinctive cannabis store in Alderville First Nation, consisting of two shipping containers that have been joined together and painted with graffiti.
Stevenson was inspired to launch his cannabis business after attending a meeting in the Tyendinaga Mohawk Territory on the Bay of Quinte near Belleville. The Tyendinaga Mohwak Council has held a series of meetings to discuss cannabis operations in the territory, which has at least 50 dispensaries.
"I got inspired at that meeting," Stevenson tells Bruce Barcott, deputy editor of online cannabis resource Leafly. "We heard stories about how cannabis was helping people. We heard about how it could help communities economically, through direct employment and the spinoff companies around the industry."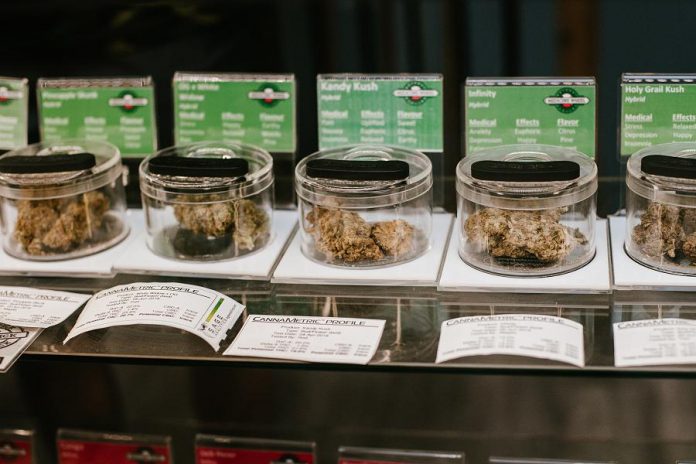 The Tyendinaga Mohawk Council decided to adopt interim regulations to govern recreational cannabis, and expects to ratify final regulations in April 2019.
Alderville First Nation is taking a similar approach but without the direct involvement of band council, which has refused to take a role in regulating the local cannabis industry — leaving it up to individual band members to exercise their sovereign rights.
In the absence of band council direction, the cannabis dispensaries and growers of Alderville First Nation have come together to form the Mississaugas of Rice Lake Cannabis Association (ricelakecannabis.org), which is working on implementing a process of self-regulation of the cannabis industry on the territory of the Alderville First Nation.
"We needed some kind of framework that is responsive to the people in our community and which can protect the industry and the interests of our people," says Stevenson, a spokesperson for the association.
This includes transparency in operations, ensuring product is not sold to minors, and ensuring product is tested and certified. For example, Medicine Wheel Natural Healing has created the Red Feather certification protocol, a system of cannabis testing and certification adopted by the three cannabis dispensaries in Alderville with testing labs (Medicine Wheel, Healing House, and the Totem Pole).
The certification is intended to ensure a cannabis product was made by indigenous people, without the use of pesticides and herbicides, and that it has undergone a quality-control testing process.
VIDEO: David Baker on growing Cannabis in Alderville
As part of its mandate, the association has proposed a community contribution fund "to ensure that the cannabis industry of the Alderville First Nation contributes to the needs of the people."
On Saturday, March 9th, the association will be hosting a day-long meeting for members of Alderville First Nation, bringing together Anishinabek cannabis growers and dispensary owners to discuss, improve, and possibly adopt a common framework of self-regulation and community governance.
The elephant in the room remains the question of the legality of cannabis dispensaries on indigenous territory. On the face of it, the dispensaries appear to be contravening both federal and provincial law.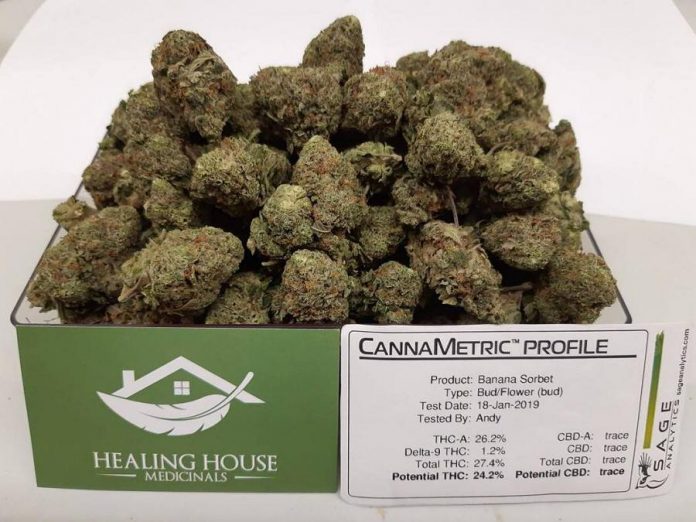 However, from the perspective of the Mississaugas of Rice Lake Cannabis Association, it's not a question: Alderville First Nation is sovereign territory and federal and provincial cannabis laws do not apply.
The association points to several articles of the United Nations Declaration of the Rights of Indigenous Peoples that define self-regulation of indigenous economies and medicines, including Article 24, which states in part "Indigenous peoples have the right to their traditional medicines and to maintain their health practices, including the conservation of their vital medicinal plants, animals and minerals."
"We're adding cannabis to our repertoire of indigenous medicine," Stevenson tells Leafly.
The Mississaugas of Rice Lake Cannabis Association has further clarified its position on the legality of cannabis with the following statement:
No plant, animal or person is "illegal" under the natural laws governing Indigenous peoples. The concept of one human prohibiting another from accessing a part of creation is one that is foreign to us.
We are a free and sovereign people and we are allies to, and not subjects of, the British Crown and its Canadian government.
We have a responsibility to look after our land and our people and our generations yet to come.
We have an inherent individual and collective right as free and sovereign Indigenous people to consume, cultivate, process, utilize, and trade or exchange any part of creation in our territory for our own sustenance and benefit, as long as we do it in a way that benefits our seven generations and our mother Turtle Island.
Because we are a free and sovereign people, we do not pay or collect tax to or for the Canadian government, the British crown, or anyone else.
As a free and sovereign people we have the right to self-regulate our own economies and our own communities.
The way our system of governance works is that our leaders serve our people, and express the common consensus of the people.
Our individual and collective rights are enshrined in the United Nations Declaration on the Rights of Indigenous People and are recognized and affirmed in the Canadian constitution.
For all these reasons, we the Mississauga of Rice Lake, declare that cannabis is not "illegal" in our territory. As has long been the case, cannabis is grown, processed, and sold according to the customs and traditions of our people.
The recently established medicinal cannabis dispensaries in our territory are regulated through quarterly gatherings of Alderville First Nation members belonging to the Mississauga of Rice Lake Cannabis Association.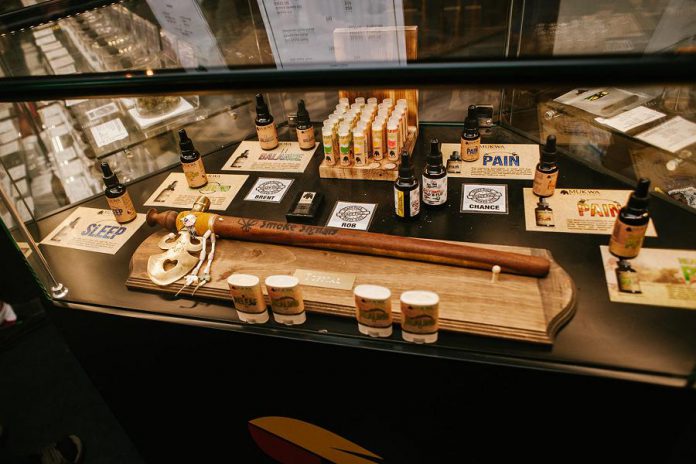 For his part, Stevenson says he has met with the Ontario Provincial Police (OPP), with which the Alderville First Nation has an agreement to provide policing services.
"I went to the OPP and gave them a similar presentation to the one I gave to chief and council, showing them why I'm doing this and how I'm doing this," Stevenson tells Leafly.
"It was received very well. I met with the police quite a few times. The police would stop in a few times just to see how things were going. I remember the first couple times the police came in, and it would clear the store, clear the parking lot. After a while, though, people realized they were just there to talk and observe.
"Those were helpful sessions. They let the police see firsthand what we were doing. They saw that we've got a huge range of people coming in from different backgrounds, not just the typical stoner persona. We've got a lot of seniors, women, people of all ages" (except minors, of course).
It remains to be seen how the cannabis industry of Alderville First Nation will change, once the non-indigenous industry in Ontario grows and matures. But for now, it's a booming business and one that the Ontario government might be able to learn something from.
For more information on Medicine Wheel Natural Healing, visit medicinewheelnaturalhealing.com. For more information on Healing House Medicinals, visit healinghousemedicinals.com.