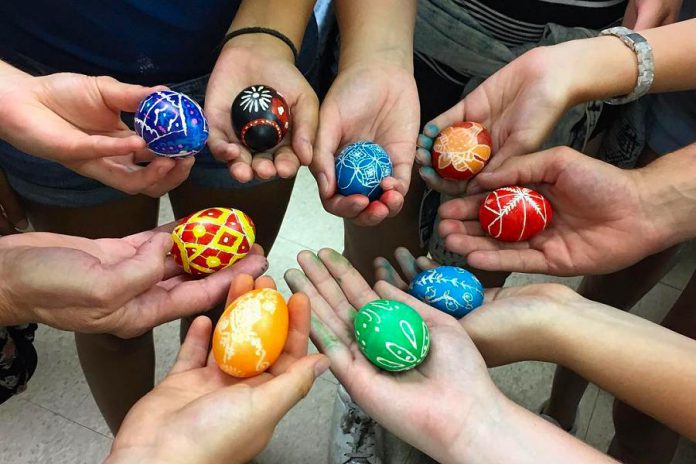 The popular First Friday Peterborough art crawl returns to downtown Peterborough, running on Friday night (April 5).
Most events run from 6 to 10 p.m.
Here's a list of everything that's happening and where. Also check out the location map below by local artist Jeff Macklin that lists most of the events.
---
1. The Commerce Building (129-1/2 Hunter Street West)
The hub of artistic endeavours in downtown Peterborough features several artist-run studios:
Acme Art & Sailboat Company presents "un-sensored F8-shutter FIZZLE", a group photography show featuring Alex Pendergast, Wayne Eardley, Davey Warren, Wayne Ferguson, Scott Cisco, Marlon Hazlewood, Esther Vincent, and Paul Hodgkinson. In The Copper Closet, Acme owner and artist Joe Stable will be presenting his new fish-themed work.
In Studio #7 (accessible via Acme), Julie Francey is hosting an open studio with guest artist Freestyle Pat Lewis.
At the Atelier Ludmila Gallery (Studio #1), Leigh Macdonald will be showing her paintings in an exhibit called "Limn".
Other open studios include The Drawing Room (Studio #5), Stephen Hayes, McLoughlin Studio Gallery, and Alex Bierk.
2. Watson & Lou (383 Water Street)
Oksana Hawrylak and Olenka Kleban of Folk Camp Canada, a not-for-profit organization that provides folks arts programming, will be demonstrating how to make "Pysanky" (Ukrainian Easter eggs) using the wax-resist "batik" method, in which designs are drawn or written onto the egg with beeswax, and then submerged in a series of dyebaths. While you're there, sign up for one of the Pysanky workshops Folk Camp is hosting at Watson & Lou over the weekend.
Also check out the latest work from Madderhouse Textile Studios, Sweet Song Herbal Studio, and check out illustrator Jason Wilkins' open studio at Wilkins Illustration.
3. By the Bridge (382 Water Street)
By the Bridge is hosting a retrospective of the art of Ann Cossar, who uses pen and ink, oils, watercolours, and pastels to explore land/water scapes and the human figure, as well as the abstraction of both. The exhibit will include some of her portrait work as well, dating back to the 1960s.
4. Caffeina Espresso Bar (144 Hunter Street West)
Caffeina owner and documentary and wedding photographer Andreas Avdoulos will be displaying his work.
5. META4 Contemporary Craft Gallery (164 Hunter Street West)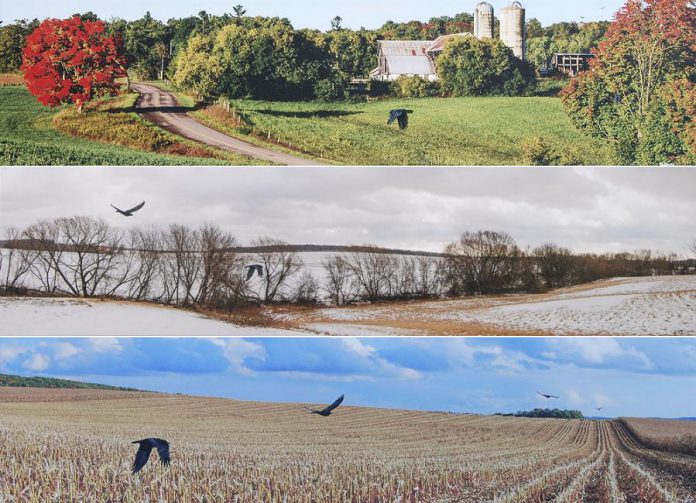 META4 is hosting the opening reception for Christopher Thorpe's photography exhibit "Curves", part of the SPARK Photo Festival. The reception will also feature free photography activity in the studio.
6. Next Door (197 Hunter Street West)
In conjuction with First Friday, cocktail bar Next Door will be hosting a free concert from 9 to 11 p.m. featuring Lauryn Macfarlane with Dar Kimble on guitar.
7. Green Lemon Gallery (219 Hunter Street West)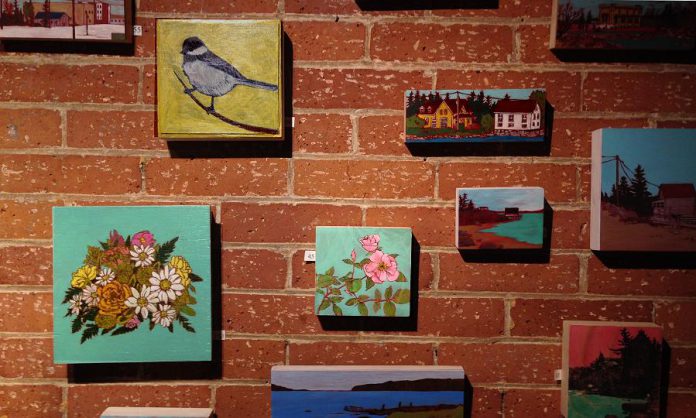 Green Lemon Gallery, a new intimate gallery located beside Black Honey, will be hosting a group show with paintings by Shannon Taylor and sculpture by Charlotte Di Carlo.
8. Black Honey (221 Hunter Street West)
Black Honey is hosting a reception for its current exhibit, "Nature's Restorative Gift", featuring oil paintings by Christine Campbell (who will be in attendance). The exhibit runs until May 4th.
9. Mike's Tattoo and Piercing (345 George Street North)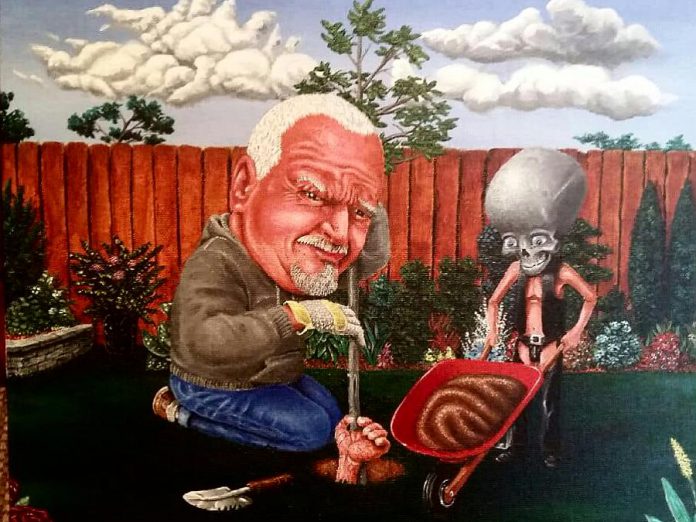 Mike's Tattoo and Piercing will be featuring the work of graphic artist and Cobourg tattooist Todd Strong, who has designed artwork for bands, posters, album covers, and more.
10. You're Welcome (410 George Street North)
Adult boutique You're Welcome is hosting an exhibit by Toronto-based oil painter Stephanie Camille.
11. Frameland Frame It For U Gallery (426 George Street North)
Frameland Frame It For U Gallery is hosting an opening reception for local photographer Peter Curley's "Waterscapes 2019" exhibit, part of the SPARK Photo Festival.
12. Art School of Peterborough (174A Charlotte Street)
The Art School of Peterborough's Launch Gallery is hosting a preview of "Festa Carnevale", its masquerade-themed annual art auction fundraiser, as well as a free mask-masking workshop.
The Launch Gallery is also the location for "Bronson & Cole" by photographers Heather Doughty and Katie Ellement, part of the SPARK Photo Festival (the opening reception happens next Friday, April 12th).
13. Artspace (378 Aylmer Street)
"A Guest A Host A Ghost", an installation by Sylix Nation artist Krista Belle Stewart, will be on display at Artspace during the First Friday art crawl (the exhibition, which opened in March, continues until April 18th).
14. The Trend and Bagnani Hall at Traill College (310 London Street)
The Trend is hosting a book launch and readings for Chickenscratch, an anthology of student writing, and Bagnani Hall is hosting Cultural Studies Day, a celebration of fine arts produced by students throughout the year.
15. Pappas Billiards (407 George Street North)
Pappas Billiards is hosting the opening reception for the YES Shelter for Youth and Families photography exhibition, part of the SPARK Photo Festival, with live music by Bree Taylor.
16. Write On The Street Community Studio (388 George Street)
Write On The Street Community Studio is hosting live writers writing live in the windows. Beginning at 10 p.m., Janette Platana will rewrite Leda and The Swan. Note: this location is not shown on the map below.
Location Map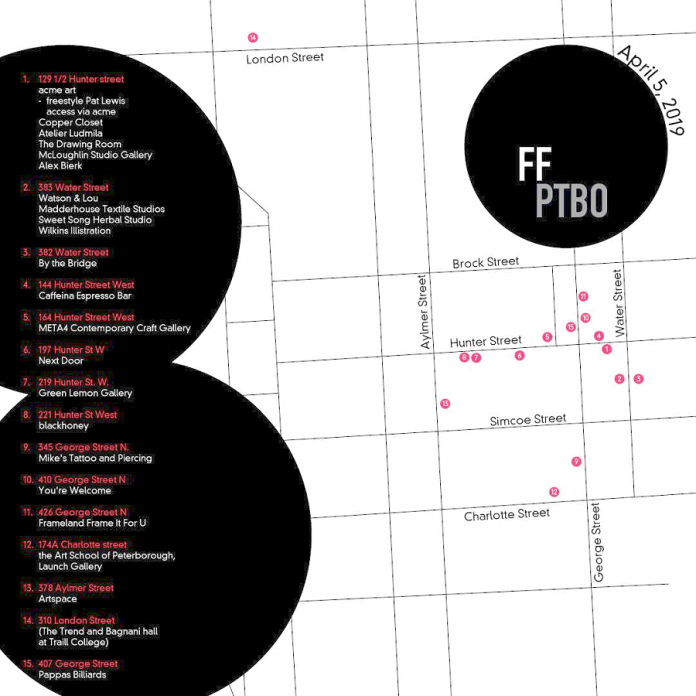 For updates on First Friday Peterborough, follow FirstFridayPtbo on Facebook, Instagram, and Twitter.