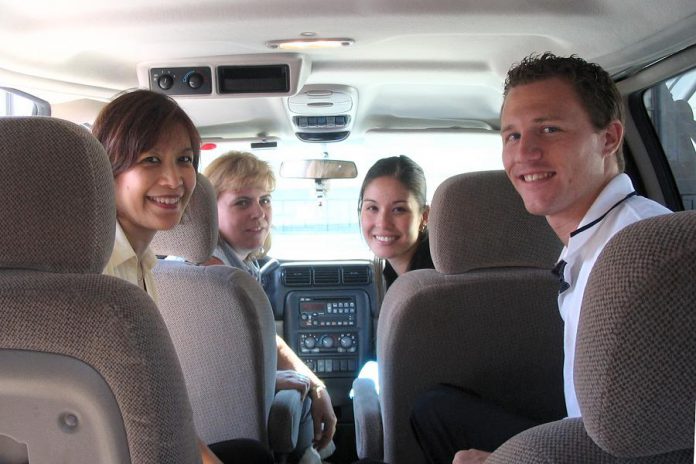 Over the past 15 years, the Shifting Gears challenge has become an annual tradition in our community. Each May, as participants from across the city shed their winter coats, they also shed old transportation habits, take the pledge, and embrace new ways of travelling from place to place.
Shifting Gears participants log their daily trips online as they walk, bike, take transit, and carpool around town. They encourage friends and co-workers to join in on the fun, and there is always a little friendly competition between workplaces and organizations throughout the month. During May, they are congratulated for their efforts with great perks and prizes!
This program model, whereby participants become a part of a community, working together to meet their goals over the course of the month, has been a terrific success. Each year, more than 100 workplaces and 1,000 participants take part, logging tens of thousands of kilometres worth of active and sustainable travel.
And it appears that these new travel habits stick. The City of Peterborough reported last year that use of active transportation in our city is on the rise. In 2016, 10.2 per cent of city residents walked or biked for daily trips when only 6.7 per cent were recorded using these modes a decade earlier. And another 4.3 per cent use transit.
Earlier this year, we reached out to past Shifting Gears participants to find out how they've made the shift to new transportation options. They had such practical helpful tips that we decided to package them up into New-to-Shifting workshops for transit, commuting by bike, and commuting on foot.
Each of these 45-minute workshops will be offered to all new Shifting Gears participants through the weeks of April 22nd and May 9th. At the workshops, participants will receive how-to information, a Q&A session with the workshop mentors, an opportunity to sign up for a one-on-one consultation, and a bonus gift that will set them on track to making their shift stick.
A move to active and sustainable transportation brings with it many benefits that participants are drawn to, including reduced traffic congestion, better air quality, and more daily physical activity. Although these are motivators, participants are also quick to say that their new transportation choice has turned out to be convenient, purposeful, and often even fun!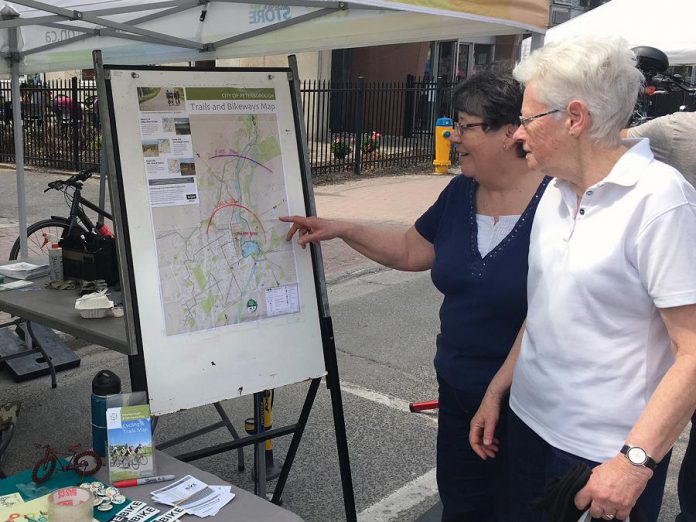 "The walk home from work in the afternoon gives me some time to process the day and separate work and home life," Super Shifter Kate reflects.
By tacking on a couple of extra blocks to his walk each day, Kylie says he can catch up on a favourite podcast on the way to work.
The sounds of wildlife and water set the day off right for transit user and Super Shifter Karen.
"I recently realized that the Trent Express runs quite regularly along Water Street, so now I like to walk down the laneway to the bus stop and watch the river, ducks, and sometimes an occasional osprey while I wait for the bus."
Did you know that, in Peterborough, the median trip distance travelled on weekdays in our city is only 2.7 kilometres and that 73 per cent of all trips are under five kilometres?
"Most of my trips around town are less than three kilometres," says Super Shifter Jaime, "so I find it quite fast to get around town by bike."
Those who have already made the shift are important mentors and motivators in our Shifting Gears community. Through surveys, social media, and at events, our Super Shifters have even more ways to share their tips, tricks, and stories in 2019.
Registration is now open online for new and returning participants. The challenge will run from May 1st to 31st, with a celebration and awards event in June. In May, Shifting Gears will be popping up around town. We will be at the Wednesday Downtown Farmers' Market on May 1st and hosting bike rides in late May. Check out our events listings online.
We hope to support you in a successful shift to active and sustainable transportation this spring, so register today at peterboroughmoves.com. This program is run by Greenup and the City of Peterborough, in partnership with B!KE, the County of Peterborough, and Peterborough Public Health.
For more information on how to participate in the Shifting Gears challenge and the New-to-Shifting workshops, please get in touch with Lindsay Stroud, Shifting Gears Coordinator at lindsay.stroud@greenup.on.ca or 705-745-3238 x209.