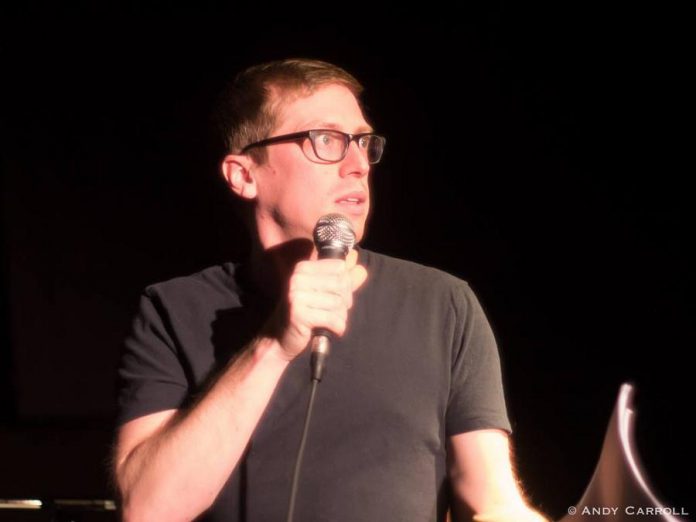 On Friday, April 26th, Lindsay-based comedian Dave Cave returns to The Theatre On King (TTOK) in downtown Peterborough for his brand new show Almost Falling Off a Couch for 45 Minutes: A Performance Art Comedy by Dave Cave.
In his fourth original show to be performed at TTOK, Dave promises audiences they will be getting exactly what they expect from this evening of experimental theatre.
"People are going to see me on the couch and I'm going to almost fall off," Dave says. "I don't want to give too much more away."
Delivering a painfully awkward brand of comedy filled with dry wit and off-beat concepts, Dave's popularity has grown over the past five years that he has been bringing his shows to TTOK.
Starting with Madonna What the Hell: A Worst Hit Musical in 2014, Dave then spoofed The Bachelor by putting himself forward as the prize in Win a Date with Dave Cave (The Gay Comedy Reality Show) in 2015.
Advertisement - story continues below
He also explored the musical career of Lindsay Lohan in his now-classic 2018 show Lindsay Lohan's Speak: A Classic Album Comes to Life.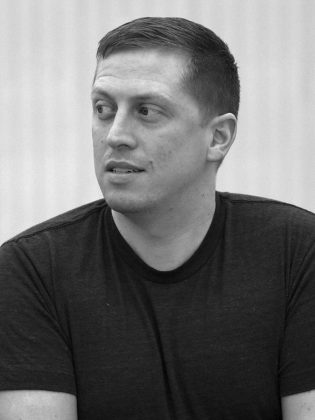 For his new show, Dave is looking to do something simpler, yet still hoping to challenge the audience.
"The last few shows I've done have taken a lot of mental effort and research," Dave explains. "The Lindsay Lohan show took a lot of memorizing, and figuring out the chords, and making notes, and writing the lyrics. Which is one approach, but I'm at a time where I don't want to overthink it anymore.
"I think that the nail in the coffin for comedy can sometimes be over-thinking or over-rehearsing. So my approach to this has been to put the bare minimum effort in what I do, which I know sounds counter intuitive. But I see some comedians over-write, so I wondered what would happen if I put the bare minimum of thought into this.
"Almost no effort has gone into the production of this show. The most effort was getting a couch into the theatre."
Yet, despite not overthinking the show, Dave promises that audiences will find it entertaining.
"It won't be boring, but I don't want to give up all my tricks and wizardry. There will be acts. There will be a dramatic arc. It'll be a hero's journey, with a refusal of the first call, and the getting of the jewels, and returning back to … I don't know what the rest of it is, but I'll be doing all of that.
"I'll take people on a journey. There will be levels and layers of mystery to it. But at its core, it's someone on an object, almost not being able to stay on that object for exactly forty-five minutes. I will send people on an emotional roller coaster — no, I want to say something better than that. No, never mind. It's an emotional roller coaster."
Advertisement - story continues below
Part of what makes Dave popular with audiences is that he bares his quirky personality to the audience via his outlandish yet clever concepts.
"I'm always looking for different ways to do comedy," Dave explains. "There are a lot of people doing stand-up and sketch comedy or doing web series. I like to call my comedy 'performance art comedy'. My comedy is experimental and based in reality. I like the term performance artist instead of comedian, but the two terms are kind of interchangeable.
"In terms of concept, this show has a very simple premise but I wanted a challenge. The challenge is how to make almost falling off a couch interesting. I think this will also be a challenge for the audience. I think that people who have shown interest in what I do like that challenge."
Advertisement - story continues below
"Can they sit through this? Can I sit through this? I think we're all contractually agreeing to participate in this painful event. At the very least, I think it should make you question your choice of why you are there."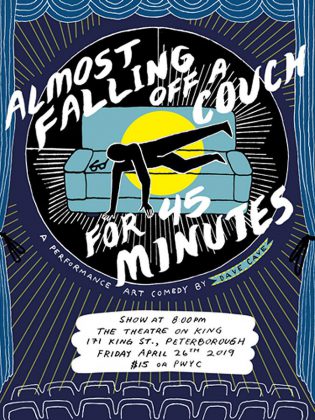 Dave also was thankful to find a sponsor for this one-night show.
"I did get a sponsor for the show," he says excitedly. "Leons Peterborough donated a couch. Actually, my friend is buying it from them, so it has a home after this."
One of my favourite performers in the Kawarthas, Dave Cave's shows are always memorable. Each one of them is distinctly unique, and they are shows that people remember and talk about long afterwards. People who have seen Dave's shows describe him as being "avant-garde", "a genius", and "highly innovative".
Deserving of his growing following, Dave is an artist who needs to be experienced to be understood. This is why you don't want to miss his latest show.
"I will not standing because I'll be laying on the couch," Dave sums up. "I'll have some problems staying on that couch. It's a fight with time and gravity and, ultimately, a fight with myself. It's that eternal struggle."
Advertisement - story continues below
"This is something that, as I say it out loud, sounds so stupid. I've been so confident about it until I've had to talk about it. It's like dissecting a soap bubble."
Whatever it is, you'll have to come out to the show and see it for yourself.
Almost Falling Off a Couch for 45 Minutes: A Performance Art Comedy by Dave Cave will be performed at The Theatre on King on Friday, April 26th at 8 p.m. Tickets are $15 at the door, or pay what you can. To reserve a ticket, visit the Facebook event page.