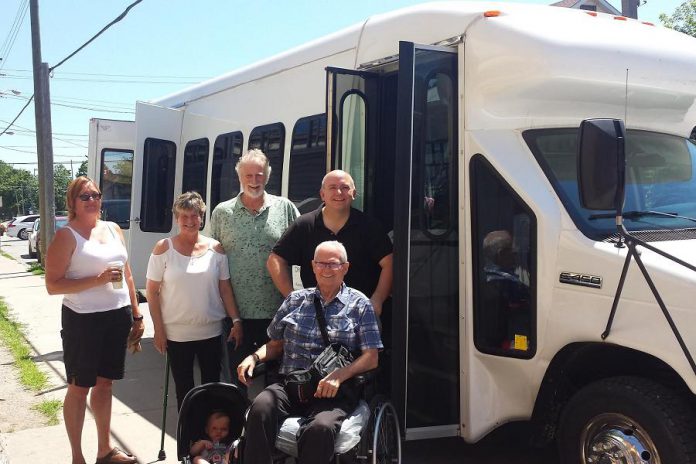 Free rural transit, operated and supported by local residents and businesses, begins next week in the City of Kawartha Lakes.
A 20-passenger modern shuttle bus, nicknamed "White Lightning", will travel its first regular routes every Tuesday beginning on Tuesday, April 30th.
The weekly morning and afternoon routes will make stops in Lindsay, Woodville, Oakwood, Little Britain, Cameron, Long Beach, Fenelon Falls, Bobcaygeon, Dunsford, and Omemee.
"We have been having an incredible response so far and we haven't even hit the road yet," say bus owners Michael Bryant and Pauline Kiely of Little Britain. "We are thrilled by local demand and interest by local businesses. Given the response so far, we are getting ready to accommodate a lot of riders."
The weekly shopping bus is a community-led service and is not associated with any municipality. Having a weekly shopping bus is part of the community-drafted "Rural Transit Plan for the City of Kawartha Lakes", released in 2017 following a local transportation summit held in Fenelon Falls.
Advertisement - story continues below
"Safe, affordable public transportation is a key for residents and good for our local economy," says Mike Perry, co-chair of the community-based Rural Transportation Working Group.
"I was in Seattle recently and they have a free shuttle for the downtown and waterfront. Businesses there have used the opportunity to increase their success. Transit is a public service and common good which also needs the sustainability of public funding."
The City of Kawartha Lakes first launched a rural transit pilot project in July 2011 which included service to communities such as Coboconk in the northern part of the municipality. Due to low ridership and issues with meeting provincial legislation for accessibility, the city cancelled that project in September 2012.
In June 2013, the city launched a second rural transit pilot project, with a contract to Kawartha Ground Transport to operate the service until June 2015. That pilot project provided rides between Lindsay, Cameron, Fenelon Falls, Bobcaygeon, and Dunsford. In April 2015, City of Kawartha Lakes Council voted to end the pilot project, citing low ridership and the high cost of operating the program (just over $420,000 annually).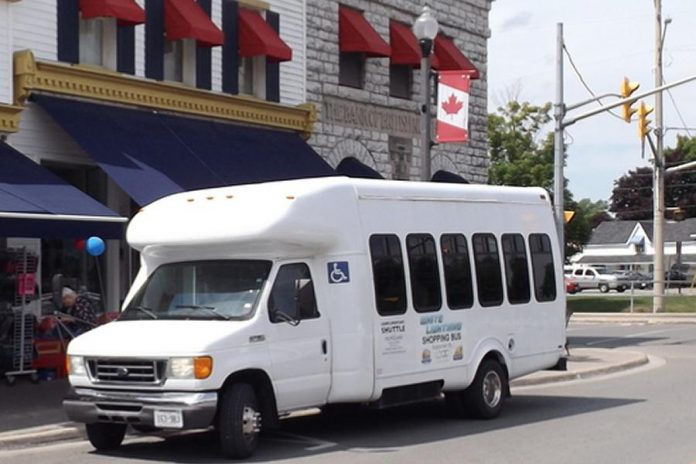 Bryant conducted test runs of the White Lightning shopping bus in the summer of 2018. Based on the results of the test runs and after acquiring the necessary licenses, he decided to begin the weekly shopping bus on a regular basis.
The concept of the shopping bus is supported by the Bobcaygeon, Fenelon Falls, and Lindsay Chambers of Commerce. The first official sponsor of the bus is Miskin Law of Peterborough, which will use the bus for advertising.
The White Lightning Shopping Bus is fully accessible with professional drivers and features air conditioning, stereo music, and complimentary snacks. Retired broadcaster and meteorologist David Devall is the shopping shuttle's goodwill ambassador.
Advertisement - story continues below
Bryant plans to expand the service, depending on ridership, demand, and advertising revenue.
The initial route schedule for the shopping bus is shown below. For up-to-date schedules, including pick-up and drop-off points, visit whitelightningbus.tours. You can also follow White Lightning Bus Tours on Facebook and Twitter.
Schedule
Free Rural Shopping Bus – Tuesday mornings
| | | | | |
| --- | --- | --- | --- | --- |
| Departure Time | Location | Arrival Time | Location | Community |
| 07:30am | Terminal | 08:00am | Food Market | Woodville |
| 08:00am | Food Market | 08:15am | Country Sampler | Oakwood |
| 08:20am | Country Sampler | 08:40am | Foodland | Little Britain |
| 08:45am | Foodland | 09:00am | Lindsay Mall | Lindsay |
| 09:05am | Lindsay Mall | 09:10am | Ross Memorial | Lindsay |
| 09:15am | Ross Memorial | 09:25am | Cameron GS | Cameron |
| 09:30am | Cameron GS | 09:35am | Lakeview Cottages | Long Beach |
| 09:40am | Lakeview Cottages | 09:55am | Sobeys | Fenelon Falls |
| 10:00am | Sobeys | 10:05am | Big Apple | Fenelon Falls |
| 10:10am | Big Apple | 10:40am | Lindsay Mall | Lindsay |
| 11:00am | Lindsay Mall | 11:05 am | Ross Memorial | Lindsay |
| 11:10am | Ross Memorial | 11:40am | Bigleys | Bobcaygeon |
| 11:45am | Bigleys | 11:50am | Sienna Living | Bobcaygeon |
| 11:55am | Sienna Living | 12:00pm | Strangs | Bobcaygeon |
| 12:05pm | Strangs | 12:20pm | Mini Mart | Dunsford |
| 12:50pm | Mini Mart | 01:10pm | Foodland | Omemee |
| 01:15pm | Foodland | 01:35pm | Lindsay Square | Lindsay |
| 01:40pm | Lindsay Square | 01:45pm | Ross Memorial | Lindsay |
Advertisement - story continues below
Free Rural Shopping Bus – Tuesday afternoons
| | | | | |
| --- | --- | --- | --- | --- |
| Departure Time | Location | Arrival Time | Location | Community |
| 2:00pm | Ross Memorial | 2:25pm | Food Market | Woodville |
| 2:30pm | Food Market | 2:45pm | Country Sampler | Oakwood |
| 2:50pm | Country Sampler | 3:00pm | Foodland | Little Britain |
| 3:05pm | Foodland | 3:15pm | Lindsay Mall | Lindsay |
| 3:20pm | Lindsay Mall | 3:25pm | Ross Memorial | Lindsay |
| 3:30pm | Ross Memorial | 3:40pm | Cameron GS | Cameron |
| 3:45pm | Cameron GS | 3:50pm | Lakeview Cottages | Long Beach |
| 3:55pm | Lakeview Cottages | 4:10pm | Sobeys | Fenelon Falls |
| 4:15pm | Sobeys | 4:20pm | Big Apple | Fenelon Falls |
| 4:25pm | Big Apple | 4:45pm | Lindsay Mall | Lindsay |
| 4:50pm | Lindsay Mall | 4:55pm | Ross Memorial | Lindsay |
| 5:00pm | Ross Memorial | 5:40pm | Bigleys | Bobcaygeon |
| 5:45pm | Bigleys | 5:50pm | Sienna Living | Bobcaygeon |
| 5:55pm | Sienna Living | 6:00pm | Strangs | Bobcaygeon |
| 6:05pm | Strangs | 6:20pm | Mini Mart | Dunsford |
| 6:25pm | Mini Mart | 6:45pm | Foodland | Omemee |
| 6:50pm | Foodland | 7:10pm | Lindsay Square | Lindsay |
| 7:15pm | Lindsay Square | 7:20pm | Ross Memorial | Lindsay |