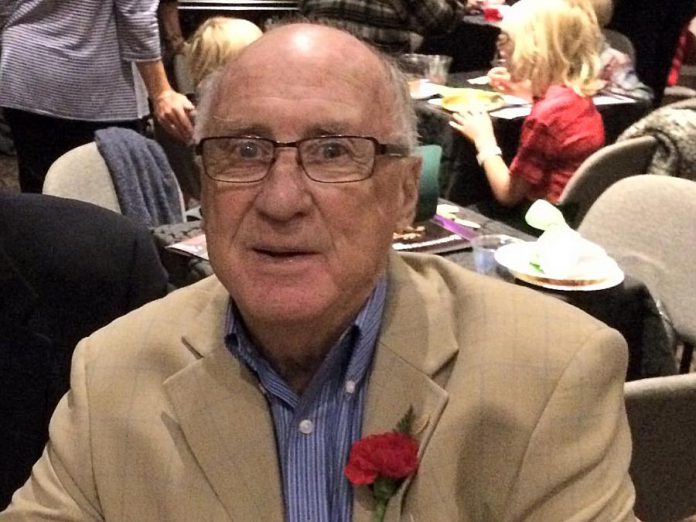 Peterborough Petes goaltender Hunter Jones is the recipient of the inaugural Gary Dalliday Award, a new trophy to be given annually to the Petes player who most excels in the community.
Jones received the award during the Petes' annual year-end awards banquet on Friday evening (May 10) at the Peterborough Memorial Centre.
"Perhaps no one in Peterborough recognized the importance of community more than The Diller," said Petes President Dave Pogue. "For that reason, this season the Petes have introduced this award."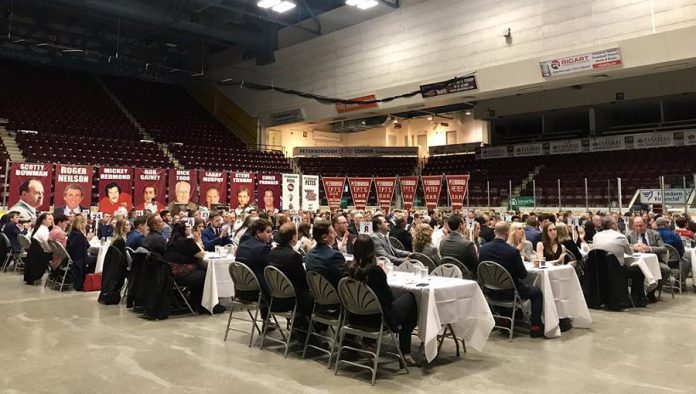 Gary Dalliday, who passed away in August last year at the age of 76 after his third battle with cancer, was sports director at CHEX Radio and Television for 35 years. Nicknamed 'The Diller', he was the radio voice of the Petes for 15 seasons, alongside his son Pete Dalliday — the only father-son broadcasting duo in the entire Canadian Hockey League.
In his younger years, Dalliday was a hockey player who played a few games for the Petes when the team was a farm club of the Montreal Canadiens. In March 2018, the Petes organization recognized his contributions to hockey by naming the Media/Scouts Room in his honour.
In 2001, Dalliday was inducted into the Peterborough and District Sports Hall of Fame in a variety of categories, including athlete/builder, broadcasting, golf, hockey, softball, and stock car driving. Dalliday was known for his commitment to giving back to the community, and was inducted into the Peterborough District Pathway of Fame in 2017.
In addition to the Gary Dalliday Award, the Petes presented the following awards:
Mark Teevens Trophy (most assists) – Ryan Merkley (57 assists)
Ed Redmond Memorial Award (scholastics and hockey) – Tye Austin
Outboard Marine Veterans Trophy (sportsmanship and ability) – Nick Robertson
Black's Family Trophy (rookie of the year) – Cameron Butler
Vince and Lottie Garvey Award (off-ice contribution) – Kevin Varrin
Molson Cup (most three star selections voted by media) – Chris Paquette
Don Marsh Award (most dedication to team) – Chad Denault
Ed Rowe Memorial Trophy (most goals) – Chris Paquette (29 goals)
Norm Bryan Award (most improved player) – Hunter Jones
Ushers Trophy (best defenceman) – Declan Chisholm
Bill Bennett Award (leading scorer) – Ryan Merkley (71 points)
Petes Executive Trophy (most valuable player voted by teammates) – Declan Chisholm