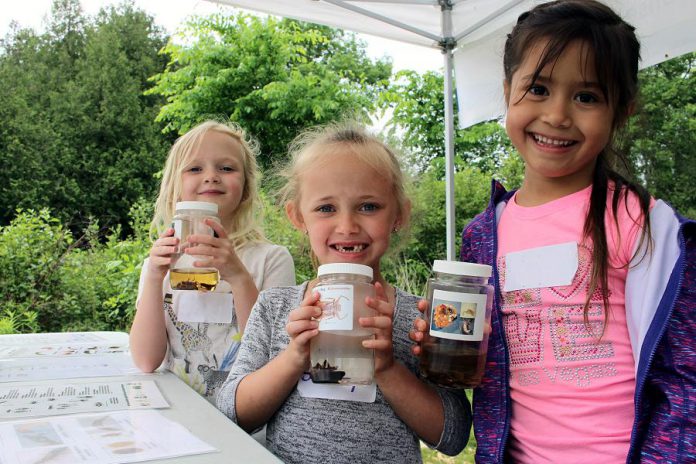 It's that time of year again! Time for 1,000-plus children to descend on the Riverview Park and Zoo for the Peterborough Children's Water Festival (PCWF).
In 2018, the PCWF announced the dream of adding an extra day for a total of three days of hands-on water education. We are happy to say that in 2019 this will become a reality.
From Tuesday, May 28th to Thursday, May 30th, more than 1,620 elementary students in Grades 2 to 5 will be attending the PWCF. This year, the 18th annual PCWF will also bring a number of new and innovative elements to this premier educational event, such as new activity centres, high school student volunteers, French language programming, and more.
In recent years, the festival has seen an increasing thirst for water education in the Peterborough region. Daily registration numbers continue to climb and. in the past couple of years, classes have had to be temporarily placed on wait lists.
The festival's steering committee — comprised of a number of local partners including the City of Peterborough, Peterborough Utilities Group, Otonabee Conservation, Trent University, and more — strives to ensure that all students in our region have access to this funded outdoor educational experience.
Advertisement - story continues below
The PCWF works hard to increase the capacity of the festival by raising the daily class registration limits each year. In 2018, the festival reached capacity. It welcomed almost 900 students in one day, which is 150 more students than had ever attended in a single day of the PCWF. This increase in registration numbers demonstrates the need for more space so that more classes can register; this is a demand we are thrilled to say the festival will meet, and exceed, in 2019.
Why is there a growing demand for the festival? The secret lies in the hands-on interactive activity centres that not only present important water-related programming in a fun and engaging way, but link with the Ontario Elementary Curriculum for each grade, all while maintaining scientific and local accuracy.
Each year the PCWF steering committee welcomes and creates new activity centres to join the circuit. This year, the festival will welcome a number of new guest activity centres. Among them are Fire Safety hosted by Peterborough Fire Services, Adventures in Understanding hosted by Paddling Puppeteer Glen Caradus, and Stepping Stone hosted by the Ontario Turtle Conservation Centre.
What is most exciting are the two new pilot programs launching this year at the PCWF. On May 29th, the festival will offer a select number of Activity Centres in French, connecting cultural and language needs of many local programs. And, on May 30th, the Wonders of Water (WOW) program, a collaborative initiative of GreenUP and the PCWF, will join the festival to bring two peer-to-peer learning opportunities to elementary students.
Over the last two years, GreenUP and the PCWF has been supporting the growth of water education by bringing the WOW program into local classrooms and homes. All this is thanks to funding from the Ontario Trillium Foundation.
Advertisement - story continues below
There are three main components of the WOW program.
The first is comprised of facilitated classroom workshops that broaden and deepen the learning from the festival and expand the audience to include students from kindergarten to Grade 8.
The second component is the development of Community Water Education Kits, which are filled with water-themed educational activities that anyone in the community can borrow to facilitate their own water workshop.
The final component is the development, action planning, and implementation of school retrofits at local elementary schools. School retrofits are led by students who are inspired by the education the WOW program delivers. These retrofits help to empower students to take direct action to positively change their school's impact on water.
Checkout this time lapse from last weekend's #DepaveParadise project at Westmount Public School! Thanks to @ONTrillium, @GCCCanada, @WestmountPS and all our volunteers. #DepaveMe #LetsGetDirty @DepaveParadise ?? pic.twitter.com/Kxq3FPrU6V

— GreenUP (@ptbogreenup) May 14, 2019
Currently, there are two school retrofits underway in Peterborough, and the PCWF will welcome students from these two schools — Westmount Public School and Immaculate Conception Catholic Elementary School — to share what they are learning and the actions they are taking at their schools.
The festival isn't just for elementary students. A majority of the activity centres are led by local high school students who obtain water-related education, develop presentation skills, and network with local community agencies while volunteering at the festival.
Thank you to the educators and students from Thomas A. Stewart Secondary School, Holy Cross Catholic Secondary School, St. Peter's Catholic Secondary School, Kenner Collegiate Vocational Institute, and Monseigneur-Jamot Catholic School for leading the centres this year.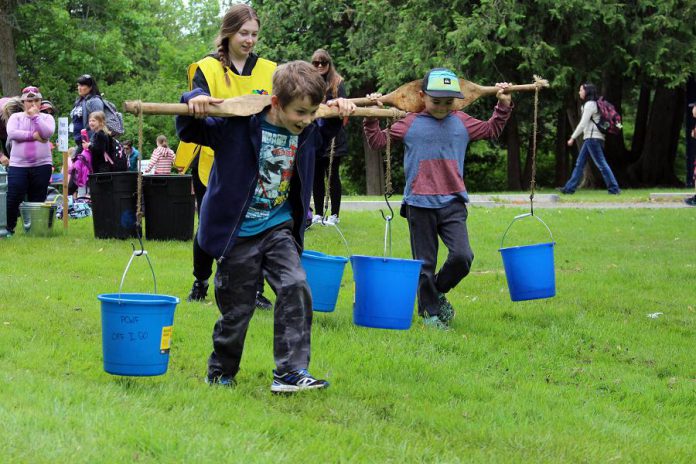 Community volunteers are also essential to the success of the PCWF and we welcome dozens of adult volunteers from a variety of local organizations, such as Trent University, city of Peterborough, Peterborough Utilities Services Group, GreenUP, Siemens, and more.
There is still time to join the festival. If you would like to register for the PCWF or get involved, please visit us at www.pcwf.net or contact the PCWF co-coordinators Matthew Walmsley at matthew.walmsley@greenup.on.ca or Heather Ray at heather.ray@greenup.on.ca.
The PCWF Steering Committee is comprised of 10 members: the City of Peterborough, GreenUP, Kawartha Pine Ridge District School Board, Peterborough Northumberland Victoria and Clarington Catholic District School Board, Peterborough Utilities Group, Riverview Park and Zoo, Trent University, Otonabee Conservation, and community members Ellen Dumas and Wayne Stiver. The PCWF appreciates the many in-kind and financial supporters of the festival. Thank you!