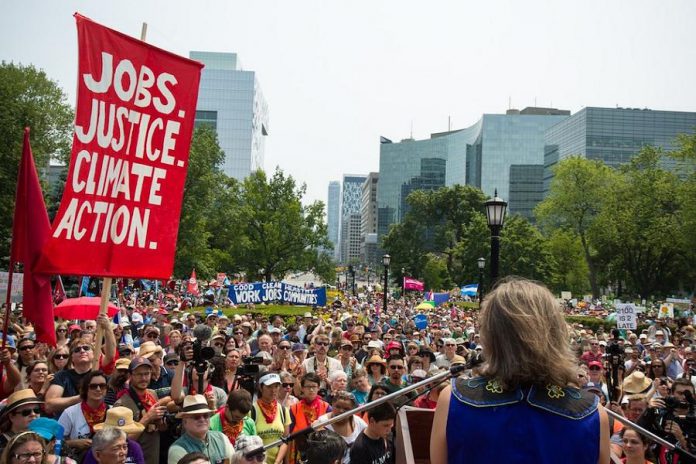 On Thursday (May 30), The Pact for a Green New Deal is hosting a town hall in Peterborough.
So far, almost 90 people have officially registered for the event, which takes place at 6:30 p.m. at Trinity United Church (360 Reid St., Peterborough).
If the phrase "Green New Deal" sounds familiar, that's because it's the name of a proposed package of reforms in the U.S., championed earlier this year by Democratic US Congressional representatives Alexandria Ocasio-Cortez and Ed Markey and aimed at achieving net-zero greenhouse gas emissions in 10 years.
The name refers to the New Deal, a set of social and economic reforms and public works projects undertaken by President Franklin D. Roosevelt between 1933 and 1936 in response to the crisis of the Great Depression.
VIDEO: Green New Deal

The Pact for a Green New Deal is a made-in-Canada, non-partisan grassroots initiative, established on May 6th by a coalition of organizations and individuals across the country.
"We are a coalition of workers, artists, Indigenous leaders, scientists, youth, and people directly impacted by climate catastrophe — from cities and towns, businesses and communities, working beyond our political differences and in solidarity with Indigenous peoples — who want to ensure a safe world for our children and all generations after that," states The Pact for a Green New Deal website at greennewdealcanada.ca.
There are now 95 organizations that have endorsed the pact, including the Union of BC Indian Chiefs, CUPE Ontario, Climate Action Network, and Greenpeace Canada, along with 75 individuals, including musicians K.D. Lang, Neil Young, Basia Bulat, and Joel Plaskett, actors Evangeline Lilly, William Shatner, Pamela Anderson, and Cobie Smulders, scientist David Suzuki, and writer Naomi Klein.
While the climate crisis has been in the news for many years — with increasing droughts, floods, forest fires, and extreme weather events affecting more and more people — the past seven months in particular have seen a substantial change in the public perception of the crisis and mobilization demanding that political leaders take action.
In October 2018, the United Nations' Intergovernmental Panel on Climate Change issued a report warning we only have 12 years left to limit climate change catastrophe, and calling for urgent changes to reduce the risk of extreme heat, drought, floods, and poverty.
In January, Swedish teenager and activist Greta Thunberg delivered her famous stirring speech at the World Economic Forum Annual Meeting in Davos.
"I don't want you to be hopeful," she told world leaders. "I want you to panic. I want you to feel the fear I feel every day. And then I want you to act. I want you to act as you would in a crisis. I want you to act as if the house was on fire — because it is".
Thunberg also prompted an estimated 1.4 million students in 112 countries around the world, including in Canada and here in the Kawarthas, to join her in striking and protesting against inaction in the climate crisis. For her efforts at inspiring young people to take action (known as "the Greta Thunberg effect"), Thunberg has since been nominated for the Nobel Peace Prize and is featured on the cover of this month's Time magazine.
Earlier this month, on the same day The Pact for a Green New Deal was launched, the United Nations released a dire report warning that nature is declining globally at rates unprecedented in human history, and the rate of species extinctions is accelerating.
According to the report, global heating is one of the five culprits for the alarming decline in biodiversity, along with human-caused changes in land and sea use, direct exploitation of species, pollution, and invasive alien species.
Inspired by Quebec's The Pact for Transition (Le pacte pour la Transition), a climate change pledge that has been signed by more than 270,000 people, The Pact for a Green New Deal "demands we cut emissions in half by 2030, protect critical cultural and biological diversity, create a million jobs, and address the multiple crises we face through a holistic and far reaching plan that respects the constitutionally enshrined and internationally recognized rights of Indigenous peoples."
The Pact for a Green New Deal is holding town halls across Canada in May and June, bringing together people from all walks of life at a grassroots level to discuss and inform a vision for climate change action. In addition to the Peterborough event, there's also a Green New Deal Town Hall taking place at 6:30 p.m. on Thursday, June 20th at Port Hope High School (130 Highland Dr., Port Hope).
For more information on The Pact for a Green New Deal, and to sign up to take action to create a Green New Deal, visit greennewdealcanada.ca.