For International Trails Day on Saturday (June 1), several events are taking place this weekend in the Kawarthas.
Started by the American Hiking Society in 1992, International Trails Day celebrates trails, their development and use, and the healthy lifestyle they encourage.
It falls on the first Saturday of June every year.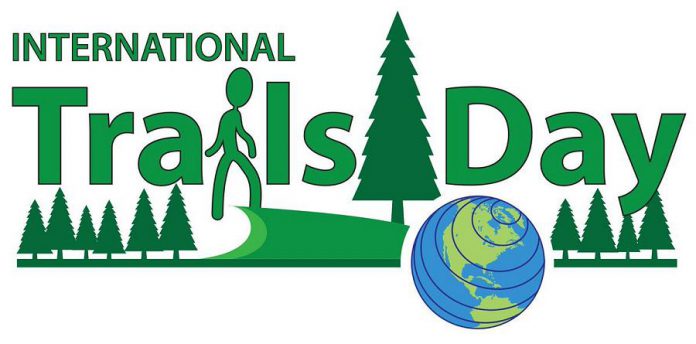 Here are some of the events celebrating International Trails Day in the Kawarthas this year:
At Mill Pond Forest Trails (187 County Road 40, Norwood), a celebration takes place on Saturday from 10 a.m. to 2 p.m. Hosted by the Township of Asphodel-Norwood Trails Committee, the free event will feature geocaching, a scavenger hunt, guided tours, and a sawmill demonstration.
From 10 a.m. to 2 p.m., the County of Peterborough is hosting a scenic walk (or cycle) along the River Road Trail, the section of the Rotary Greenway Trail that runs from Trent University in the south to Lakefield in the north.
Also from 10 a.m. to 2 p.m., Kawartha Land Trust and Wild Rock Outfitters are hosting a guided walk of the Chase trails at John Earle Chase Memorial Park (Anchor Bay Rd., Ennismore), one of Kawartha Land Trust's protected properties. The walks will take place at 10 a.m. and again at 12 p.m.
From 11:30 a.m. to 3 p.m., the Green Trails Alliance is hosting a celebration at the Auk's Lodge courtyard at the Fleming College Frost Campus (200 Albert St. S., Lindsay).
Al MacPherson will guide people on a leisurely two-kilometre interpretive walk along the Kawartha Trans Canada Trail and ecologist Melissa Rose will host a citizen science walk. There will be an escorted two-kilometre bike ride for beginners and a 25-kilometre ride with Kawartha Cycling, who will also be offering a bike safety and check, along with organizational displays and trail demonstrations. From noon to 1:30 p.m., there will be a barbecue for a nominal fee.
International Trails Day extends to Sunday (June 2) with a celebration of trails at Harold Town Conservation Area (2611 Old Norwood Rd., Peterborough) running from 10 a.m. to 3 p.m.
Hosted by Otonabee Conservation, Fontaine Source for Sports, Wild Rock Outfitters, Shimano, and Peterborough Public Health, the event will feature self-guided trail rides along more than 10 kilometres of trails with demonstration Norco, Trek, Shimano, and Cannondale mountain bikes available to try courtesy of Fontaine Source for Sports, Wild Rock Outfitters, and Shimano. Barbecue refreshments will also be available.
If you prefer to celebrate International Trails Day on your own, there are lots of trails to choose from in the area. In Peterborough, there's the Parkway Trail, the Rotary Greenway Trail, the Willowcreek Trail, the Crawford Rail Trail, trails at the Trent University Wildlife Sanctuary, and more.
For a longer hike or bike ride, you can tackle The Great Trail (previously called the Trans Canada Trail), which offers a rural route from Peterborough west towards Omemee and Lindsay (the Kawarthas Trans Canada Trail), and east towards Hastings.
A great resource for local trails is available at the Peterborough & the Kawarthas Tourism website at thekawarthas.ca/explore/parks-trails/.