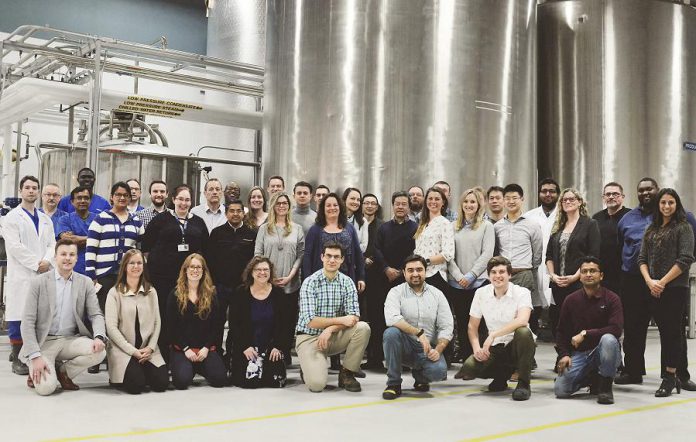 Peterborough bio-tech startup Noblegen announced on Thursday (May 30) that it has secured $25 million in private investment financing.
The Series B financing, led by Richardson Ventures Inc. and BDC's Cleantech Practice, follows a successful Series A funding round in 2016 and brings Noblegen's total funding to date to $42.5 million.
"Noblegen is extremely excited to begin on its next stage of growth," says Noblegen CEO and Chairman Adam Noble. "Both Richardson Ventures Inc. and BDC share our vision to transform the global ingredients market by producing raw materials that are both healthy for consumers and healthy for our planet."
Noblegen makes nutritious and functional proteins, carbohydrates, and oils from a single microorganism called Euglena gracilis. The company's proprietary fermentation technology enables it to produce these ingredients with minimal water and land use as well as a reduced carbon footprint compared to the manufacturing of traditional ingredients.
With this most recent round of financing, Noblegen plans to scale its production capabilities as well as to bring its ingredients to market in the U.S. in 2019.
Advertisement - content continues below
"Our vision is to be one of the most impactful brands of this decade, and we're now in a position where we will be able to focus on meeting the needs of our customers and their consumers," Noble says. "Our ingredients are incredibly versatile, so food and beverage manufacturers can develop products that are sustainably produced but don't sacrifice the taste and functionality of traditional ingredients."
The idea behind Noblegen came from a science fair project by Noble, who was studying how certain types of algae could be used to treat waste water, while he was in high school in Lakefield. Noblegen was founded in 2013.
The company currently employs more than 50 people at its Peterborough location and is planning to double the size of its workforce by the end of 2019.
For more information on Nobelgen, visit noblegen.com.