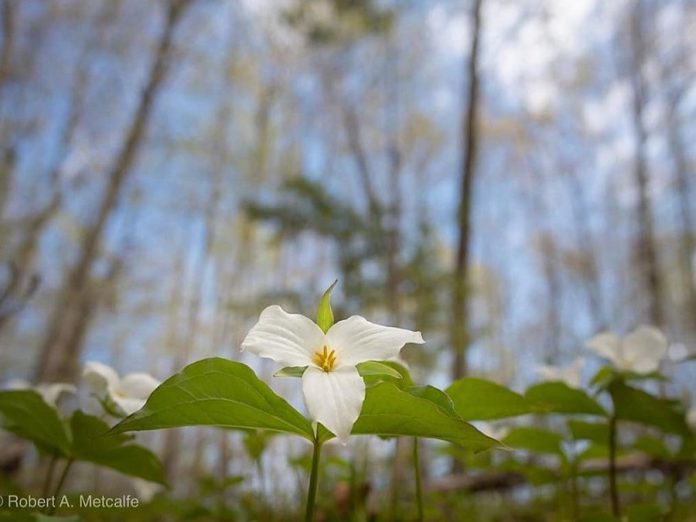 With lots of rain and chilly temperatures, May was more like April but we finally started seeing signs of spring. Trilliums bloomed, starry spring nights returned, fireworks lit up the Victoria Day weekend skies, marinas opened, the loons and herons returned to local lakes, and beautiful spring sunsets enticed local photographers.
Do you want to get on our top photographers list? All you need is an Insta account and to tag us using our hashtag #kawarthanow when posting your photo.
We share photos from across our readership area, which is the five-county area surrounding Peterborough which includes Peterborough, Northumberland, City of Kawartha Lakes, Haliburton, and Hastings (we sneak in the occasional Algonquin Park picture as well, particularly if it's by a Kawartha photographer).
To see our daily shares of photos, follow us on Instagram @kawarthanow and check out our feed's highlight reels for recaps of every month in 2019.
---
#1. Spring trilliums by 10 photographers
Posted May 26, 2019. 8,927 impressions, 663 likes
We love trillium season in the Kawarthas! It's not surprising that our top post for May is also one of our all-time favourites. Our photographers had been tagging us in their trillium photos for a few weeks and we wanted to share the beauty of trilliums in the Kawarthas in all their variations. The photographers are Robert Metcalfe @robert.a.metcalfe, Barry Killen @theburleighridge_beareh, Jo Pearson @glass.forest.art, Linda McIlwain @lindamac11, Chad Miller @miller.photo, Miss Amy G. @missamyeg, Karen Suggitt @karen_suggitt, Emily Provincial Park @emilyprovpark, Jen Mackenzie @foodworxjen, and Mariola Daher @marioladaher.
#2. Silent Lake starry night by Vincent Yi Zhang @vincentzhangyi
Posted May 20, 2019. 8,837 impressions, 697 likes
Wrapping up the Victoria Day long weekend with stunning starry skies at Silent Lake Provincial Park north of Apsley.
#3. Fireworks over Little Lake by Adam @aarmitag
Posted May 19, 2019. 8371 impressions, 589 likes
The annual Rotary Victoria Day fireworks over Little Lake at Del Crary Park in downtown Peterborough.
#3. The Milky Way over Hope Mill by Adam @aarmitag
Posted May 8, 2019. 8,002 impressions, 443 likes
The Milky Way in all its glory over Hope Mill, a historic sawmill on the shores of the Indian River near Keene.
#5. Welcome to Chandos Lake by Shantilly's Place @shantillysplace
Posted May 27, 2019. 7,897 impressions, 311 likes
Writer and actress Shantelle Bisson and her husband, Murdoch Mysteries' actor Yannick Bisson, have opened Shantilly's Place on Chandos Lake in North Kawartha. Pictured is Yannick and Shantelle with artist Terri Butler (right), who gifted the couple a painting of the original West Bay Narrows Marina. The Bissons, who have a cottage on the lake, purchased the marina in 2018.
#6. Loon family and Great Blue Heron on Stony Lake by Andrew Arentowicz @aarentow
Posted May 29, 2019. 7,886 impressions, 679 likes
This photo was the winner in the flora and fauna category in the 2018 photo contest of the Environment Council for Clear, Ston(e)y and White Lakes @environmentcouncil.
#7. Celebrating Tourism Week by Peterborough & the Kawarthas Tourism @thekawarthas
Posted May 29, 2019. 7,852 impressions, 386 likes
These stunning shots of Peterborough and the Kawarthas were part of our feature story for Tourism Week from May 26 to June 2, 2019.
#8. Sunday morning sunrise over Little Lake Marina in Peterborough by Lou Fitze @fitzephotography
Posted May 5, 2019. 7,812 impressions, 492 likes
#9. Tuesday night sunset by Jon Faulknor @jonfaulknor
Posted May 15, 2019. 6,912 impressions, 589 likes