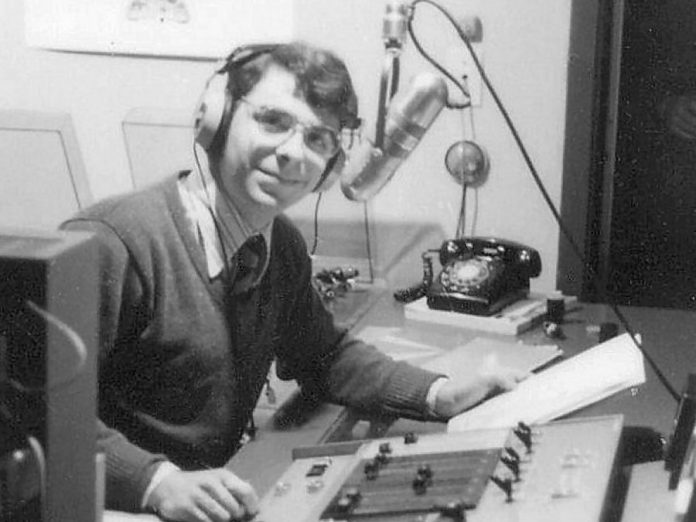 A celebration of John Kenneth Muir's life is planned for Saturday, June 22nd.
The community radio pioneer, sound engineer, community leader, mentor, and arts advocate passed away at 63 years of age on June 3, 2019 after a lengthy illness.
The celebration takes place from 1 to 11 p.m. at Sadleir House (751 George St. N., Peterborough), the not-for-profit community and Trent University student centre.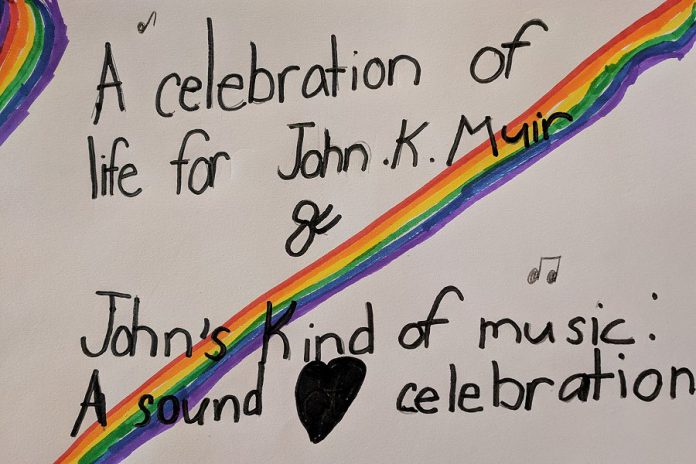 Muir was one of the founders of the Peter Robinson Community and Student Association that bought Sadleir House, originally part of Trent University's Peter Robinson College, after Trent University sold the building. He and his wife Yvonne Lai continued to be strong supporters of Sadleir House (the courtyard garden there is named after them).
Portions of the celebration will be broadcast live on Trent Radio at CFFF 92.7FM and streamed online at trentradio.ca. Muir was a founding director and the general manager of Trent Radio, the volunteer-run community radio station of Trent University, of which Muir was also an alumni.
The celebration of Muir's life begins at Sadleir House from 1 to 4 p.m. on Saturday, June 22nd, with speeches at 1:30 p.m. (broadcast on Trent Radio) followed by an informal gathering of family and friends.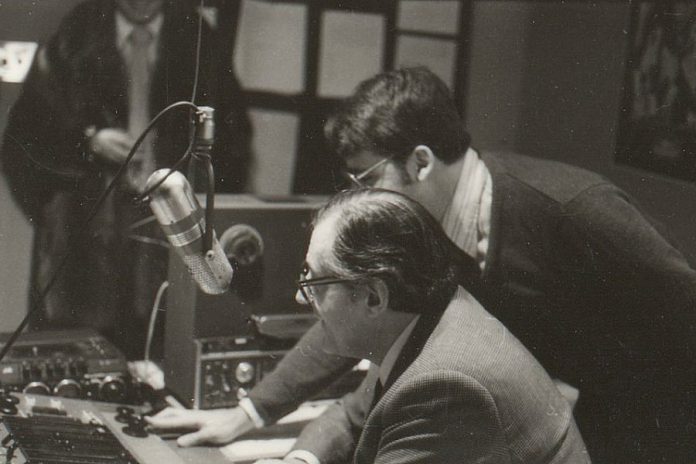 Attendees are encouraged to wear their loudest and brightest clothing. If you plan to attend, note that limited parking is available at Sadleir House.
Later in the evening, a sound celebration called "John's Kinda Music" with musical friends will take place. The event will begin at 8 p.m. and will also be broadcast on Trent Radio and streamed online.
To honour Muir's memory, his family would appreciate donations to Trent Radio or Sadleir House.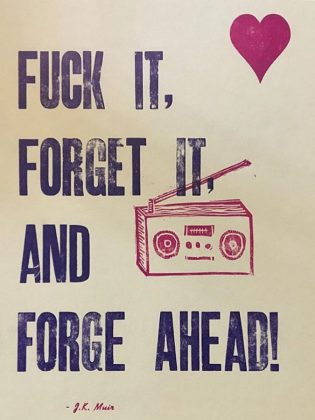 One way you can support both organizations is by purchasing a "Fuck it, forget it, and forge ahead!" print created by Bennett Bedoukian.
When Trent Radio had to decide on its call letters in 1997 for its protected licence from the CRTC, it chose "CFFF", the last three letters of which Muir said stood for "fuck it, forget it, and forge ahead" — a reflection of the many challenges Trent Radio faced during its evolution from broadcasting content on CHEX radio in the late 1960s to obtaining its protected licence in the late 1990s.
The poster is available for at Sadleir House by donation, and copies will also be available at the June 22nd celebration of Muir's life. You can also get a copy by making an online donation to Sadleir House at canadahelps.org/en/dn/12203. When making your donation, include a message that you want a copy of the print and provide your mailing address.
The prints are also available at Trent Radio (715 George St. N.), and you can also make an online donation to Trent Radio at canadahelps.org/en/dn/14907.