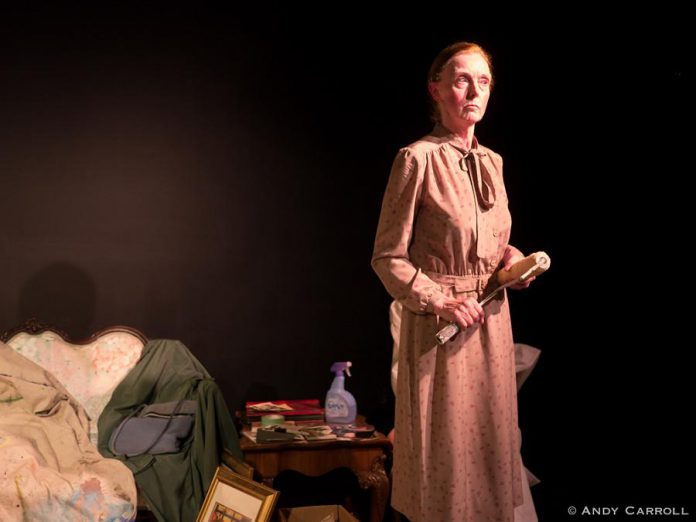 From Wednesday, June 19th to Saturday, June 22nd, The Theatre on King (TTOK) presents Grace and Chemistry, two plays by local playwright and director Frank Flynn.
Chemistry is directed by Ryan Kerr with a cast made up of TTOK favourites, while Grace is directed by Frank and features the talented Sheila Charleton in a moving one-woman performance.
Two very different shows, Chemistry and Grace are both smartly produced and heartwarming pieces that will take audiences on a full emotional journey.
This is the first time that Chemistry, a forgotten play that Frank sent to Ryan nearly three years ago, has been produced for the stage. It's a charming short play that warms up the audience for the emotional powerhouse Grace.
Chemistry features six actors paired as couples who perform the same scene three times, each time in a distinctive way with a different set of emotions and attitudes but ending with the same outcome. It's difficult to explain until you see it, but it's brilliantly executed as you watch three pairs of actors dissecting the same scene in their own unique styles.
Advertisement - story continues below
The scene, about two people letting each other know they are in love, features characters of different sexes and ages: Lindsay Unterlander and Ange Sorenson play the scene as a same-sex couple, Mark McGilvray and Shannon McKenzie play it as a heterosexual couple, and Samuelle Weatherdon and George Knechtel play it as awkward teenagers discovering love for the first time.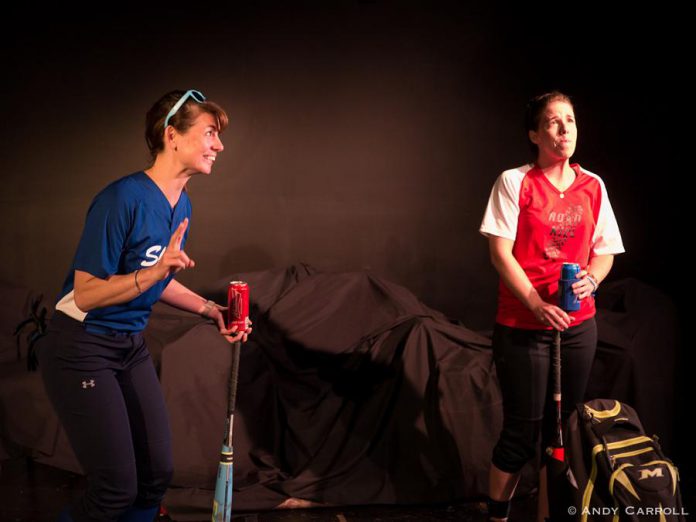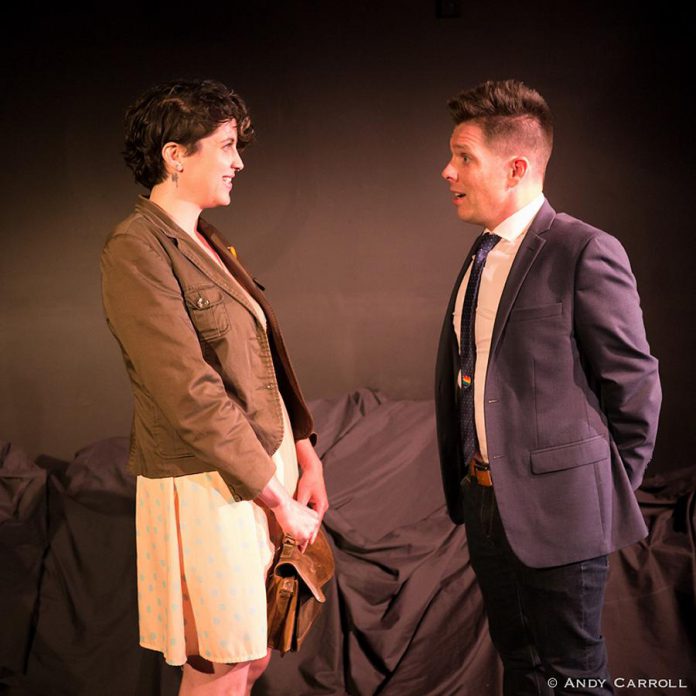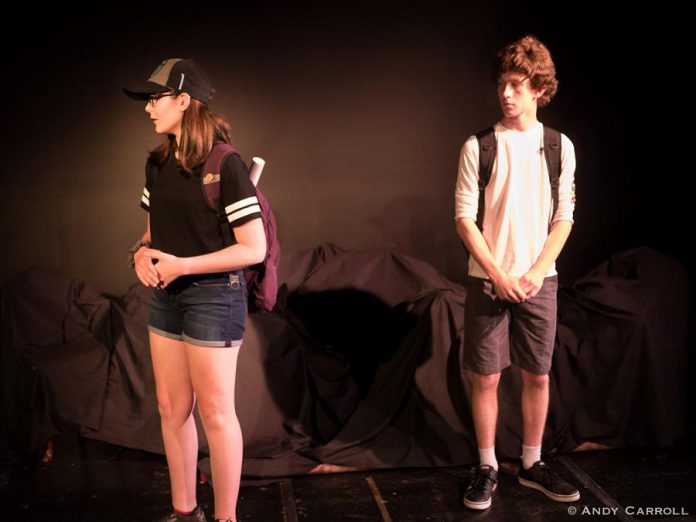 The people and the circumstances change, but the words and the meaning stay the same. Each time the actors do the scene, the audience is left with that same warm feeling of fresh romance and new love, and the scene still seems fresh.
Yet while each of the three vignettes have their own unique draw and charm, everyone attending the preview show agreed that the scene performed by Samuelle Weatherdon and George Knetchel steals the show. While George stumbles through trying to look cool despite his own awkwardness, Sam delivers the piece with her back turned to him as if she can't look him in the face. It's sweet, real, and adorable, with two lovely performances by a fantastic pair of young actors.
But as charming as Chemistry is, the true highlight of the night is Grace.
Written by Frank in 2005, Grace has been performed at theatre and fringe festivals all over Canada, the United States, and Europe. However, this is the first time that Grace has been performed in Peterborough. A powerful and moving one-woman show, Frank teams up with Sheila Charleton to bring his reliant heroine Grace to life on the TTOK stage.
While preparing for sale the home in which she raised her family, Grace shares with the audience her thoughts, stories, and wisdom of being the matriarch for a large family of eight children.
Grace talks about the practical parenting of the past versus the helicopter parenting practices of today, funeral mishaps, and the difficulty of finding plastic furniture covers.
She shares stories of her children, most importantly her children Tom and Janie — one who conquered the barriers facing him at birth, and the other who Grace lost in a twisted leap of faith.
Advertisement - story continues below
Grace's stories form a portrait of a strong and proud woman, one filled with wisdom, humour, warmth, love, regret, and perseverance. However, Grace's story is also one that tells of the value of family and the fragility of time.
There is a type of storytelling that belongs to older women, who can tell a story for hours about people that we never knew, who have no relations to us, and left the world long ago. We are captivated by the stories they weave, despite their seeming irrelevance to our own lives.
Sheila Charleton captures that spirit in her performance, entrancing the audience which holds on to every word and every emotion, as if the meaning of life itself hangs on the next sentence. Sheila brings Grace to life in a way so real that the audience can easily forget she is an actress playing a role on stage, but instead is a real woman telling her real-life story in her own living room.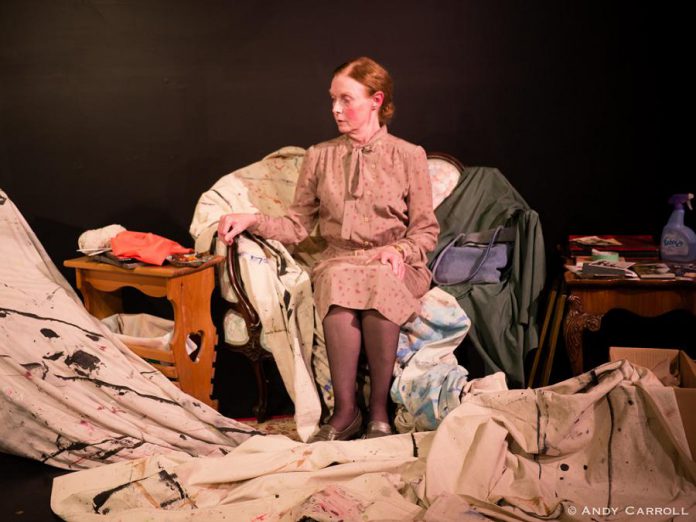 This illusion of reality is so intense that, in less than an hour, the audience truly cares about this woman and her entire family. It's a magical performance that goes right for the heart and pierces it with both laughter and tears. Sheila gives one of the best dramatic performances I've seen this year, in one of the most wonderful shows I've seen so far this year.
Together, Frank and Sheila make a theatrical power couple in a truly magical and memorable show. Grace is one of those performances that you don't want to miss.
This week you'll want to put TTOK on your map to see Chemistry and Grace. Note that the show opens on Wednesday, June 19th, and runs for four nights — giving everyone an extra opportunity to experience this excellent night of theatre.
Each performance beings at 8 p.m., and tickets are $15 (or pay what you can) at the door.