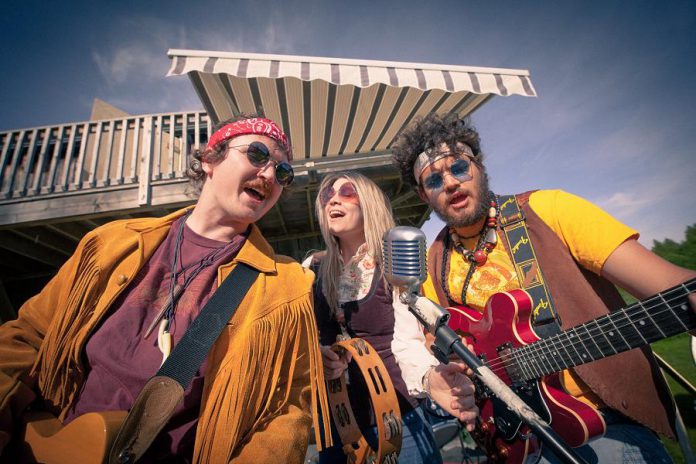 On Thursday, July 4th, Millbrook outdoor theatre company 4th Line Theatre opened its 2019 summer season with the world premiere of Bloom: A Rock 'n' Roll Fable.
Written by Beau Dixon and directed by Kim Blackwell, with songs by Dixon and Dave Tough, Bloom is a musical odyssey that doesn't just pay homage to the Canadian music industry, but also the special relationship the Kawarthas has with the music scene.
Whether you're a hard-core music fan or just someone looking for good summer theatre, you'll find magic in the play's musical mythos.
Get ready to embrace the musical legacy of The Spruce Street Ramblers, the greatest Canadian rock 'n' roll band you've never heard before. The band's story is told in two main timelines: one on the eve of a one-shot reunion appearance in 1976 in which the group is reunited seven years after their break up, and the other in flashbacks starting in 1956 through to the explosive events of the 1969 Gatineau Hills Festival in Quebec when the band fell apart.
Advertisement - content continues below
In this musical journey, playwright Dixon has perfectly woven all the classic themes of a rock 'n' roll band into the story: joy and passion, ambition and greed, jealousy and betrayal, and — most importantly — the exhilaration and the love of making music.
Bloom tells the story of Neph Burnstall (Owen Stahn) and Eli Tanner (Griffin Clark), two young men from the farming community of Assumption, Ontario (a "blink and you'll miss it" community between Peterborough and Keene) who grew up together with rock 'n' roll dreams of forming their own band and leaving the Kawarthas far behind.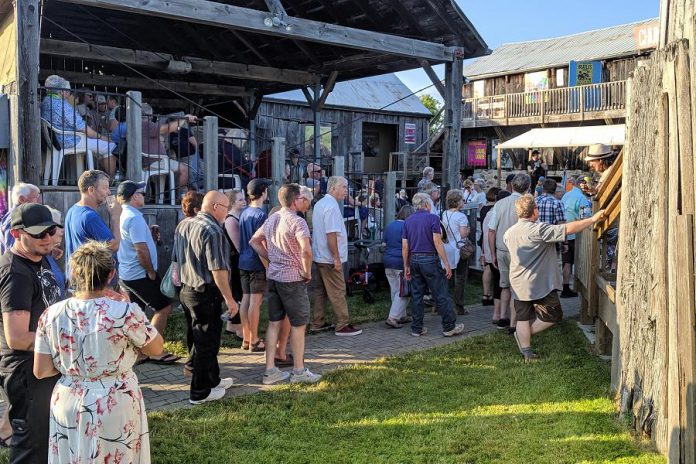 In 1959, the two best friends join forces with pals Huff, Happy, and Tilson (Justin Hiscox, Sebastian Sage, and Mark Hiscox) to form The Spruce Street Ramblers.
For the next seven years, the boys find themselves playing cover songs at dive bars and hotels between Peterborough and Kingston. Unsatisfied with the lack of audience interest in their original material, Neph and Eli travel to The Embassy Bar in Toronto to meet music manager Richard Brockton (Matt Gilbert), in the hopes that he'll give their music a chance.
That's where they hear a song performed by Huff's cousin Tess (Kate Suhr), who they haven't seen since they first met as children at a Peterborough talent show hosted by Del Crary. The song-writing duo soon becomes a trio, igniting the interest of Brockton who gets the band on a music show filmed in Montreal.
Armed with their original song "Flower Man", The Spruce Street Ramblers quickly rise to the top of the charts. But as their fame continues to soar, it soon becomes clear that the star of the group is Tess. As the band becomes famous throughout Canada, cracks begin to form within the group, threatening to turn their musical dreams into a rock n' roll nightmare.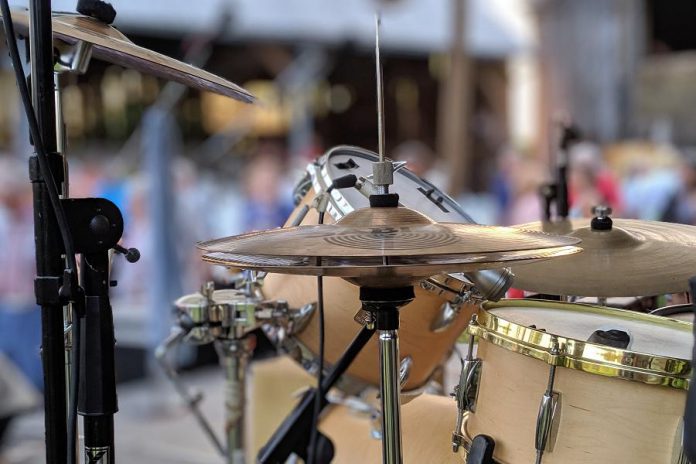 Bloom is not only a delight for theatre-goers who will become instantly engaged in the story, but for music geeks who love the history of Canadian rock 'n' roll. While Dixon based the play on his real-life experiences as a touring musician, the story of The Spruce Street Ramblers is pure fiction. However, the history of the Canadian music industry and how it has impacted the Kawarthas is so lovingly portrayed that it's difficult to believe the band's story is not a true one.
Like the Monkees, The Partridge Family, The Carrie Nations, and The Commitments before them, The Spruce Street Ramblers are a fictional band, but with a sound and energy so real to the audience that you too will believe they really exist.
Advertisement - content continues below
What makes the story so realistic are the powerful performances, both musical and emotionally, given by the show's leads. Griffin Clark plays Eli as a passionate dreamer who believes that music is his destiny. On the other hand, Owen Stahn plays Neph as a tortured dark horse, looking for artistic fulfillment and a respect that he is forever chasing. Kate Suhr's character Tess sends the boys to their highest heights while trying to find her own meaningful relationship with music, while constantly battling for respect in the male-dominated music industry.
Together, the three actors perform Dixon's story so passionately and convincingly that you feel you are witnessing actual Canadian musical history instead of fiction.
Part of the realism comes because the actors portraying the members of The Spruce Street Ramblers are all musicians in their own right. In fact, 4th Line Theatre has created their own supergroup with the performers they've pulled together for the show.
For example, Owen and Griffin front their own Toronto band called The Slivers, Kate Suhr has become a local musical icon via her success on the musical stage as well as her own musical contributions as a songwriter and solo artist, and Mark and Justin Hiscox have become local legends for their musical contributions to the local stage.
Together they create a sound that is difficult to define. A hybrid of rock and country, The Spruce Street Ramblers really don't sound like anybody else — they just sound like The Spruce Street Ramblers. The joy and electricity of their performance is felt in every musical number.
Dixon and Tough's original songs, including "Flower Man", "Groovy Day" (written by Dixon and Sean Moran), "Royal Tavern", and "Your Love Will Carry Me" are too good to just be heard in this show.
These songs need to be recorded on a soundtrack album (preferably on vinyl) and be heard by the far-reaching public. I want recordings of these songs that I can listen to over and over again.
As a music lover and record collector, I also really appreciate the through-line that Dixon incorporates into the story, following rock music all the way from Elvis Presley to Rush. While the show is about the unique Canadian music experience, it goes beyond being about powerhouses like Paul Anka, Ronnie Hawkins, The Guess Who, and Ian and Sylvia (although all four play their own parts in the narrative).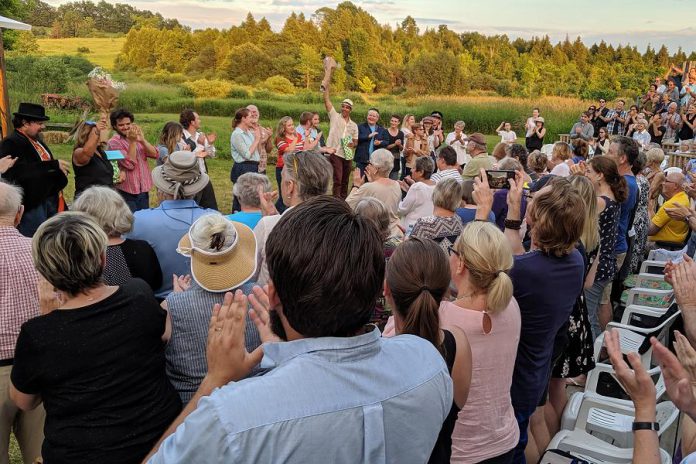 Bloom also pays tribute to the Canadian groups that found minor success in an era where the CRTC barely supported Canadian music.
The Spruce Street Ramblers is an homage to groups such as The Sugar Shoppe, The Bells, The Original Caste, Edward Bear, and Mashmakhan — groups that burned bright with regional hits, crossed the country multiple times, and opened for bigger American bands but, despite being remembered and beloved by Canadian fans, remained ignored by international audiences.
Advertisement - content continues below
Beyond the wonderful music, Bloom is just good storytelling, filled with the joy and pain needed for creating art and music, and the triumph and tragedy necessary to create rock 'n' roll legends. It could only have been written by a musical insider like Beau Dixon.
Additional performance highlights are from Shelly Simester as Eli's mother Rose Tanner and JD Nicholson as Neph's uncle Jack, who support the boys' musical dreams with their guidance and wisdom, and from Liam Davidson as Clive Butler, a young man making a documentary on The Spruce Street Ramblers.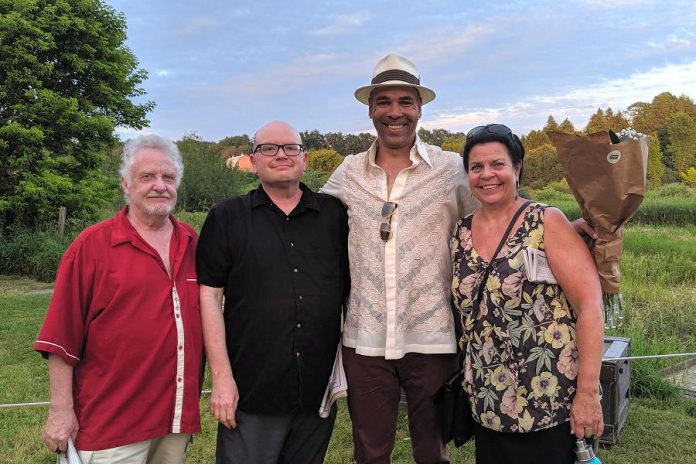 I also want to give special praise to the cast's young performers (Orion Adams, Kaleigh Castell, Rhys Morgan McClean, Jack Newton, Aiden Playford, and Lucas Pronk) who play the members of The Spruce Street Ramblers as kids in the early part of the show. They create a vivid sense of history for the group, especially the friendship between Eli and Neph that is so important later in the play.
Bloom is another entry into 4th Line Theatre's stable of hit plays that have made them one of the most important theatrical institutions in Ontario. The team of Kim Blackwood and Beau Dixon is a brilliant one, and the drama and music of Bloom make this show a surefire hit.
Advertisement - content continues below
Come be seduced by this rock 'n' roll story. This is a summer show that will leave you with a song in your soul. You'll wish that the music never stops.
Bloom: A Rock n' Roll Fable runs from Tuesdays to Saturdays until July 27th at the Winslow Farm near Millbrook, with an additional performance on Monday, July 22nd. Advance tickets can be purchased by phone at 705-932-4445, online at www.4thlinetheatre.ca, at 4th Line Theatre's box office in Millbrook at 4 Tupper Street and in Peterborough at the Peterborough Museum and Archives at 300 Hunter Street East (atop Armour Hill).
Tickets can also be purchased from 4 to 6 p.m. on performance nights at the Winslow Farm (779 Zion Line, Millbrook) but are subject to availability.