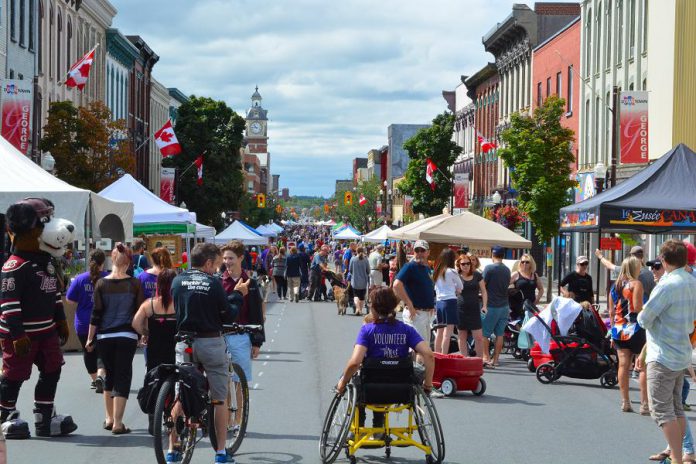 Peterborough Pulse, an Open Streets event through the heart of downtown Peterborough, is gearing up for its fifth anniversary on Saturday, July 27th.
People are invited to walk, bike, roller skate, skateboard, or stroll the Pulse route from 10 a.m. to 3 p.m. — with George Street closed to vehicles from McDonnel to Sherbrooke streets.
The 2019 route will be lined with local businesses, live music, and fun free activities. This year, there will be rock wall climbing, tai chi, yoga, dancing, a bike playground, children's activities, and much more. There will be something for everyone to enjoy at this accessible and diverse event.
It's hard to believe it's already been five years since Peterborough's inaugural Open Streets event — a global initiative that has been sweeping North America for over 40 years as a way to promote physical activity, healthy lifestyles, and livable cities.
VIDEO: Peterborough Pulse

The original idea was to take Peterborough's existing downtown urban landscape and use it in creative and unexpected ways that would build community and support active transportation, but it's grown into so much more.
"Pulse has become a beloved summer event in Peterborough," says Lauren Corindia, Peterborough Pulse Coordinator.
"Being new to the Pulse team, I am amazed by the number of businesses and groups that want to pop-up on George Street to be part of what the community has built. I've even had people tell me that they plan their vacation time around when Pulse is happening."
Pulse aims to offer free and inclusive recreational activities to people of all ages and abilities in an outdoor space where physical activity is accessible, social, and fun.
This year, families can explore the Pulse route and participate in so many unique events, such as an arts and culture scavenger hunt from Watson and Lou and demonstrations of medieval combat at the Duchy of Linnagond booth.
Further along the route, people can race paper canoes with the Peterborough Canoe and Kayak Club, and also try their hand at homecrafts with the Peterborough Agricultural Society.
This is just a sample of the more than 50 activities you will find at Peterborough Pulse on July 27th.
Pulse also showcases exciting examples of livable urban design by using street space creatively, with installations such as pop-up parks, street cafes, pedestrian markets, and bike parking.
GreenUP's pop-up park has been a hit for the last four years, adding a splash of green to George Street.
At the first Pulse event in 2015, long before there were bike lanes on George Street, the Peterborough Bicycle Advisory Committee helped attendees visualize this possibility with demonstration bike lanes.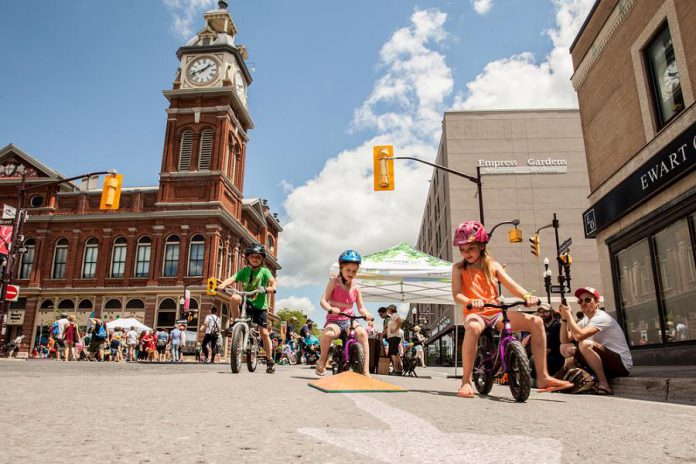 Besides being a fun family-friendly event, Pulse also provides a distinct economic benefit. It runs along one of Peterborough's busiest downtown streets, highlighting local businesses, restaurants, and shops, while drawing tourism into the downtown core.
Pulse surveys show that, in 2018, the estimated economic surge from the event was over $70,000 with around 1,560 shoppers supporting local businesses and 1,080 tourists visiting Peterborough for the event.
Many George Street businesses will have booths and displays set up during the July 27th event to show you what they're all about.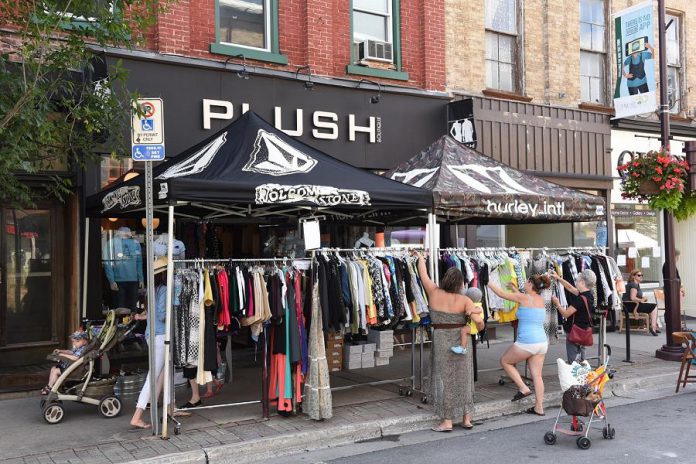 "Pulse is about active and healthy living but it is also about community and it shows how businesses have an important role to play in that community," says Dylan Reinhart, owner of Boardwalk Boardgame Lounge at 261 George Street North.
"Pulse demonstrates how businesses can come together and play an active role in connecting people; board games are inherently social, they are used as a tool to come together. Fundamentally board games are about bonding. Pulse does this on a massive scale and invites Peterborough to come together."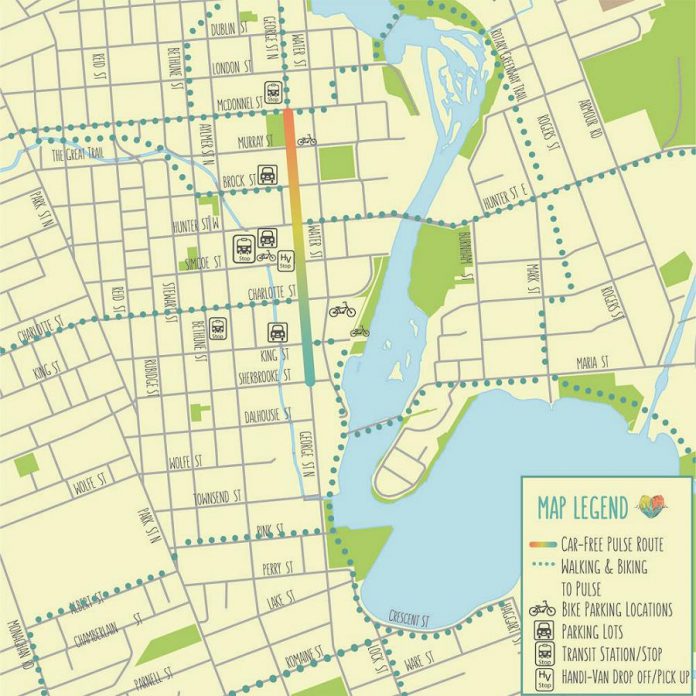 Another key goal of Peterborough Pulse is to provide space for community groups to share, and show off what they do best. Sports, leisure, arts, civic, and environmental groups are among the 50-plus activity leaders who will be out at Pulse 2019 with demonstrations, try-it activities, and colourful displays.
Pulse also encourages everyone to come to the event using active transportation including — but certainly not limited to — walking, biking, skateboarding, or roller skating. Check out the Getting to Pulse map to find recommended routes and bike parking locations at the event.
As you can see, there are many ways to connect with your community as an attendee of Pulse. There is also the opportunity to volunteer with Pulse this year, where you can help be a part of bringing back this award-winning event to George Street. Not only will it be a fun and active experience, but it's also a great way to get engaged with your local community.
"I started volunteering during the first year of Pulse," explains Pulse volunteer Jill McCullough. "For me it was a great way to get involved with the community and meet more people. I love the idea of shutting the streets down and having an accessible space for everyone."
Pulse is brought to you by Peterborough Downtown Business Improvement Area (DBIA), the City of Peterborough, GreenUP, and B!KE: the Community Cycling Hub. This year's Pulse sponsors are Peterborough Transit, Pure Country 105, Energy 99.7, Peterborough Square, McLeod's EcoWater, Allstate Insurance, Peterborough Public Health, Orange Theory Fitness, and Engage Engineering.
To volunteer with Peterborough Pulse in 2019, and to find out more about this year's event, visit ptbopulse.com or contact Peterborough Pulse coordinator Lauren Corindia at ptbopulse@gmail.com.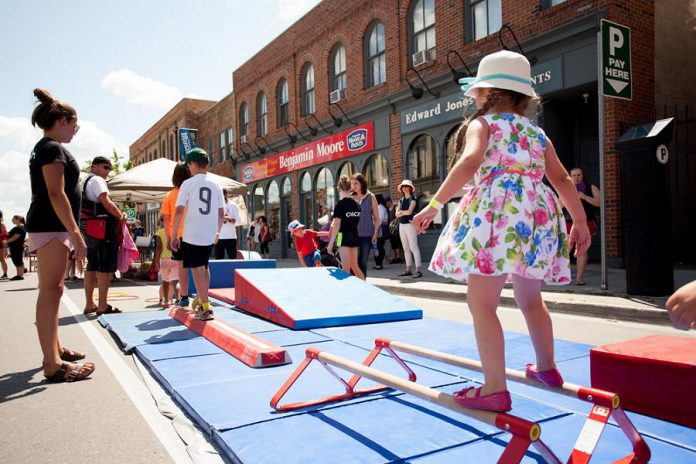 Temporary street closures and restrictions during Peterborough Pulse
The Peterborough Pulse route will be closed to vehicular traffic between 8 a.m. and 4 p.m. on Saturday, July 27th.
Street parking will be prohibited from midnight on Friday, July 26th, until Pulse is over at 4 p.m. on Saturday, July 27th.
George St. from McDonnel St. to Sherbrooke St. will be closed to vehicles from 8 a.m. to 4 p.m. on Saturday, July 27th. Vehicles entering or exiting will need an escort. Street parking will be prohibited on this section of George Street from midnight on Friday, July 26th, until Pulse is over at 4 p.m. on Saturday, July 27th. Vehicles left on the street during this time will be towed.
Only local traffic will be allowed to access the following streets: Murray St. from Aylmer St. to George St. and from George St. to Water St.; Brock St. from Chambers Lane to George Street and from George St. to Water St.; King St. from Aylmer St. to George St. and from George St. to Water St.
The following intersections will remain open for east-west traffic: McDonnel St. at George St., Hunter St. at George St., Simcoe St. at George St., and Charlotte St. at George St.
Every effort will be made to reopen the route as quickly as possible after the event is finished.