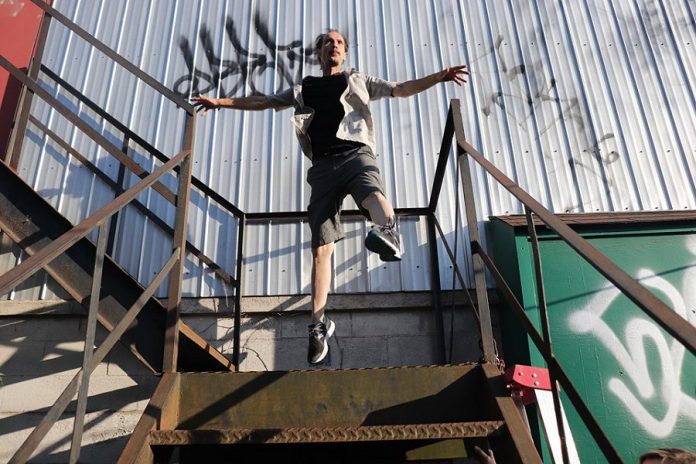 This weekend, local performance artist Wes Ryan continues his series of pop-up dance presentations with his latest offering Turtle.
Collaborating with local DJ Fire Flower Revue, Wes will perform his 10-minute piece on the fire escape looking over the garden behind the Only Café, for three performances only on Saturday, July 27th and Sunday, July 28th. The pop-up performances will raise funds for the Ontario Turtle Conservation Centre. Note: Two more performances have been scheduled for 1 p.m. and 7 p.m. on Satuday, August 3rd.
"If you go to YouTube and type in 'turtle,' you'll find turtles show up in lots of strange places," Wes says. "When turtles cross the roads and get hit by cars, many people might think about it as if the turtles are where they shouldn't be, when really it's the inverse that is true."
"We built roads and subdivisions in habitats that have belonged to turtles for centuries. Turtles go on instinct to do what they deem necessary to survive, and it's deemed and inconvenience and we have trauma centres now for the turtles. Over 1,100 turtles have been taken to the turtle trauma centre this year alone, which is already 300 more than last year."
Turtle is the latest in a series of continuous pop-up dance productions Wes has been performing in Peterborough throughout the summer. The first performance, Crutch, was part of Public Energy's 25th anniversary this past May, and a second, Pidge, was performed in June. Wes plans to continue developing new pop ups each month for the next 12 months.
Advertisement - story continues below
"Pop-up performances are typically common during Artsweek (Peterborough's biennial festival of the arts), where you will encounter a pop up on the street in-between going to one venue to another," Wes explains. "Pop ups are neat because they usually disrupt a public space. When you rehearse them in a public space, people will stop you and ask you what you're doing and suddenly you're talking about art. My art always have a social issue subtext and it's great to engage people."
"I enjoyed the process of remounting Crutch for Public Energy's 25th anniversary and I just got to thinking that I often express myself through movement, although I may be more recognized as a spoken word artist. The pop ups are good opportunity to explore new ideas and involve other people, especially people who don't have a lot of exposure in regards to dance."
Under the banner of These Are Horizon Days, which Wes began in 2017, Wes' art explores often challenging social and political themes. Open about his history with substance abuse and physical and sexual abuse, Wes also has been vocal about surviving a head injury that still affects him today. He plans to make all of his pop ups fundraisers for charities related to the themes he explores in his productions.
In Turtle, Wes takes on not only the plight of the turtles being killed on Ontario highways, but includes a number of other themes surrounding the dangers humans face in their own environments.
"Turtle is about safety and disability and accessibility," Wes says. "It's about pushing personal boundaries to achieve new things, and about being in a place where you are not expected."
"We all live pretty dangerous lives," he adds. "The potential for danger is always there. There is so much activity and we are all in such a hurry. It just takes one slip. I think of all the dangerous theatrical things I did when I was younger, and I'm going back to that with this piece. Turtle could be considered quite dangerous, so I've had to rehearse it meticulously to ensure that I'm safe."
"But it's also been a really tough time for Peterborough this year. Within the arts community a lot of our people have died, and there is a lot of grief in this community. That is also part of the theme of the show."
Using the fire escape leading to the Gordon Best Theatre behind the Only Café, Wes is staging the pop up over the weekend to what should be an instant audience.
"I'll come out to the patio in The Only and I'll say 'In ten minutes I'll be doing a ten-minute dance piece behind the building.' It's really low pressure for the audience. It's pay what you can and I'll pass the hat to raise money for a charity. A ten-minute commitment if you are in the area isn't a big deal, and it's a chance for people who may not normally have a chance to see a performance to have that opportunity."
Advertisement - story continues below
"By doing art in public — with this format where I involve people who are interested and available and also want to play and have fun — is a way to curb the isolation of my everyday reality in regards to my head injury," Wes observes. "It's also a great way to get instant feedback from audience members. Right away I get feedback from people telling me what they like and what they don't like and what they found interesting, and I can use that feedback to create longer shows."
Wes is currently developing the next pop-up performance piece, which will also take place in the garden behind The Only in either late August or early September, this time collaborating with local poet PJ Thomas.
"PJ Thomas posts poems on Facebook for 24 hours and then takes them down," Wes says. "I see a new poem from PJ almost every day, and I don't know who else is writing that much poetry in this town. I've known PJ for over 25 years and I'm going through them and I'm developing a theme. PJ and I will be discussing the poems with one another, and I'm currently looking for dancers to participate in the next pop up."
"After that I don't know. That's the great thing about the pop ups. I don't know what they are until they hit me."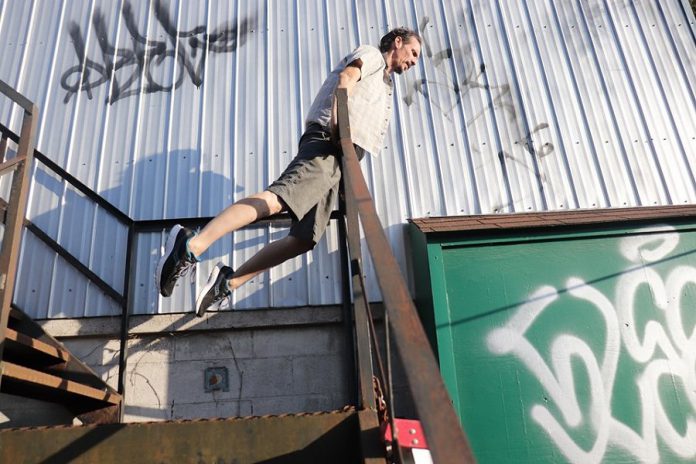 Wes Ryan is a thoughtful and intelligent artist with a unique vision, who has an intense way of expressing social issues through words and movement. Always powerful and inspiring to watch, Wes' performances are something that are talked about long after they are done.
Turtle is presented behind Tithe Only Café on Saturday, July 27th at 7 p.m. and 8 p.m., and Sunday, July 28th at 8 p.m. A pay-what-you-can donation is encouraged, with all money being raised going to the Ontario Turtle Conservation Centre.