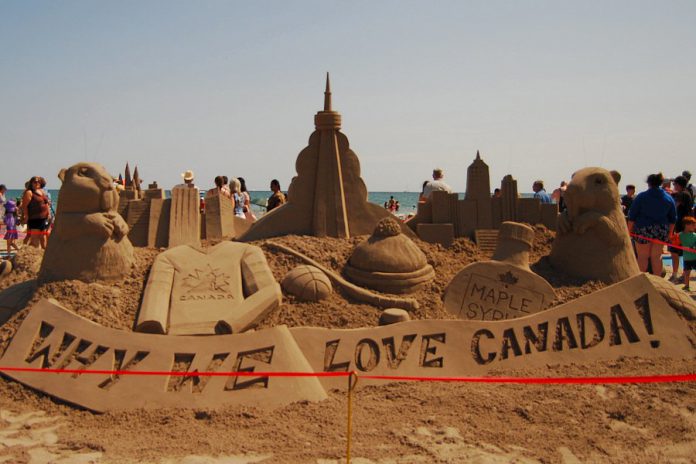 On Saturday (August 3), the Town of Cobourg held its 14th Annual Sandcastle Festival at Victoria Beach on the shores of Lake Ontario — an event that featured master sandcastle sculptors from across North America as well as an open competition for amateur sculptors.
Master sculptor Dale Andrews is a veteran builder who first began competing in the Cobourg festival's family category in 2008. He regularly attends sandcastle competitions across North America but admits that he loves the impressive crowd that Cobourg's Victoria Beach draws each year.
"From all of the sculptors who participated — we always have a blast and we look forward to coming here every year," Andrews said, while handing out the competition's awards, with Northumberland-Peterborough South MPP David Piccini (one of the judges) by his side.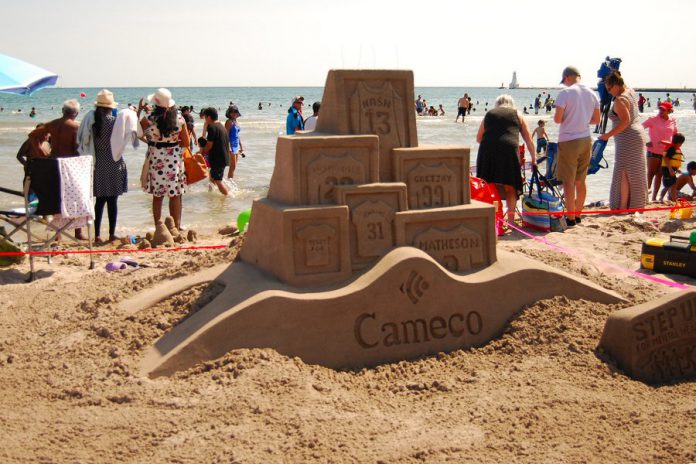 "We love doing sculptures for you and the attendance is crazy every time," Andrews added. "We've watched it grow every year."
This year's festival was no exception when it came to attendance. Attracting many groups of friends and families to enjoy the sand and sun on event day, the crowded beach was nothing short of "bustling".
The beach is now the temporary home to sandcastle designs ranging from pop culture figures to animals from our natural world.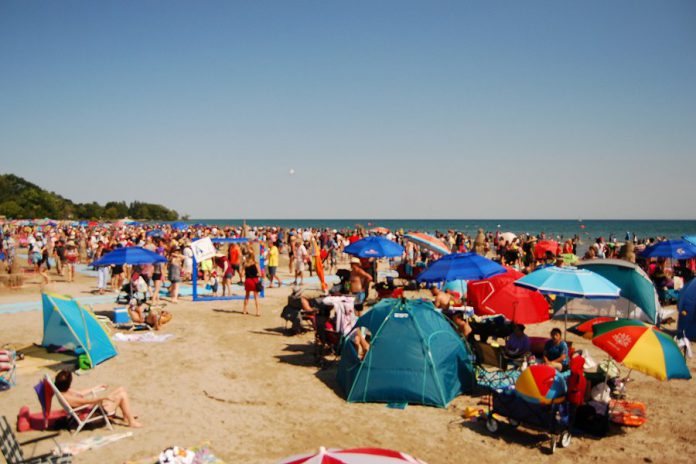 Advertisement - story continues below
"Why We Love Canada"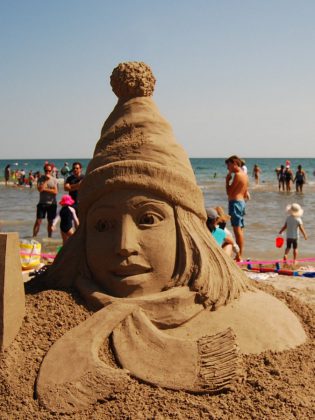 The theme for all master sculptors this year — "Why We Love Canada" — resulted in 10 master sand sculptures celebrating Canada.
The impressive structures include works of art from award-winning sculptors who have travelled to Cobourg from Ontario, Quebec, and Florida.
Andrews, who was invited to present the awards at the end of the competition, created a precise sports-themed design for corporate sponsor Cameco, showcasing the jerseys of prominent athletes on Canadian sports teams and celebrating our country's love of sport.
Alongside Andrews, other fellow Ontarian master sculptors were Tanya Kastl of Waterloo, Sandi 'Castle' Stirling of Dundas, Rodney Watson of Kingston, Carl Teeple of Peterborough, and Karen Fralich of Guelph — winner of five world championship titles.
Mélineige Beauregard, Guy Olivier Deveau, and Michel Beaupre and Rachelle Rocheleau all travelled from Quebec to sculpt at the Cobourg festival. Last but not least, hailing from Key West, Florida: Chris Guinto, one of the stars in multiple acclaimed television series including Sand Masters, Sand Wars, and Sand Blasters on the Travel and Discovery channels.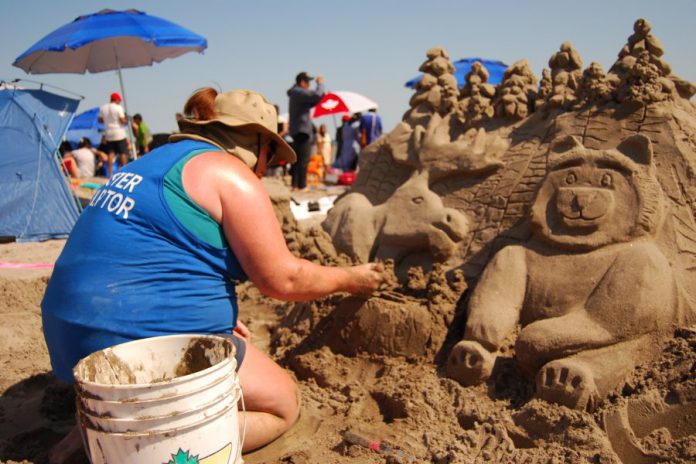 Full biographies for each of the master sculptors are available on the Experience Cobourg website.
Winners of first place awards and many people's choice awards in Madeleine Island and at the Gatineau Wonders of Sand Competition in Quebec, Beaupre and Rocheleau attended the Cobourg festival for the sixth time this year.
Competitive sculptors for the past 16 years, the couple have developed their hobby into a passion after learning basic techniques from world master Michel Lepire.
"The theme this year is Why We love Canada and we decided to make a rocky mountain," Rocheleau said about the couple's design. "Canada is a rich country – rich in currency and rich in personal freedom. You can make money but you also have freedom. So, the animals in our design are free from [the coins they appear on] to represent this idea of freedom."
Advertisement - story continues below
The Art of Competition
Judges for this year's public competition were local MPP David Piccini, Snapd Northumberland co-owner Fred Gouveia, and local photographer Gillian Smith-Clark. Categories included youth, family, adult, business, and People's Choice.
In the youth category, third place was awarded to "The Amazing Sandblast", second place to "The Boys", and the top spot went to "The Colgate Gatos".
In the family category, third place was awarded to "The Good Diggers", second place to "The Water Ninjas", and top prize to team "Smog".
In the adult category, team "Tower of Babel" came in third, "Barkada" second, and top prize went to "Clown College Dropout".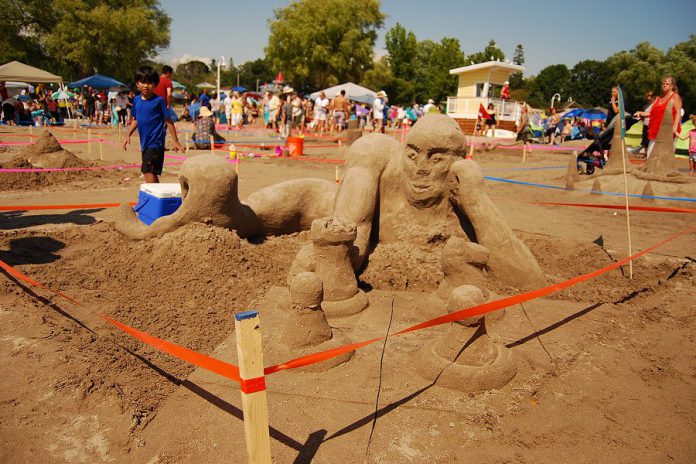 The top spot in the business category went to "Pokies", second place was awarded to "Super Sculptures", and third place to the "New Amherst Mermaids".
Finally, the People's Choice prize was awarded to "The Wilders Galore".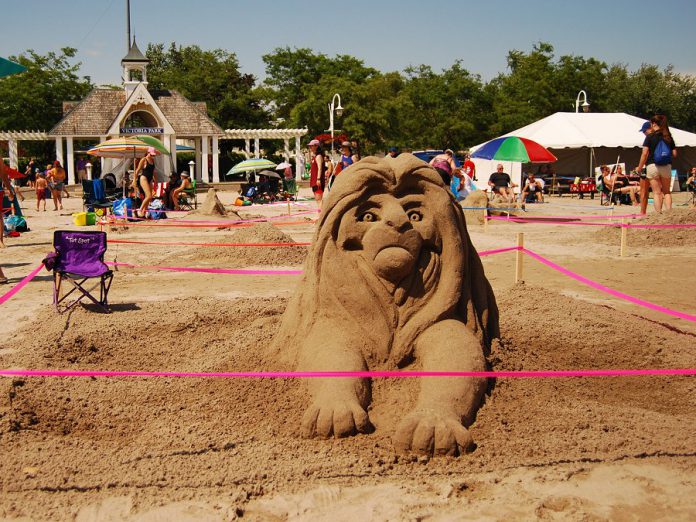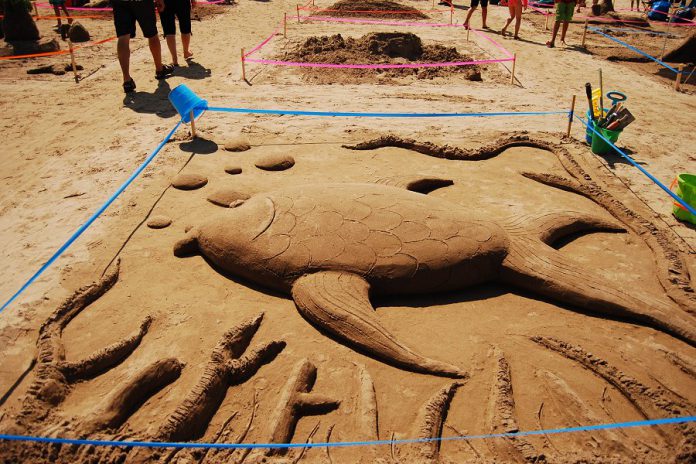 Advertisement - story continues below
Something fun for everyone
Among the competitors, Renee Simm of Toronto and six of her friends made the two-hour drive to Cobourg to participate in the adult category.
"We wanted to do something Pokemon," said Simm. "We thought it would be fun and most of us are fans."
Also competing in the adult category was Saara Nurmi. While Saara and her husband live in Finland most of the year, they live and work in Grimsby during summer. The couple have now attended the Cobourg Sandcastle Festival two years in a row.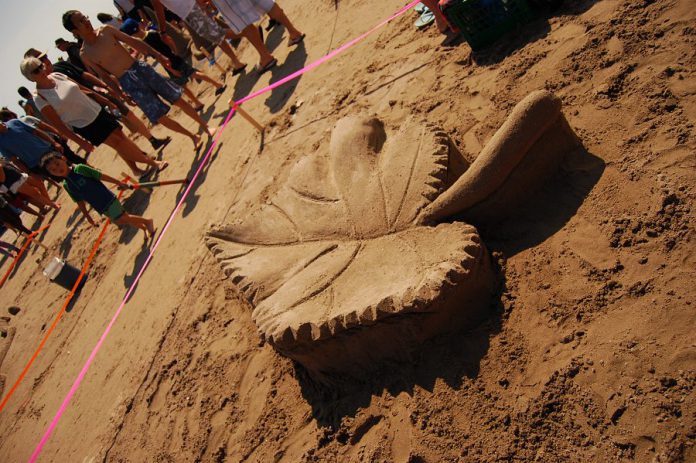 "Earlier this year I created a basswood leaf out of peat for the garden and when I was thinking of what to do for the sandcastle competition, I thought I would try it again," Nurmi said of her design.
"Because the theme for the masters is Why We Love Canada, many people have stopped to admire my sculpture but are mistaking it for a maple leaf … I think Canadians see a leaf, and it's (always) a maple leaf," she added with a big smile.
Advertisement - story continues below
Wheelchair and stroller accessibility
New to the competition this year, the Town of Cobourg partnered with Wheelchair Friendly Solutions Inc. to make the festival more accessible. An additional 100 feet of beach accessibility mats were donated by the organization to provide access for attendees with strollers, crutches, canes and wheelchairs.
The entire Sandcastle Festival competition area has been outfitted with enhanced accessibility for those with mobility issues.
A Mobi-Chair® offered visitors the best possible water and wheelchair experience with floatable armrests and tires, making beach wheelchair transportation to the water much easier.
Interested in participating next year?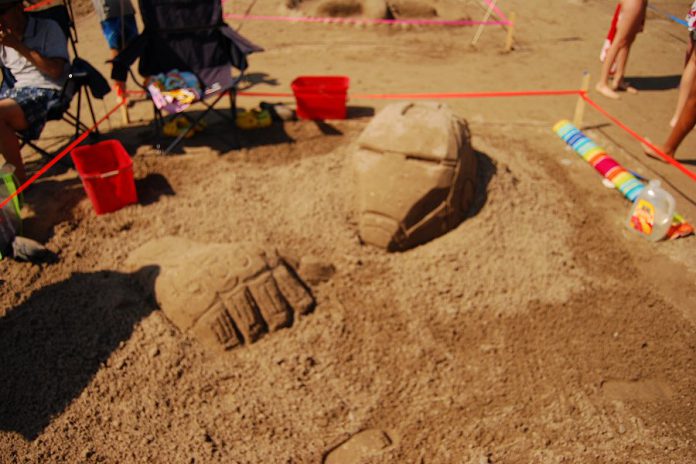 If you missed this year's competition, you've got 12 months to come up with your very own prize-winning design.
The competition is open to aspiring artists of every skill level and a great event for businesses, youths, adults and families. The entry fee for 2019 was only $5 per person, with cash prizes awarded in each category. Each sculptor was given a team flag and a 20 x 20 design plot.
Be sure to visit the beach this long weekend and get inspired for the 15th annual competition in summer 2020.
The Sandcastle Festival is organized by The Town of Cobourg and this year's festival was supported by major sponsors including Cameco, New Amherst Homes, and Thomas Pontiac Buick.