Over the past three years, Peterborough GreenUP's Sustainable Urban Neighbourhoods (SUN) program has worked collaboratively with residents and community partners to identify priorities for sustainable actions and infrastructure in the Kawartha Heights and East City's Curtis Creek neighbourhoods of Peterborough.
We have heard from both residents and municipal partners that sustainable landscaping is needed to help mitigate and adapt to climate change.
The SUN program has tangibly increased opportunities for sustainable landscaping, directly supporting the installation of over 1,600 square metres worth of gardens and trees across both of these neighbourhoods (755 square metres in Kawartha Heights and 855 square metres in Curtis Creek). The surface area of these gardens is equivalent to 3-3/4 NBA-sized basketball courts!
Advertisement - story continues below
In 2018 and 2019, we installed more than 2,400 native plants in these two neighbourhoods. We have planted trees — as well as pollinator, community food, and rain gardens — on public, school, church, and private properties. Rain gardens are designed to help prevent flooding by taking in rainwater that runs off of impermeable surfaces like rooftops or roads. We have also removed many invasive species, replacing them with native ones.
Along with reducing flooding, these projects will alleviate stress on local drinking-water resources by limiting the need for watering. They will also support pollinator species like bees and butterflies, reduce heating and cooling demands as we face a more extreme climate, and even support the availability of locally available fresh fruits and vegetables. Individual projects have ranged in size from 10 square metres to 400 square metres, depending on the needs and interests of residents and property owners.
Even the smallest actions taken on an individual level can have far-reaching benefits for our neighbourhoods and for the Peterborough community as a whole.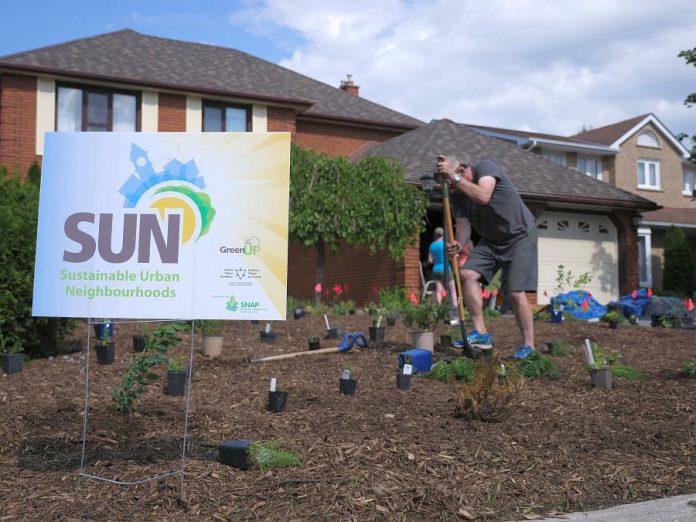 "We have long wanted to transform our front yard into something more useful. Ditching the traditional grass lawn seemed a more practical and environmentally responsible use of the space," says Tracey Boyd, a Kawartha Heights resident who replaced her front lawn with a drought-tolerant pollinator garden.
"We have enjoyed spending more time in our front yard and chatting more with our neighbours as a result. We are happy to chat about the benefits like food for pollinators, reduced water usage, and the importance of avoiding the use of pesticides and herbicides."
SUN planting projects demonstrate the potential for neighbourhood-scale adaptations that help us to thrive and to reduce our impact in an increasingly extreme climate. Adaptation in the Peterborough area means acclimatizing to hotter summers and colder winters, and to drought in the summer and heavy rainfall in the spring and fall.
Advertisement - story continues below
This can sound daunting, but it may be easier than you think. Chances are you have already made adaptations to climate change on your property. By strategically planning your future landscaping projects, you can make changes to your property that benefit your household, your neighbourhood, and your city.
For example, planting trees can help us adapt to more extreme temperatures by shading our homes in the summer. The cooling effect caused by shading can reduce the use of air conditioning, which will mitigate climate change through reduced emissions. This is a small and manageable approach to sustainable landscaping that you could consider for your property.
The SUN program is excited to announce its expansion into the Hamlet of Warsaw. Through funding from RBC, we will be installing 500 square metres of sustainable landscaping to reduce flood risk and enhance water quality in Warsaw.
We will also be connecting with residents and partners this fall to learn about uses of water in Warsaw, as well as to identify priority actions for the protection and management of water.
Within the City of Peterborough, we are looking forward to two upcoming landscaping events that will see the restoration of vital shoreline habitat: on Thursday, September 24th at 4 p.m., we will be planting shade trees in Toby's Bay in East City; and on Saturday, October 5th at 12:30 p.m., we will be planting near the playground of Kawartha Heights Park (with a rain date of October 6th).
We invite you to join us to participate, to learn more about the SUN program, and to learn more about what you can do to support climate change adaptation on your property.
Advertisement - story continues below
Interested in learning more about sustainable landscaping?
SUN will be hosting a two-part workshop series that will provide you with the knowledge and skills necessary to plan, design, install, and maintain a sustainable landscaping project of your own. Part 1, "Planning to Plant" takes place on Saturday, September 7th and Part 2, "Garden Installation", takes place on Sunday, September 22nd. Both workshops run from 9:30 a.m. to 12 p.m. and will be held at the Camp Kawartha Environment Centre (2505 Pioneer Rd., Peterborough).
For more information on sustainable landscaping, the SUN program, or upcoming events, please contact SUN education and outreach co-ordinator Brittany Harding at brittany.harding@greenup.on.ca or 705-745-3238 ext. 224.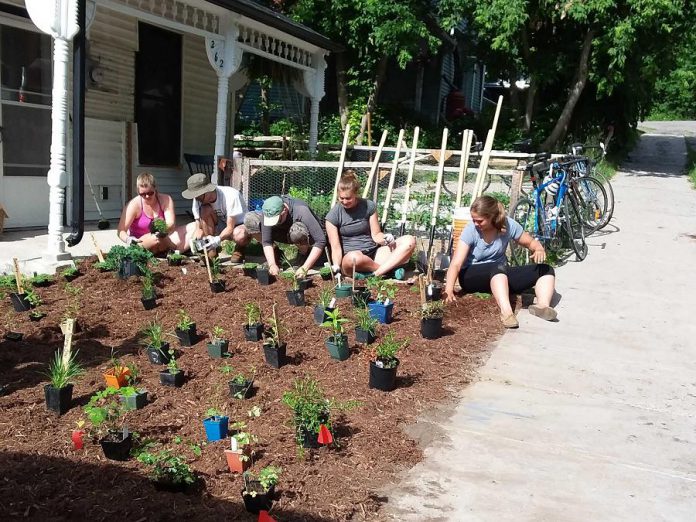 SUN is generously supported by funding from the Ontario Trillium Foundation, and is delivered in partnership with Toronto and Region Conservation Authority's Sustainable Neighbourhood Action Plan program, the City of Peterborough, Otonabee Conservation, and Nourish.