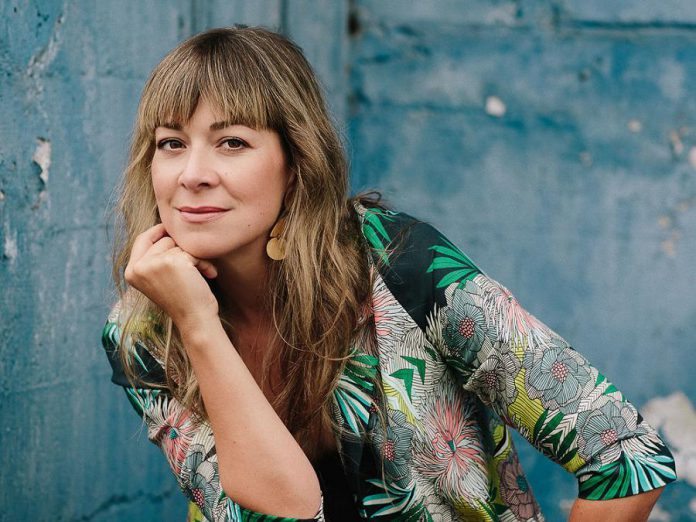 Rare is the musical artist who breaks down the wall that keeps her a safe distance from her audience. Rarer still is a musical artist who invites her fans to interact directly for the express purpose of presenting a live performance moment that will forever be cherished.
But that's exactly what Canadian folk-pop-jazz singer and songwriter Jill Barber will do with her "Dedicated To You" tour, which begins on September 11th in Smith Falls and will take the Juno Award winner across Canada, including to Peterborough where, on Saturday, September 17th, she will return to perform at the Market Hall Performing Arts Centre.
In advance of heading out, Barber is inviting her fans to contact her personally via her website to let her know which song of hers resonates most and why. The resulting set list will feature songs selected from among the received submissions.
Barber's two previous performances in Peterborough (in 2011 and 2015) were both at the much larger Showplace Performance Centre, so the Market Hall is the perfect venue to create the intimate vibe Barber is seeking with her audiences during this tour.
"People always share stories with me about what certain songs of mine mean to them in their lives," Barber explains. "As a performer, I'm always seeking connection with my audience. This is a way to really connect and really make it interactive."
"I've been communicating with fans from different cities. I've been getting in touch with folks to follow up and ask more questions and chat. It's been fun for me."
VIDEO: Jill Barber talks about her "Dedicated to You" tour

Saying the response to date "has been excellent," Barber notes the approach is part of a continued bid on her part to break down that audience-performer barrier at her shows.
"It keeps it really interesting for me and, hopefully, interesting and fun for my audience."
Since turning her attention full-time to her music after graduating from Queen's University, the Port Credit native has kept things very interesting and entertaining for her fans, both in Canada and globally. Instrumental in her early navigation of her chosen field were two things: the encouragement of her brother Matthew Barber, a multi-awarded indie-pop rock recording and touring artist, and a move to Halifax.
Advertisement - story continues below
"Dating back even further to high school, Matt was the one who first encouraged me to write my own songs and to perform," Barber recalls.
"I graduated and moved to Halifax, which is a really musical place. There I found a community that inspired me. As I played more, I got more opportunities. In my entire life, I've worked one day job and that was for less than a year. It was taking up time and I was turning down opportunities to go on tour.
"That was when I made my decision. I had a bunch of Canada Savings Bonds my grandmother had bought for me. I cashed those and took the leap."
VIDEO: "Chances" – Jill Barber

Her course set, Barber released her debut album, Oh Heart, in 2004 and was awarded Female Artist Recording of the Year at the 2005 Music Nova Scotia Awards.
Three years later, her third album Chances — a jazz-inspired recording — brought her two Juno Award nominations, including one for New Artist of the Year. More notably, the album introduced her to a global audience via touring.
It was natural, albeit far from inevitable, that brother and sister would one day collaborate on an album. That became a reality in 2016 with the release of The Family Album, a collection of originals by both that captured a 2017 Juno Award for Contemporary Roots Album of the Year.
"I do need validation, I'm a human," laughs Barber. "It means a lot to me to earn the respect of my peers, of the people that have inspired me and my musical mentors."
"I've been nominated for Junos. I've been passed over and not nominated for Junos. When you don't get invited to the party, your ego is a little bit bruised but, at the end of the day, it doesn't have any actual bearing on the music or the art. It's really just a neat stroke for the ego."
"If I'm confident about the work I'm doing and I'm being authentic to me, putting out the best work that I can, then I won't be crushed if someone else doesn't feel that way."
VIDEO: "All I Have To Do Is Dream" (Everly Brothers) – Matthew & Jill Barber

Working with her brother, says Barber, was a "deeply meaningful" experience, one she says was anchored by their deep respect for each other.
"We compromised if we had a difference of opinion. It never came to blows. No blood was shed. At the end of the day, we both like being in charge of the creative decisions, so we were happy to return to our own projects. I can foresee another collaboration in our future. I'm a huge fan of his music and of him."
The June 2018 release of Metaphora, Barber's eighth studio album, proves she has thrived in what is admittedly "not my happiest place" — the recording studio.
Advertisement - story continues below
"I've always been more of a creature of the stage than of the studio," says Barber, who will head back to that setting after this tour to work on a new album, a collection of original songs written and sung in French — a follow-up to Chansons, Barber's 2013 recording of French originals and cover songs.
"But the more that I record, the more I learn about how to make the process fun and positive. The problem with the studio is you have lots of chances to try again. You're sort of seeking this elusive kind of perfect take. I'm beyond thinking there's such a thing as a perfect take. I think authenticity and capturing something real is more important to me now. I've gained some wisdom."
Not lost on Barber is the power of her influence. One way that has manifested itself is her encouragement of young women looking to break into the music business.
VIDEO: "Never Quit Loving You" – Jill Barber

"When I was a teenager, I had few female role models but I see things changing for the better now," says Barber, noting she's made it a priority to work more with female musicians. Her band drummer for this tour is female, as is the front-of-house sound technician.
In addition, Barber's work on behalf of charities such as Save The Children and War Child allows her to "positively contribute through my art to people's lives … to use the platform that I have to have to reach people who in more critical need of something than a song. It's an easy ask of me."
And then there's the fact that Barber is a mom — a full-time job on its own.
"My kids aren't infants anymore, so I leave them at home when I'm on the road. It's less work when touring, but it's a different kind of challenge because I have to say goodbye and be away from them."
"Going away on tour is a reprieve from my job as a mother, which is extremely demanding. Touring demands a different kind of energy. When I come home, that's a reprieve from being on the road. Each offers me a break from the other and I think that's healthy."
Advertisement - story continues below
Set to turn 40 this February — a milestone that for many stirs up its fair share of anxiety — Barber is grateful her "relationship with music is unchanged … I love the music and it's still in me."
"The industry has never really favoured artists, but I've been very lucky to work with good people within the industry. I'm still working with the same people that I was working with 20 years ago. My manager and I are coming up to our 18th anniversary."
"If anything, I have to hustle more now. There's no resting on my laurels but I can now pick and choose how much I'm willing to stay at the top of the game. I'm a lot wiser and more confident. I'm not naive anymore and I'm not afraid to speak my mind or the truth as a woman now of a certain age. When I was 20 years old, I was a follower. Now I feel I'm a bit more of a leader."
VIDEO: "Love Is" – Jill Barber

Aspiring musicians, listen up — this leader has some hard-earned advice well worth heeding.
"The most important thing to remember is it has to be about the work," Barber says. "The professional industry side will follow in due course if you're committed to the music and the art."
"At the end of the day, that has to be the ultimate goal: to make music that's authentic and resonates. People worry too much about the business side of music before taking care of the art side. That's the part that will give you longevity as an artist."
VIDEO: "Mercy" – Jill Barber

Tickets for 'An Evening With Jill Barber' are $38 (including fees) and are available at the Market Hall box office, phone 705-749-1146 to reserve or oorder online at markethall.org.
For more information about Jill Barber, her music, and the upcoming tour, visit www.jillbarber.com