In 2016, when Warner Bros. first came to Port Hope to begin filming Stephen King's horror classic IT (now called IT Chapter One), Queenies Bake Shop (16 Walton St., Port Hope) was there. When that first film was screened at the town's historic Capitol Theatre, Queenies was there. When the cast and crew returned to film the sequel last year, one of Port Hope's favourite little bake shops was once again there to support filming.
Naturally, when the opportunity presented itself to host a screening party of IT Chapter 2 that could accommodate a large number of local people, Queenies owner Adam Pearson once again put himself behind the project.
With a goal to provide a special experience for as many movie-goers as possible, and to raise money for Northumberland Fare Share Food Bank, Pearson engaged the help of a few local artists and volunteers to create a large-scale art project for the screening at Cobourg's Rainbow Cinemas on Thursday, September 5th.
Advertisement - story continues below
"I wanted to make the event special for everyone who purchased a ticket in support of a great cause," Pearson says. "I've been involved with the production in many ways since the beginning, and was very excited to be able to offer this experience to so many members of my community. The reaction to the instalment art project has been fantastic. It's very cool to see the joy it has brought to local fans."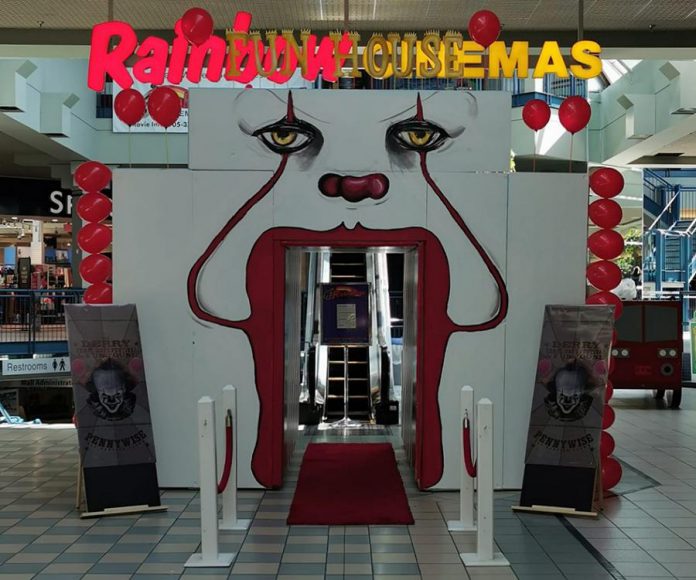 While the Rainbow Cinemas screening was working on raising funds for the local food bank, some very impressive numbers were released by the Motion Picture Association of Canada — numbers detailing the overall economic impact to the region and the province of Ontario that both the original film (and now its sequel) have had.
"The data released today demonstrates the significant boost a single production like It Chapter Two can deliver for the provincial economy, and for communities where filming takes place," says Wendy Noss of the Motion Picture Association – Canada.
"The film and television industry is a substantial part of Ontario's economy, creating local job opportunities in a variety of creative and technical roles on-screen and behind-the-scenes."
Warner Bros. spent more than $56.4 million in the province of Ontario during filming — including a staggering $1.4 million on food and bakery goods, something Queenies Bake Shop truly appreciates.
"Serving the cast, crew, and production team during the filming of both movies was my pleasure," Pearson says. "Anyone associated with Warner Bros. or any filming initiative in Port Hope is always welcome at Queenies Bake Shop."
"We definitely benefited from having such a large group of people looking for local food while filming, and we 100 per cent welcome this type of business to frequent our establishment while staying in the area."
Advertisement - story continues below
For both IT films, Port Hope was transformed into King's fictional Derry, Maine. Local extras were hired as part of the 1,800 Ontarians who can be seen in the background of both films. Extras such as Halle and her brother Lucas, who attended the opening night at Rainbow Cinemas with their dad Zak, were hoping to catch a glimpse of themselves on screen.
"I could see myself in the background so that was probably my favourite part," Halle says. "But it's so weird seeing yourself on the big screen like that!"
Adam Pearson and Queenies Bake Shop were also seen on screen in the film. Pearson, sporting a pair of sunglasses, can be seen as he is shoved out of the way by X-Men actor James McAvoy as he rushes into the film's funhouse during a scene in the latter half of the film.
"It was a lot of fun to participate in the filming … I can now say that I've been shoved by James McAvoy," Pearson jokes.
Part of the screening included an installation art project at Rainbow Cinemas. A collaborative piece completed by three local artists, Pearson himself, and a few additional volunteers and contributors, the installation will remain in place until the end of the day on Saturday, September 7th. It is a reproduction of that same funhouse entrance that can be seen in Pearson's on-screen moment.
Lee Higginson, founder of Fluke Craft, was the first artist to sign on to the project and was instrumental in the design process.
"I absolutely loved seeing people react to the art installation," Higginson says. "It's an artist's dream to have people engage so actively with something you've been a part of creating. Large-scale projects are the best. It's so hard to manage something of this scale on your own, both in cost and size. Working with other artists on this was fun and inspiring. I hope we can collaborate again on something like this, and credit to Adam for making it a reality."
Among the many fans who attended the screening, some chose to dress up in honour of Pennywise the Dancing Clown, including Melindah Knott and Laurie Stata.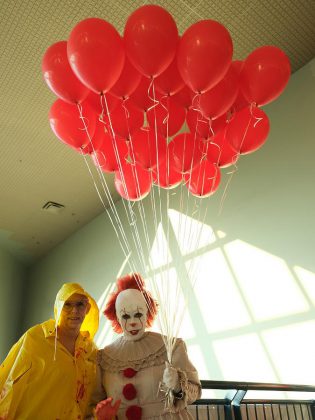 "We're long-time friends, we both love Halloween, and we had the outfits so we thought, 'Let's just do it, let's do it up right'," Melindah says. "Laurie won our tickets and she picked me to go with her."
Natalie Fisher also dressed up for the occasion with a Pennywise clown costume of her own. The 11-year-old is a big fan and attended the film with her parents. Her favourite Port Hope parts of the movie were the Memorial Park scenes with the giant Paul Bunyan statute.
IT Chapter Two showcases Port Hope in a way that no other film (perhaps other than its own predecessor) has done to date.
"It was really nice to see so much Port Hope in the movie, more than the first one," says moviegoer Chantelle Sturgess. "I loved it — bigger, better, stronger!"
The sequel includes a lot of establishing shots in Port Hope and a plethora of recognizable landmarks, including the town's City Hall building (a stand-in for the Derry library), the Memorial Park bandstand, and the Ganaraska River.
"Once again our community shone as the back drop to the sleepy little fictional town of Derry, Maine," says Port Hope Mayor Bill Sanderson. "We are excited by the prospect that millions of viewers will get to experience the beauty of our incredible little corner of Canada."
"Many of our residents and business owners were fully engaged in the filming process; as spectators of the outdoor scenes in Memorial Park and along our downtown streets, welcoming the cast and crew into their businesses every day, and starring as extras in the film itself. The production of It Chapter Two was the biggest that Port Hope has hosted to date and it was truly a thrill to be part of the action."
Advertisement - story continues below
A second special screening is slotted for Friday evening (September 6) at the Capitol Theatre — yet another Port Hope landmark with a lot of screen time in the franchise's second instalment. Tickets for the Capitol Theatre screening have been released to contest winners by local businesses over the past few weeks.
Attendees will get to watch the film in the very theatre they will see on screen multiple times.
Some of last night's viewers will be seeing the movie again over the weekend, either at the Capitol or at the Port Hope Drive-In where a double feature of both IT Chapter One and IT Chapter Two will be screened.
VIDEO: "IT Chapter Two" Trailer

Lilly Sawyer attended last night's screening with her mom Jennifer Brooks. At just 10 years old, Lilly says she wasn't scared at all.
During filming, she met Saturday Night Live alumni Bill Heder (who plays the adult Richie, portrayed as a youth by Finn Wolfhard in the first movie), and has been a big fan of the movie since the first instalment was released.
"I recognized downtown Port Hope and the ending was my favourite part … Beverly and Richie are my favourite members of the Losers Club — because he's funny and I got to meet Richie!" says Lilly, before turning to her mother to say, "I want to see it again!"