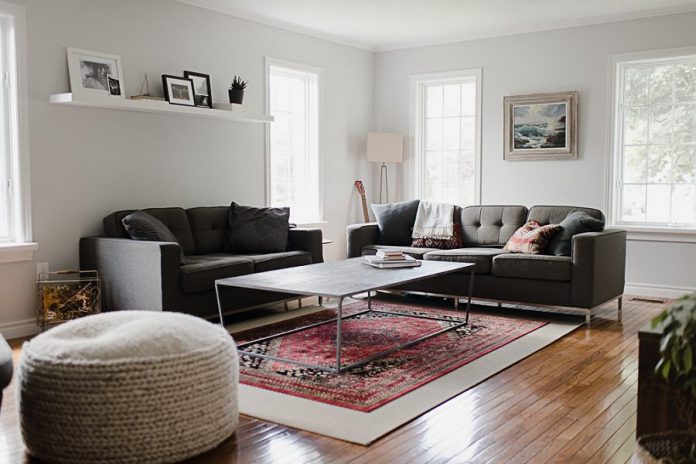 Imagine your surprise if you, a homeowner, opened your front door to a stranger who, with a rental agreement in hand, has arrived to move in.
A growing scam has made that a reality in Peterborough.
According to Andrew Galvin, a broker with RE/MAX Eastern Realty Inc., it's a scam that has "boomed" in recent years, with at least six of his listings having been targeted.
How the scam works is as ridiculously simple as it is devious.
People searching online for rental accommodation come across listings featuring details and photos of available properties. If interested, they are directed to sign a rental agreement and provide a deposit, typically covering first and last month's rent. It all appears perfectly legitimate.
There's one small problem though — the homes listed are not actually for rent. They are for sale, the details and photos replicated from MLS listings that are legitimate. Those who enter an agreement to rent discover they have been duped way too late, with any deposit they have paid long gone.
Anne and Mark Lawless recently sold their Peterborough townhouse. Prior to its legitimate sale, they found a rental listing for their property on Craigslist.
"Two people showed up at our townhouse — two young people from Ottawa — and said 'So, is this the house for rent?'" recounts Anne.
"My husband was like 'Uh, no.' They showed him the ad and the emails that were sent back and forth. Then I went on Craigslist and found it. I emailed Craigslist twice asking them to remove the ad immediately. I never heard back, but the ad was taken off."
Anne adds that, about two weeks later, her neighbour informed them that someone came to her door and asked for the key to their townhouse, saying they were renting the property.
"They were told that the key was next door (to our house)," she says, adding that the defrauded renter "actually had his mail forwarded to our townhouse. He obviously sent in the down payment .. I think it was $700."
"Then the people that bought our townhouse called us and said 'I just wanted to mention that a young girl came to my door saying she had rented this townhouse and was moving in.' That's three people who showed up and two of them obviously paid the $700 (deposit)."
In a strange coincidence, the Lawless's daughter, Jennifer Moher, whose southwest Peterborough home is listed for sale, has had a similar experience. She came across her property listed for rent on the website Prop2Go.com.
"They took everything from my proper listing for sale and copied it, word for word, took the photos too, and made it to look like it's a rental property," she says.
"I sent an email (through the website) for more information about my property. I got an email back from someone named Michael Fish, which is obviously a made-up name. He wrote the house is still available for rent. I responded saying I'm interested in moving forward with things and they said they would send me a rental agreement."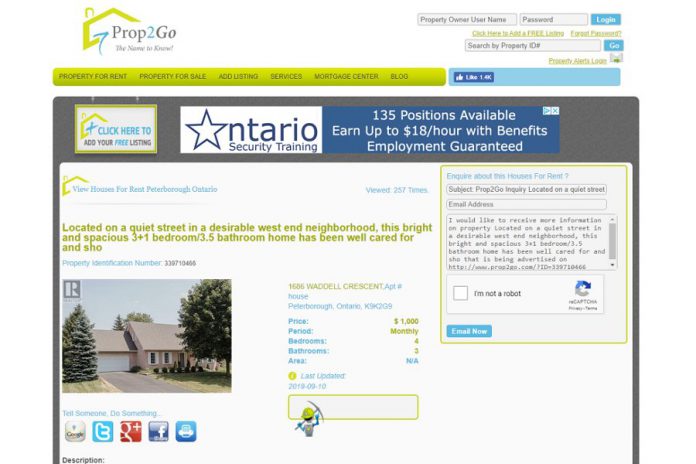 Moher checked out Prop2Go's Facebook page where she says she found "a whole bunch of shitty reviews. I Googled them too and a lot of stuff came up about it being a scam. No one has covered this locally. No one is talking about it. People need to know."
Galvin couldn't agree more.
"I've informed the police, I've informed sellers. It's really difficult to get to the bottom of who's doing it and how to stop them."
He adds that his assistant has fielded "lots of calls" on the matter.
"People are standing in the driveway (of homes listed for sale) with $1,000 gone and they are there to sign a lease, because someone told them that they would meet them there on a certain day at a certain time. No one shows up, and they've already sent their money away."
kawarthaNOW reached out to Detective Constable Keith Calderwood of the Peterborough Police Service, who investigates fraud cases, but he was unavailable for comment. However, Mark Lawless says he has been told by police that while it's a growing scam, there's nothing police can do, adding he was told to "be careful when you open your door to someone."
"(The defrauded person) spent money, so right off the bat they're feeling they've been ripped off; you want to be very careful when people feel that way," says Mark.
Mark and Anne, along with Moher and Galvin, are in agreement a scam such as this is thriving because of the shortage of rental properties on the market, not just in Peterborough but in communities across the province.
"People are desperate to find places and desperate people do stupid things — they're falling for this," reasons Galvin.
His advice is sound and timeless: "Don't do anything online with people you don't know. If you're going to rent something, set up an appointment to meet at the house rather than sending money to someone you don't know online."
"They're stealing photos from our MLS, from our website, and saying 'Here's a house for rent.'," he adds.
"There are some awful good scammers out there with really believable websites. Unless you meet with someone face to face and they unlock the door to show you the apartment or house, you're crazy to do otherwise."
"Most landlords would be glad to meet with people before they rent to them. They're going to have an appointment or a showing time."
Moher concurs.
"People need to do their research," she says. "There are certain rules you should follow. Never give people money without actually meeting in person or going to see a property. You would think that is self-explanatory, a no-brainer, but unfortunately people are getting screwed over."
And, if the rent seems too good to be true, it probably is, as Moher points out when referring to the fake listing for her property.
"It's for an entire four-bedroom house, a beautiful house, for $1,000 per month," she says. "There are desperate people that are going to fall for that."