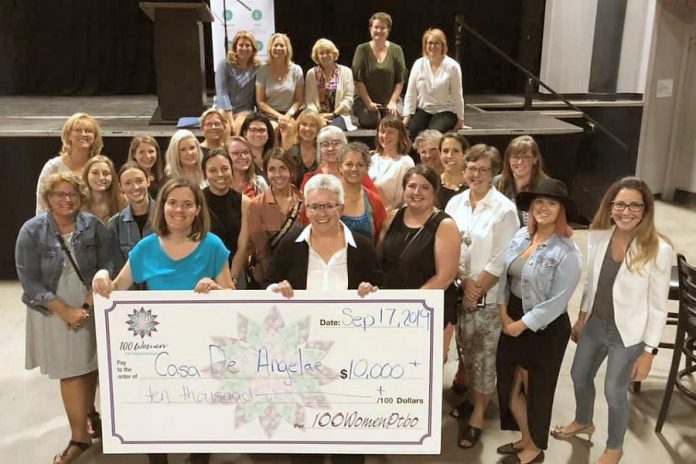 On Tuesday night (September 17), the 100 Women Peterborough group once again demonstrated the power of collective philanthropy, raising more than $10,000 for Casa De Angelae — a Peterborough home for women living with developmental disabilities — and they did it in under an hour.
At the group's third event of 2019, held at The Venue in downtown Peterborough, three organizations — Casa De Angelae, Camp Kawartha, and Peterborough GreenUP — made their cases to the group on why they should receive a donation.
Well before the meeting, the three organizations were randomly drawn from a larger list of organizations nominated by members of 100 Women Peterborough, who commit to donate $100 dollars at each of the four events hosted throughout the year. All of the funds raised by the membership are donated to four non-profit organizations determined by the membership throughout the year.
At Tuesday night's meeting, Casa De Angelae board chair Kim Aubin was joined by resident Katie Galloro to present to 100 Women Peterborough. After hearing the presentation, as well as those from the other two organizations, members held a majority vote that selected the home to receive the donation.
"We want to thank the 100 Women Peterborough group for this amazing donation," Aubin said after the selection of Casa De Angelae. "This money will go a long way in ensuring that the Casa De Angelae home will be accessible and safe for not just the four women, but any future women that have the opportunity to call Casa De Angelae their home."
Casa De Angelae's mission is to provide a permanent home for women with developmental disabilities, allowing them to live in a safe and supportive family environment. The agency provide the women with a combination of supervision, family support, and independence that they need to grow as contributing members of their community. The donation from 100 Women Peterborough will be used to install chair lifts in the home.
Advertisement - story continues below
Four women currently reside at Casa De Angelae including Galloro, who has been living in the home since July 2011.
"We're excited about this contribution," she said. "I think it will help us a lot."
The families of the four women residing at Casa De Angelae share a vision of transitioning their daughters out of their family homes, before the age or ill health of their parents prevents them from providing the necessary support. Casa De Angelae works to help the women achieve the dream to live independent and meaningful lives.
To date, 100 Women Peterborough has collectively donated around $80,000 to seven local organizations: Hospice Peterborough, Peterborough Youth Unlimited, One Roof Warming Room, New Canadians Centre, Cameron House, Five Counties Children's Centre, and Casa De Angelae.
"We are excited to see our membership grow every meeting to contribute to deserving organizations like Casa De Angelae," says Rosalea Terry, one of the group's founding members. "It is important to show women that they don't need to have millions of dollars to participate, we can work together collectively to make a huge impact."
Advertisement - story continues below
100 Women Peterborough was founded in February 2018 by Terry, Catia Skinner, Wendy Hill, and Alyssa Stewart, who were inspired by similar groups in other communities.
The concept of collective philanthropy concept was first launched in November 2006 when Karen Dunigan of Michigan formed the "100 Women who Care" group. After their first meeting, the women raised over $10,000 for the purchase of 300 new baby cribs for a local organization. The movement has grown over the past 13 years to include almost 100 chapters in North America, including at least 15 in Canada.
Women who interested in joining the group should visit www.100womenptbo.ca for more information.