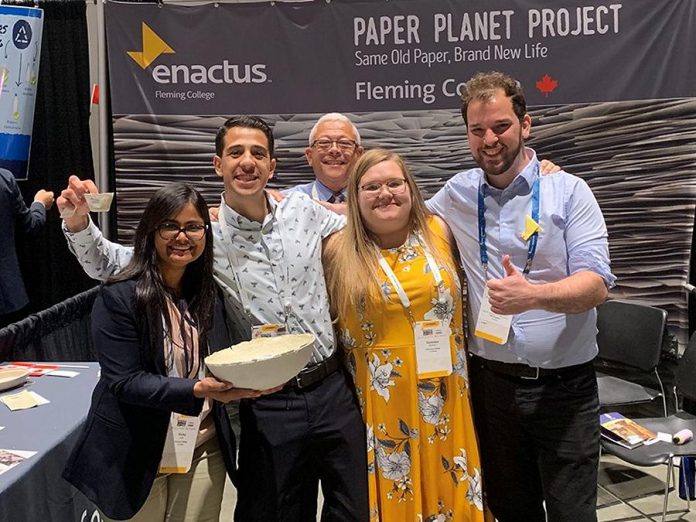 Enactus Fleming College has won the People's Choice Award at the World Project Expo at the Enactus World Cup 2019, which took place in San Jose, California from September 16 to 18, 2019.
Presenting their Paper Planet Project, Enactus Fleming College was one of few select Canadian campuses chosen to highlight one of their projects during the event, which saw Enactus Canada's team from Sarnia's Lambton College defending their World Champion title (they came in second, with Egypt's Cairo University claiming this year's crown).
Enactus Fleming's project, a social enterprise that creates biodegradable and inexpensive products while reducing our environmental footprint, focuses on diverting paper from landfill and recycling and turning it into products that can later be sold.
The project's first product, called the Paper Planter, is an education kit aimed at children from Kindergarten to Grade 3 that will teach them about composting and growing their own food. Future product lines will focus on packaging and protective cases for technology accessories.
"We are so proud of our team, who have invested time and passion into this project and it is an honour to be recognized on the world stage," says Raymond Yip Choy, lead Enactus faculty advisor and professor of business studies at Fleming College. "This is validation that our project has value and the potential to grow and change our community."
Enactus Canada is a community of student, academic, and business leaders enabling progress through entrepreneurial action. At the annual Enactus World Cup, a select group of 3,000 Enactus members from around the world gather to showcase their entrepreneurial action and shared innovation that address the United Nations' 17 sustainable development goals transforming lives and creating a better future.