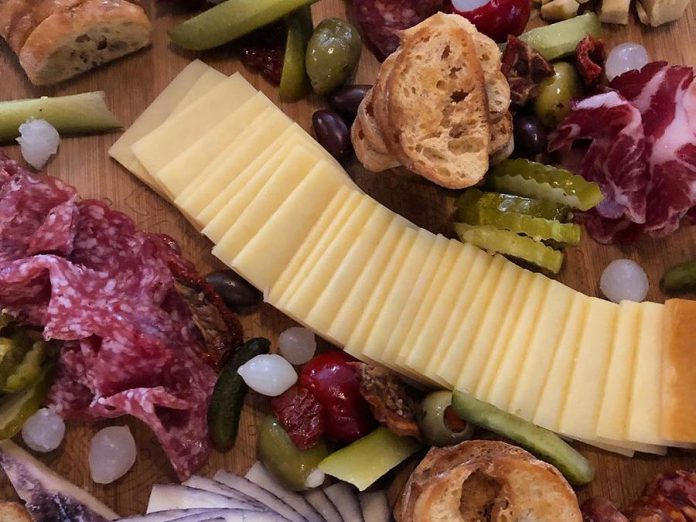 This month, food writer Eva Fisher celebrates the taste and tradition of manoomin at the Alderville Black Oak Savannah Wild Rice Celebration, toasts to new Italian eatery and wine bar Bar Vita, finds the perfect Thanksgiving shortcut with Sper Food & Farm, and presses fresh apples from an unexpected source at The Seasoned Spoon Cafe Cider Making Drop-in.
Advertisement - story continues below
Wild Rice Celebration returns to Alderville First Nation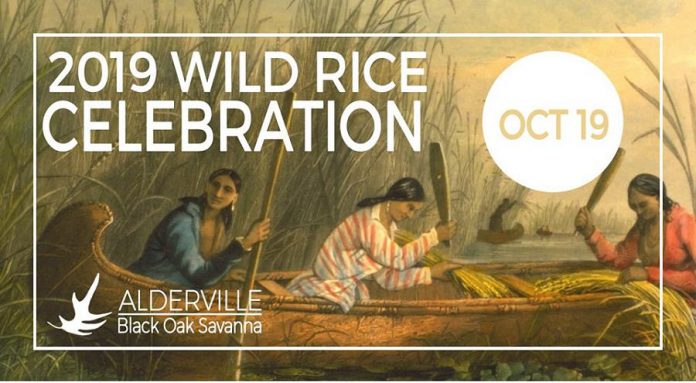 The Alderville Black Oak Savanna (8467 County Road 18, Alderville, 905-352-1008) is hosting a Wild Rice Celebration on Saturday, October 19th, from 11 a.m. to 4:30 p.m.
Guests of the festival can learn about wild rice processing with Jeff Beaver, make milkweed cord with Colton Graham, cook bannock at the fire in the teepee, and more.
Cheyenne Blaker, ecological stewardship technologist with the Black Oak Savanna, says that this festival marks the return of a tradition.
"As far as I'm aware, this is the first Alderville First Nations wild rice festival in many years."
The event was conceived with help from Jeff Beaver, who has been working to restore wild rice to the Kawartha Lakes since 1989.
"Jeff once told me that a similar festival would be held yearly at different communities within the area but have since stopped," Cheyenne explains. "I wanted to team up with Jeff to bring back the festival to celebrate traditional and modern culture of the indigenous peoples of this region."
Cheyenne says that it is important to celebrate wild rice and its vital role in the history of the people of this region.
"Historically, without staple food sources such as wild rice (manoomin) and other gathered and hunted foods people would not have been able to survive."
The festival is a chance to celebrate wild rice and the strong traditions and culture of Indigenous people.
"It honours a way of living that has built strong people and strong communities throughout history. It also brings awareness that Indigenous peoples and traditions are still thriving in a modern day setting."
Advertisement - story continues below
Cheyenne curated the event to reflect the diversity within Alderville First Nation.
"I tried to include many different people, knowledge, and practices both traditional and modern. Represented will be indigenous-inspired food and flavors, wild rice harvesting and processing, arts, storytelling, singing and drumming, ecology, and much more."
Admission to the Wild Rice Celebration is by voluntary donation. The event is receiving no funding by any sources outside of Alderville First Nations.
The Alderville Black Oak Savanna is a non-profit organization dedicated to the restoration and management of a globally rare tall grass ecosystem located on Alderville First Nation. There will also be two guided hikes at the Wild Rice Celebration where you can learn more about the Alderville Black Oak Savanna ecosystem.
Bar Vita serves from-scratch Italian fare on George Street
There's a new Italian eatery and wine bar in downtown Peterborough, but you may find it pleasantly familiar. Bar Vita (413 George Street North, Peterborough, 705-743-3339) opened on September 21st.
Owner Martin Lewis is new to the restaurant business, but when he saw that previous occupant Johnny Vino's was closing he knew he had to step in.
"I knew the type of food it was and I just didn't want to lose it. It's something greatly required in the City of Peterborough."
He reinvented the restaurant as Bar Vita, keeping on Steve Nichols as executive chef.
"The food is just exceptional." Martin enthuses. "Everything is made in house — and I mean everything."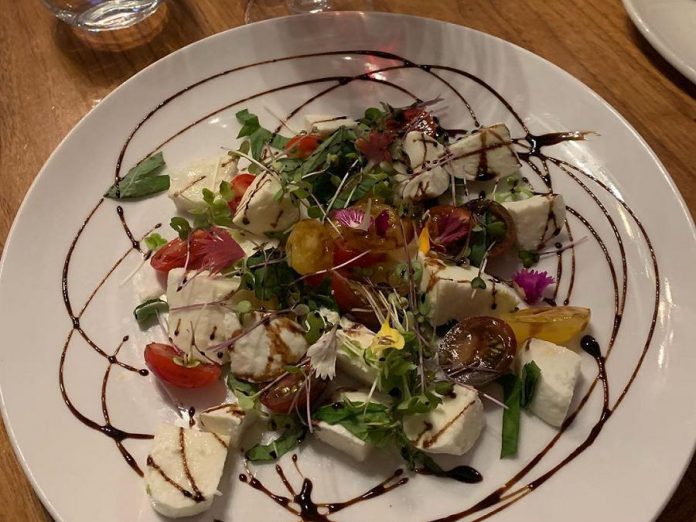 Specialties include the seafood gorgonzola penne, made with black tiger shrimp, jumbo sea scallops, and a creamy gorgonzola sauce. The linguine and meatballs are made with a special blend of veal, pork, and beef. Vegetarians can opt for the vegetarian cornuta, made with fresh seasonal vegetables, olive oil, crushed garlic, and chilies. Dinner rolls are baked fresh for each table.
The dessert menu is also entirely made from scratch. It includes cheesecake, crème brulee, and raspberry torte.
To accompany your meal, you can choose from a large selection of wine, which Martin describes as "the finest wine bar and wine list available."
Sper Food & Farm makes Thanksgiving Dinner delicious and easy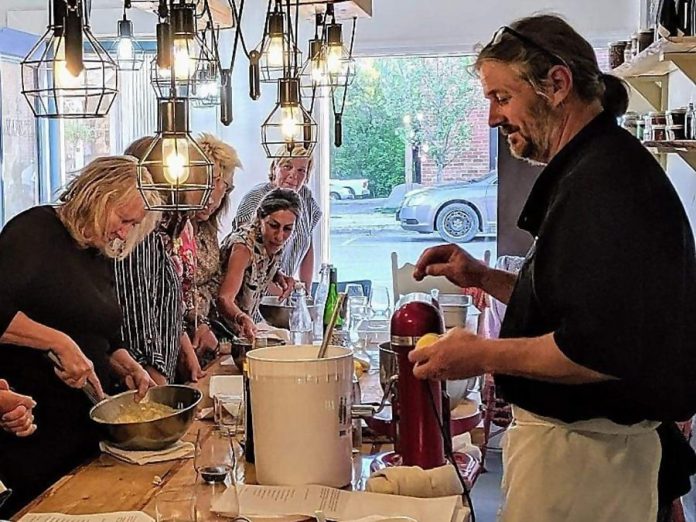 Thanksgiving dinner doesn't have to be difficult. In fact, Sper Food & Farm (20 Main Street, Warkworth, 705-559-0038) is offering a takeout dinner that may even beat your traditional family Thanksgiving feast.
Sper Food & Farm owner and chef Douglas Hope has become known for his restaurant, which offers regular set-menu dinners, producers' dinners, and even food workshops. This Thanksgiving, Sper Food & Farm is offering a takeout Thanksgiving dinner that customers can pick up and bring home with them.
The menu starts with assorted bread and a sweet corn and bourbon chowder, after which you can enjoy a kale salad with heirloom tomatoes, pickled red onions, and dried cranberries.
The main course features a roasted and lightly smoked turkey, baked marinated cauliflower, roasted heirloom carrots, creamy mashed Irish Cobb potatoes, bacon creamed brussels sprouts, and a walnut, giblet and wild mushroom stuffing. The stuffing contains Ontario grown walnuts and foraged morel and pheasant back mushrooms.
Advertisement - story continues below
"I try to keep it as local as I can," Douglas notes. His partner Tina Bastas grows many of the vegetables and herbs used by Sper Food & Farm through her business, the Humble Herb.
"It's her magic that grows the vegetables and herbs," Douglas explains. "I do the grunt work for the gardens and she makes things grow."
For dessert, Douglas offers a spiced pumpkin, maple, and local Centre & Main chocolate cheesecake.
The dinner is offered hot or cold for pickup on Sunday, October 13th from 11 a.m. to 2 p.m. If you're serving it on Sunday you should opt for the hot dinner, but if your dinner will be on Monday go for the cold option (there are easy reheating instructions).
Order yours by Thursday, October 9th by emailing sperfood@hotmail.com.
How do you like them apples? The Seasoned Spoon Cafe offers cider from Trent University's own apple trees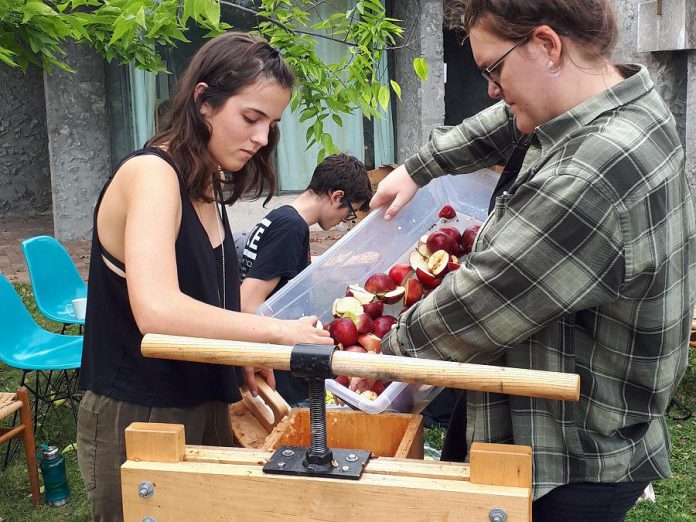 There may be nothing more autumnal than drinking fresh-pressed cider outside, straight from the cider press.
The Seasoned Spoon Cafe (1Z7, 1600 West Bank Drive, Peterborough Ontario, 705-748-1011 ext. 6086) is offering a Cider Making Drop-in on Wednesday, October 9th from 12 to 3 p.m. where you can do just that.
"We encourage people to come at any point during that three hours to take part in the process" says the cafe's outreach and education coordinator Caitlin Bragg. Attendees will meet on the lawn outside the Seasoned Spoon, where they will be taught to use a hand-cranked wooden cider press to make cider from apples harvested from the Trent University campus.
"The Trent campus is actually filled with apple trees," Caitlin notes. "It tends to be one year on and one year off that there are a lot of apples, and this year there are just apples everywhere."
Advertisement - story continues below
The Seasoned Spoon has partnered with the Sustainable Agriculture and Food Systems Society, a club where students connect with each other to learn about food issues and gain practical hands on agricultural skills. The society keeps a map of all of the apple trees on campus, and they run an event where they harvest apples from those trees to bring them to the Seasoned Spoon's cider-pressing event.
Guests at the event will of course be welcome to drink cider, but if there is any left over it will be saved for the Seasoned Spoon's community meal, which is happening on Wednesday, October 16th from 5 to 8 p.m..
Community meals happen at the Seasoned Spoon twice per semester, and they cook a feast featuring foods grown on campus.
"It's an inclusive space for people to gather, share food together, and make connections on campus," Caitlin explains.
The dinner is by donation (pay what you can).