From October 16th to 19th, the Peterborough Theatre Guild (PTG) presents celebrated Canadian playwright Hannah Moscovitch's Little One.
This year's PTG entry into the Eastern Ontario Drama League's One Act Festival, Little One is directed by Lee Bolton and stars Peyton Le Barr and Chris Whidden in a show that Lee describes as a "dark family drama."
First presented at Toronto's Theatre Passe Muraille in 2013, Little One was described in a Globe and Mail review as being a "psychological thriller." However, the company for the PTG production disagrees with this description of the show.
"I'd be offended if someone called it a thriller," says Peyton, who plays the show's protagonist Claire. "I think the thrilling part for some people would be in how crazy my character is, but she's crazy for a reason. I think it'd be a mockery to not just Claire, but to people who have experienced trauma, if we call it a thriller."
"It's a family drama — as in about families, not for families, so please don't bring your children," Lee points out. "It's a dark family drama, but not a thriller. There are elements of mystery to it. As an audience you're not sure what's happened or what's about to happen."
During my visit with Lee and her cast prior to a rehearsal, the trio were vague on the story, being careful not to give away the secrets that hold the show's mystery together.
"Little One is a memory play," Lee explains. "It's about two adopted siblings with very different backgrounds and very different experiences in life. Now adults, they are coming to a point of crisis in their relationship and in their lives. So it's exciting to see what happens when they hit that point of crisis. It's that classic type of family drama when you have to open up the dark secrets."
Advertisement - story continues below
The 2013 Globe and Mail review reveals a little more information, but not a lot. As children, Aaron (Chris Whidden) and Claire (Peyton Le Barr) were both adopted by a well-meaning couple, but while Aaron was a relatively normal child, Claire came from a background of abuse.
Now grown up, Aaron talks about the pair's often-difficult childhood, while Claire supplies a different narrative about her obsession with a neighbour and his Asian wife, who she believes to be a mail-order bride. As the narratives continue, the two stories begin to merge into a powerful climax.
"Aaron is the older sibling," Chris says of his character. "At the point of the play, he is in his twenties and is a surgeon. Something comes into his life that brings back some memories of what happened in his childhood, and he has to figure out what happens next."
"Claire has had a very traumatic past," says Peyton of her role. "She's dealt with extreme trauma. She's unaware of that kind of trauma, which is common for children. You'd assume she's someone who cries all the time, and needs love and is emotional, but in fact, what's fascinating about Clair is that she is a person who is completely unaware of what love is."
"She almost approaches it from the scientific method were she needs evidence. She becomes an obsessive observer of people, and she is very diligent in trying to figure out the world without the emotional capacity to do so."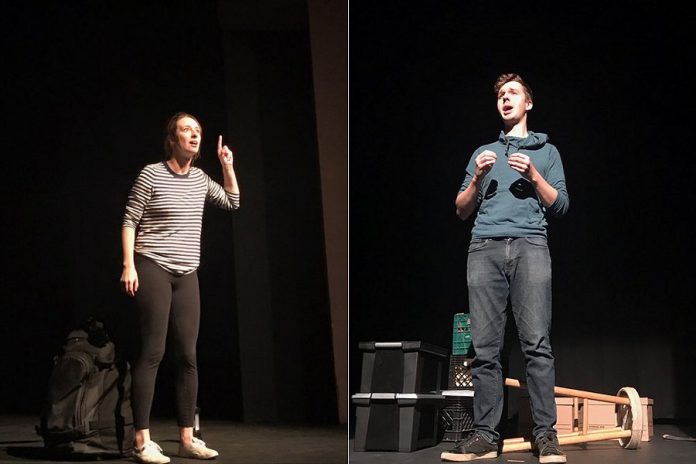 "We are telling two intertwined stories," Lee says of the narrative. "At the end you find out why those two stories are connected. As an audience member, you need to figure out the truth of the story. The two characters are not necessarily telling the same story in their monologues."
"The play revolves around this one event, and there is this slow build-up to this one event everything is pushing towards," Chris adds. "You are unsure about the event, how it goes down, and who is telling the truth about it. Then you do get to see it."
While Little One deals with heavy topics such as childhood trauma and abuse, the show also contains a fair amount of humour as well as elements of intrigue and mystery. But most of all, it is a show that challenges the audience in ways far beyond the difficult subject matter.
"The Peterborough Theatre Guild has put out some pretty heavy duty and challenging shows, and this is going to be one of those," Lee confirms. "But I love theatre like that; I want theatre that makes me think and wonder."
"There are issues of trauma and abuse in the show, but they are the background of the story. The foreground is how we deal with it. Can we heal? Can we love? Can we move forward? Can we fix everything? The central matter is about healing and moving forward — perhaps not successfully, but the attempts to move forward."
"We're approaching the subject matter with a lot of warmth," Chris says. "This is not Sweeney Todd. These are real issues that exist for people in this world. We are trying to approach it with humanity and delicacy."
Advertisement - story continues below
"I can't think of another play that deals with such horrific moments of abuse in memory, but isn't told in an aggressive and shocking way," Peyton adds. "It's done with a lot of compassion and it gives you moments of pause instead of shock. At the heart of the drama is a dialogue that we all inherently want to be good people."
"There are few people who think that they are bad, even when good people do bad actions. This is a play that really pushes that boundary of 'I'm a good person, but would I have handled that differently? How would I have handled it?' It's unsettling, but maybe it's worth being unsettled about. When does your sense of being a good person hit the wall, and when does something in life combat that?"
"We fail if an audience member walks away thinking that either of the characters is a villain. Our characters are not perfect, but if anyone walks away thinking that one or the other was 'the bad one', then we've failed."
Although Little One deals with heavy topics, the material is handled professionally. With an MA in theatre from the University of Leeds, Lee has directed theatre throughout Canada, while Peyton and Chris are the acting couple behind Grassboots Theatre who created the beautiful and moving Repatriation to the Moon this past summer.
"When you do a play like this, sometimes actors are not treated with the appropriate amount of respect in the rehearsal space," Peyton observes. "It can be traumatic both on stage and in the rehearsal room. But for us, this has not been the case by any means. The amount of sensitivity and compassion and responsible art-making in this process has been admirable. I think that we're very capable in presenting this story in that respect."
Advertisement - story continues below
"This is a play that makes you stop and think without telling you what to think," Lee adds. "You should leave it with questions, and you should go away and talk about it with the person you came with. It gives you questions about the play, but it also asks you to ask questions about your own life."
"These are normal people; these are things that happen in neighbourhoods and to normal families. I think it encourages us to ask those questions — big questions without easy answers."
A play written by one of Canada's most celebrated modern female playwrights, Little One runs from Wednesday, October 16th to Saturday, October 19th in the main theatre at Guild Hall (364 Rogers St., Peterborough). Performances begin at 8 p.m., an additional Saturday afternoon matinee at 2 p.m.
As a one-act play that is only an hour long. PTG is presenting it at a reduced ticket price of $10, available by calling the box office at 705-745-4211 (if not open leave a message) or online at theatreguild.org.