The already-sizable footprint that TVM Group has imprinted on Peterborough's landscape is on the cusp of becoming significantly larger.
On Saturday, October 26th, the Toronto-based property development company will host the grand opening of the showroom for East City Condos — a premier luxury condominium development to be built, as you can guess from the name, in the heart of Peterborough's desirable East City neighbourhood.
From 11 a.m. to 4 p.m. at 447 George Street North (north of Brock Street), potential buyers and the simply curious alike will be granted a sneak peek inside one of the development's typical units — including a sample kitchen with counter tops, backsplash and appliances, a sample bathroom fully complete, and hardwood flooring samples.
"It's the first opportunity to see and feel what the interior of the condos are actually going to be like," says TVM Group marketing management consultant Tyler McKeag, noting floor plans of each unit option will also be available for review.
With a targeted occupancy date of summer/fall 2022, the nine-storey East City Condos will rise at the southwest corner of Hunter Street East and Armour Road adjacent to 384 Rogers Street, another TVM Group development (its 69 apartments are fully occupied).
"We are currently in our pre-construction sales phase and we are looking forward to an estimated summer/fall 2022 occupancy," explains McKeag of where things currently stand with the East City Condos project, which is offering one, two, and three-bedroom suites ranging in size from 600 to more than 1,600 square feet, with prices ranging from the low $300,000s to more than $1 million.
Designed by Toronto-based BKNC Architects, the building itself features numerous amenities including a striking entrance and lobby with lounge and table-side seating, underground parking, a built-in dog wash facility, a fitness training room, a corporate-style boardroom, and an eighth-floor space highlighted by a bar lounge, a private dining area, and a two-sided fireplace with a walkout to an outdoor patio.
"We're confident in the product and we're confident in Peterborough," McKeag says. "It's exciting to get the project out to the public and to finally open our showroom."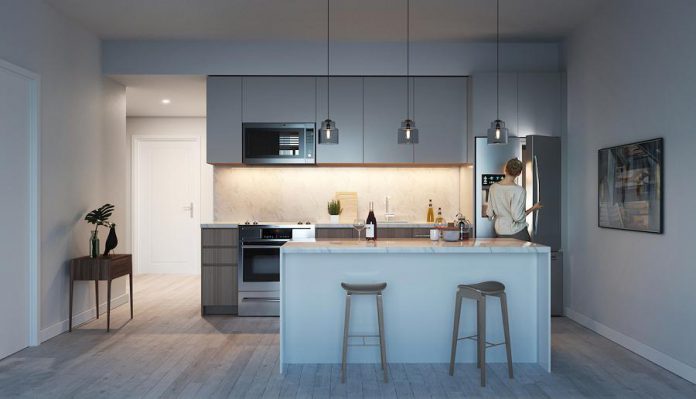 McKeag says 30 per cent of the units have already sold, with interest coming in daily, and urges anyone interested in buying before the showroom grand opening to reach out to TVM Group through its website at eastcitycondos.com.
The location of East City Condos, adds McKeag, was as close to a no-brainer for the company as you can get.
"East City is without question a coveted and beloved neighbourhood in Peterborough — the feel, the pace, the safety and security — it's beautiful. We knew the location was perfect for a quality-built condominium development."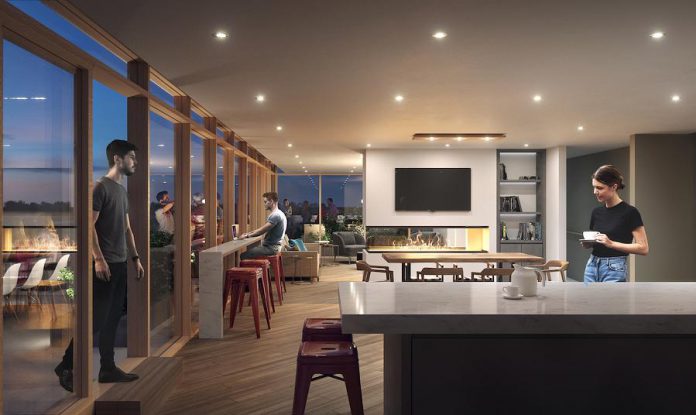 Since its founding more than 20 years ago by Amit Sofer, TVM Group has shown a strong commitment to Peterborough via the development of multiple properties, both commercial and residential.
"We're proud to be part of Peterborough's past and excited about what's in store for the future," enthuses McKeag. "It's an exciting time to be living and working in Peterborough."
"East City Condos is a big deal for us," he adds. "This is an important project for our company. We consider Peterborough to be one of our main markets, and a lot of TVM Group employees live and work here so we have a vested interest in making sure this project is a success."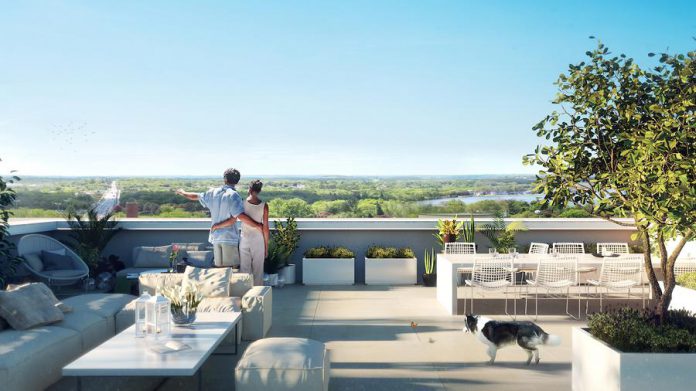 With Highway 407 scheduled to connect with Highway 115/35 at some point early in 2020, McKeag, like many, sees interest in Peterborough as a community to relocate to only ramping up.
"We've researched the market. We've spoken to a lot of people. We've done our homework. Peterborough is a very attractive option for people looking to leave the GTA, especially those who are looking to start a family or retire. We're expecting growth."
TVM Group's goal, says McKeag, is to introduce the big city condo-buying experience to smaller mid-size markets "and deliver that level of sophistication to our clients." That, he adds, comes with a certain responsibility to ensure developed properties blend in well with their surroundings.
"A lot of people have asked why East City Condos is a brick building. That's because it needs to fit in with what is already in East City. That's a consideration in each market that we go into."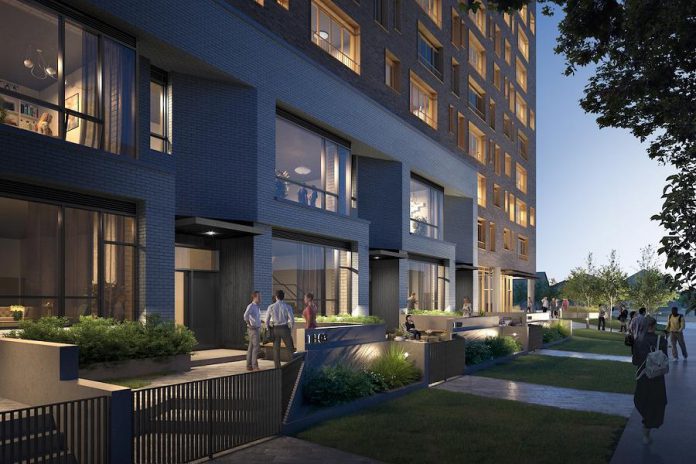 Helping TVM Group's aim to fit in is its commitment to the communities in which they develop properties, which goes beyond brick-and-mortar structures.
In connection with East City Condos, the company has pledged $500 to the United Way of Peterborough and District for every unit purchase initiated at the showroom grand opening, as well as at subsequent planned showroom events.
Terming him "a very hands-on developer," McKeag notes TVM Group founder Amit Sofer drives to Peterborough from Toronto several times weekly. "He has a vested interest in Peterborough. More than most."
VIDEO: East City Condos

As for McKeag, the opportunity to work with people is what keeps him motivated.
"It's cool to see people get excited about their hometown and embrace responsible change, which is what we're all about."
For more information on East City Condos, including showroom dates and times, unit floor plans, and an extensive list of features and finishes, visit eastcitycondos.com. You can also follow East City Condos on Facebook.
This story was created in partnership with TVM Group.