On Tuesday, October 29th and Wednesday, October 30th, collectors Kathryn Bahun and Ben Hatcher invite you to The Theatre on King (TTOK) to view their strange and haunting collection of creepy dolls, just in time for Halloween.
Alongside stories written by local authors, Kathryn and Ben's Creepy Doll Museum installation is the first of its kind in Peterborough.
On a rainy Monday night, I met Kathryn and Ben in the basement of The Cork and Bean in downtown Peterborough, where they brought a selection of the dolls for me to preview. With cracked heads, blank eyes, distorted faces, and other unusual features, the grouping is a strange one, but oddly appealing at the same time.
"These are dolls that have been discarded," Kathryn says of the collection. "If a child had a choice between one of these dolls or a brand new one, they wouldn't want one of these. These dolls are the underdogs. All the pretty dolls can find homes, but these ones won't. That's why I love them."
For nearly two years, Kathryn and Ben have been assembling the collection via yard sales, thrift shops, and donations from other collections. With more than 50 dolls between them, the pair have wanted to find a way for the dolls to find their way into the spotlight.
Advertisement - content continues below
When I ask Kathryn about the origin of the collection, she tenderly picks out a small baby doll with distorted eyes, wild hair, and a massive forehead. Although it's supposed to look impish, I think it has a slight resemblance to Jack Nicholson in The Shining.
"This is my favourite one," Kathryn says. "Six months before finding him, there was a loss in my family that I was having a hard time with, and grief kept coming back. When I saw this doll with its huge forehead and creepy face and the milky eyes, it was weird and absurd and made me laugh."
"That was something I really needed at that time. I would see it in my house and laugh, and I have always used humour as medicine. This is the only one I allow into my bedroom."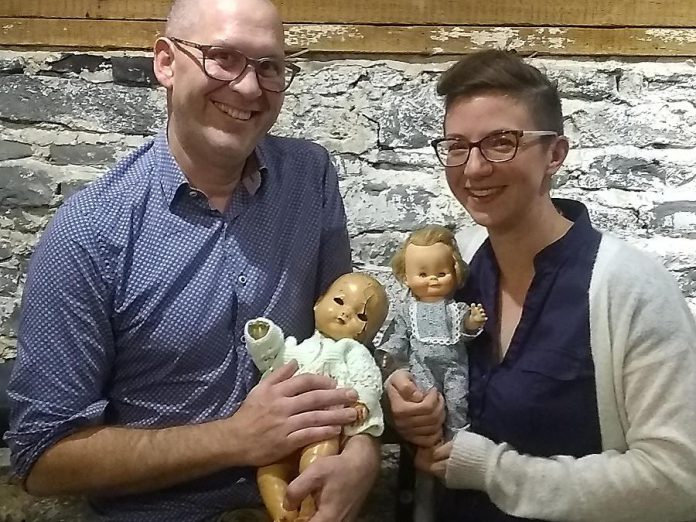 After a few months of accumulating more strange castaway dolls, Kathryn brought her love of them to her friend Ben by gifting him one as an odd birthday present.
"My birthday is around the Gilmor Street garage sale, and Kathryn showed up at my birthday party with one that she had bought there that day," Ben recalls, holding a little boy doll with a mischievous grin. "Its name is Little Scamp. He looks like he likes to start fires."
"I don't like to turn up at birthday parties empty-handed and I thought that Ben would appreciate him," Kathryn laughs.
"After that, we started talking about the beauty of these dolls," Ben adds. "We've been collecting together ever since."
Advertisement - content continues below
As a group, the dolls have a strange energy about them, which fascinates me but also puts me on edge.
Some of them are fully intact, cursed with strange sculpts or unfortunate hair styles or outfits. Some of them find their creepy appearance from being damaged, with gashes in their faces, missing eyes, or unfortunate chunks missing out of its faces.
One doll, who looks like a Christmas elf (but Kathryn explains is a sea captain), isn't wearing pants.
Ben hands me one unfortunate little monstrosity, whose porcelain head has paled from exposure to the sun and with a massive hole in the back of its head — looking like it's been bashed in by a hammer.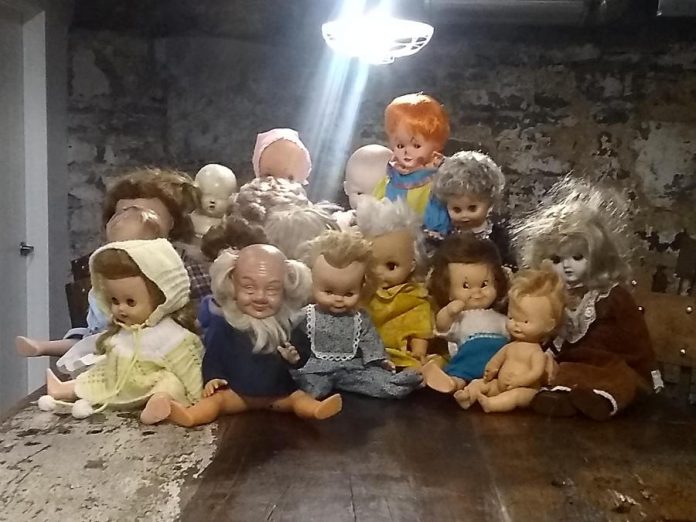 "An archivist from Trent University gave this one to me," Ben says. "She found it in the bowel regions of Trent when cleaning out some old room. It was in boxes covered in dust. There were four of them, and this is actually the least creepy."
To clarify for people coming to see the collection, these dolls were not originally designed to be scary. They are not part of the Living Dead doll line that manufactures macabre dolls for adult horror fans. These are toys that, for some reason, have an eerie quality to them.
I ask Kathryn and Ben what they think makes a doll creepy, with some surprising answers.
"Dolls can witness everything going on in your lives," Ben says, grinning. "They are watching you, so if they and the ability to turn on you they could really ruin you."
"It's also because they represent innocence and childhood and playthings, so when it goes wrong it is even worse because you don't expect it," Kathryn adds. "But mostly it's their eyes. It's the eyes more than their expression."
"But I don't find them creepy. I can't judge how creepy other people will find them, because I don't find them creepy anymore. I think they're beautiful. I love them."
Advertisement - content continues below
Kathryn tells me that her portion of the collection is currently on display in her home year round.
"I have them on display in my home. They are to fabulous to be put away. They want to be seen. I have two kids and my daughter loves them also. My son is not so much of a fan, but he's gotten used to them."
"I'm not allowed to have mine out at home," Ben admits. "They are in the display cabinet, and the really creepy ones are in the freezer."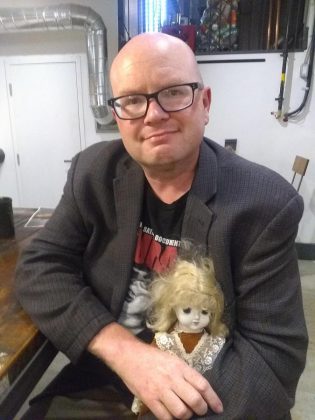 With the legends of haunted dolls coming back into popularity as a result of the Annabelle films (based on the real-life haunted doll owned by famed supernatural investigators Ed and Lorraine Warren), I obviously question if any of the dolls could be haunted.
Kathryn picks out a porcelain doll from the group and hands her to me. Wearing a purple dress, the doll's skin is pale white, with her blonde hair wild and matted. Painted on her cheek is a silver teardrop.
"This doll was at Vinnies, and there is something different about it," Kathryn says. "When I was walking around with it at Vinnies, I had to keep her turned away from me. When I brought her home and had her on the table I had to turn her over. Eventually I couldn't stand her looking at me, so I brought her downstairs and put her in the freezer."
"Later I had a nap and when I woke up, I swore I heard something whispering my name. I went downstairs and she was still in the freezer. But I knew I had better treat this doll right, and now she sits on a shelf in my kitchen. I'm aware it was probably just my overactive imagination, but nonetheless she's the scary one."
"The tear drop only means one thing — that she's killed someone." Ben says ominously. "Or perhaps it's a prophesy and someday she will."
Advertisement - content continues below
The TTOK event is presented as a museum installation with stories about some of the dolls written by local authors Michelle Berry, Devon Code, Sarah Higginson, Mike Pettit, and Matt Snell. Kathryn and Ben will also be on hand as the curators of the collection to talk about the dolls and to answer any questions.
"The event is being framed as if we are a home for wayward dolls," Ben says. "We're able to divert their demonic entities into more positive pursuits, so that helps them behave well in society. We are hoping to have the museum as an annual event if we have fun doing it, and so far it's been awesome. But we'll need new dolls to change it up next year."
An unusual Halloween event, Kathryn and Ben's Creepy Doll Museum is a good excuse to come out on a weeknight. The event is deemed spooky but not gory and, as a result, is appropriate for kids who enjoy the strange and macabre.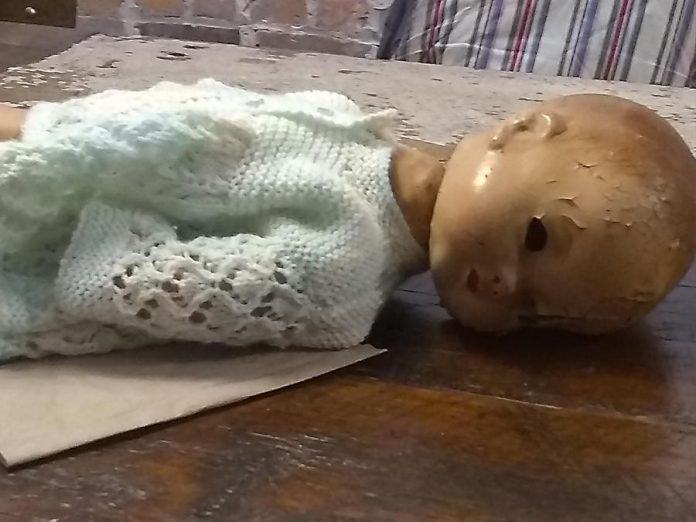 This is a collection that must be seen to be believed, and will get you in the mood for Halloween fun. Unusual and captivating, these dolls will bore their eyes right into your soul.
After spending time holding Kathryn's haunted doll, even I've had it haunt my dreams. These dolls have a profound effect on the psyche.
The Creepy Doll Museum is at TTOK for two nights only, October 29th and 30th. You can drop in anytime between 7 and 9:30 p.m. There is an entry fee of $5 at the door. For a preview of the dolls, visit @creepydollmuseum on Instagram.