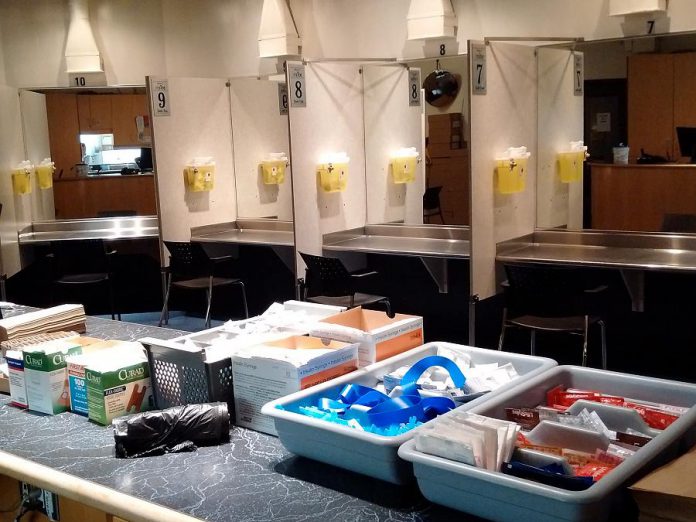 What do you think about having a consumption and treatment services (CTS) site — which will allow people to inject drugs under the supervision of a health professional and provide them with access to addiction treatment services and more — located in the area of downtown Peterborough?
That's the question being posed to Peterborough residents in an online survey at surveymonkey.com/r/cts-engagement-survey. The survey, which takes around 10 minutes to complete, is available until Saturday, November 30th.
The survey comes from a group of local politicians, health organizations, and law enforcement working to bring a CTS site to Peterborough in response to the area's ongoing opioid crisis. So far in 2019, according to the Peterborough Police Service, there have been 26 opioid-related deaths (10 confirmed and 16 suspected) in Peterborough.
Advertisement - story continues below
The group includes Peterborough MPP Dave Smith, Peterborough Mayor Diane Therrien, Selwyn Township Deputy Mayor Sherry Senis (representing the County of Peterborough), Fourcast (Four Counties Addiction Services Team), Peterborough Public Health, Peterborough Police Service, Canadian Mental Health Association, Peterborough Regional Health Centre, the 360 Nurse Practitioner Led Clinic, and PARN – Your Community AIDS Resource Network. The group also includes private business White Path Consulting, a retired ER physician, and community members with experience in developing inclusive programs.
"We have an opportunity to do something for our community that will make a difference in the lives of so many families," says Peterborough MPP Dave Smith. "I can't express how fortunate we are to have this many organizations willing to work together to save lives. This is a great step forward."
The group is now gathering community feedback about locating a CTS site in the downtown area of Peterborough through the online survey, as well as from public information sessions that will be scheduled later in November and consultations with people who have lived experience of using drugs.
A location for a CTS in Peterborough has not yet been confirmed. The public will be notified as soon as a location is identified, vetted, and finalized.
"We are committed to being part of the continuing efforts to bring a CTS site to Peterborough along with MPP Dave Smith and other partners," says Peter Williams, chair of the Peterborough Drug Strategy, an initiative founded in 2009 by Peterborough Public Health, PARN, Fourcast, and the Peterborough Police Service.
Advertisement - story continues below
"This model, proven to save and change lives, is long overdue in Peterborough," Williams adds.
North America's first supervised consumption site, Insite in Vancouver, opened in 2003. Research from Insite and other CTS sites has shown they save lives, facilitate access to treatment and other health and social services, decrease transmission of blood-borne, and reduce costs to the entire healthcare system.
The sites also decrease public drug injection as well as reducing discarded needles, and studies have shown they do not result in an increase of drug-related crime in the areas where they are located — a common concern about the sites.
"We are looking forward to moving into action after almost two years of working with people who struggle with addiction, and many who have lost loved ones to the opioid crisis," says PARN executive director Kim Dolan.
"This crisis affects us all. It is time for us to put aside judgment and support the addition of a CTS to the existing, comprehensive response that Ontario has implemented over the past three years. I look forward to Peterborough shifting to an understanding that addictions are a disability not a character flaw and asking what else can we do to help."
For more information about CTS sites and what is being proposed for Peterborough, visit peterboroughdrugstrategy.com/cts/.